Clear Whey has made plenty of waves since its release, becoming a firm favourite of trainers who prefer a drink juicier than traditional whey protein shakes. The Clear Protein family has since expanded, and new additions are a regular occurrence. With Clear Gainer, Clear Whey Electrolyte and  Clear Vegan making up the range, it can be hard to keep track of all the varieties, their benefits, and which one is best for you.  
We've enlisted the help of nutritionist Claire Muszalski to take us through each Clear product, explaining what each does and how it supports your goal. Read on to the very end for some super refreshing Clear Protein recipes perfect for the warmer weather.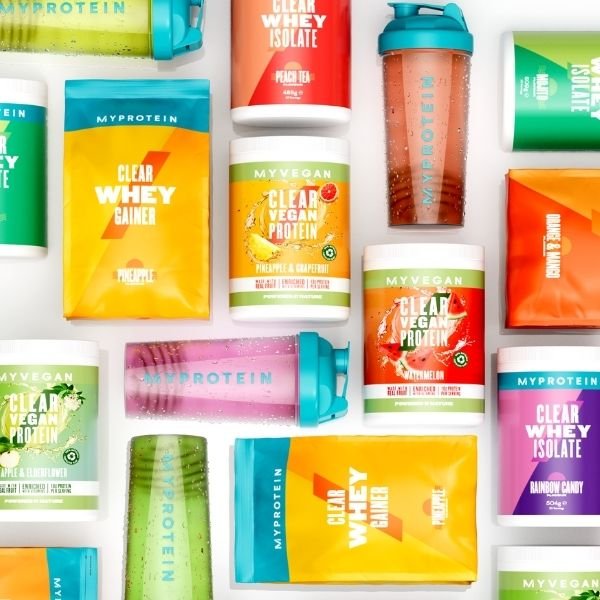 In this article, you'll find:
What is Clear Protein?
It's pretty simple, really: great macros and great taste, all in one juicy protein shake.  
Clear Protein is an essential for summer training, transforming the usual creamy protein shake into a fruity, refreshing post-workout drink. Clear Whey delivers 20g of protein per serving, as well as zero sugar and zero fat, so you won't be sacrificing macros. Simply mix with water and be transported to a tropical island of flavour.  
And we've expanded the Clear family too, with Clear Vegan, Clear Whey Electrolyte, Clear Gainer and Clear Whey Meal Replacement all joining the range.
We realise that's a lot of options. So here's which Clear Protein will best suit you and your goals.  
What are the different types of Clear Protein?
On this comprehensive Clear Protein guide, we'll list all the different varieties of Clear Protein, including the newest and the oldies. We'll explain what they do, what they're made of and how they work.
Jelly Belly Clear Whey
That's right, if you've only just heard, we've partnered up with gourmet jelly bean connoisseurs, Jelly Belly, to take Clear Whey to the next level.
We took five of Jelly Belly's customer-favourite flavours and fused them with our award-winning Clear Whey formula to create a premium jelly bean flavour experience that'll take your post-workout shake to the next level.
Still delivering those all-important macros, including 20g of protein and 4g of BCAAs, but with Jelly Belly's signature fruity flavours.
Choose from Very Cherry, Tutti-Fruitti, Bubble Gum, Green Apple and Berry Blue, and thank us later.