Protein porridge is one of the easiest things you can make with your protein powder, and a super-simple way to boost your daily intake. This creamy Apple Pie Porridge is a delicious twist on a well-loved dessert and a real winter warmer — perfect for dark mornings.
You can get creative with your toppings too, which is an easy way to keep breakfast-time interesting over the week. Our flavoured Sugar-Free Syrups are a match made in heaven — and totally vegan-friendly too.
Ingredients
For the porridge:
For the toppings:
Chopped hazelnuts or almonds
Blueberries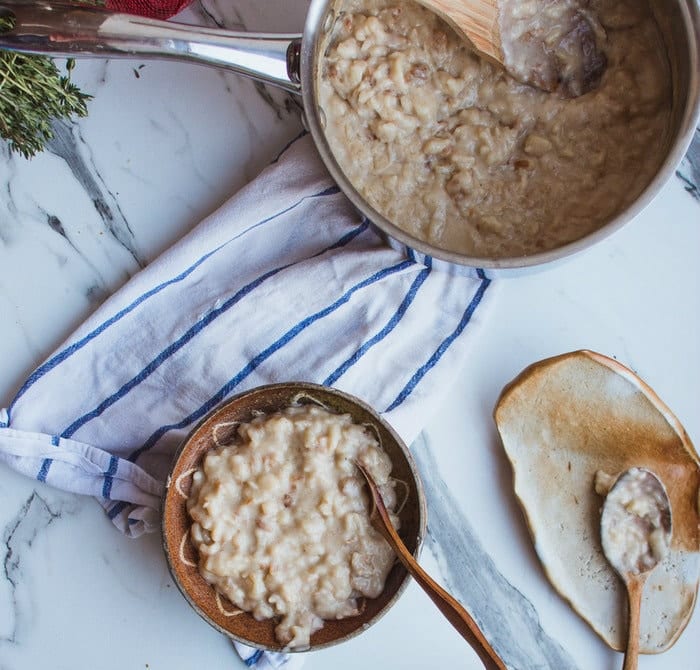 Method
Pour the 200ml of your almond milk into a saucepan, then add the oats and cinnamon stick.
Bring the mixture to a boil, then simmer it down while regularly stirring until you get a thick consistency.
Remove the porridge from the heat, take out the cinnamon stick and let it cool down for a couple of minutes.
Stir in the remaining 25ml of milk, your protein powder, cinnamon powder, and the chopped apples.
Top with your nuts and fruit, then enjoy!
Note: The reason you let the porridge cool down and then use 25ml of milk is because you don't want to add the protein right away — or worse, cook it together with the porridge — as this will likely curdle the mixture and you want your porridge to be nice and creamy.
If you want your porridge thicker still, use more oats or even try adding a tablespoon of ground almonds. Another favourite is to add a tablespoon of peanut or almond butter to your porridge for a lovely nutty flavour.