Vitamin C is a key nutrient that supports our health in many ways. It's known as an essential vitamin, meaning we must get it from our diet. The human body can't produce vitamin C on its own.
Vitamin C is an antioxidant and is important for healing wounds, boosting our immune system to resist infection, creating collagen, and supporting iron absorption.1 It also helps our tissues grow and repair, which is essential for effective workouts.
In this article we look at the benefits of vitamin C and list 20 foods high in vitamin C that you can eat to increase your consumption of it.
Benefits of Vitamin C
Antioxidant
Vitamin C is one of best natural defences our body has to fight off oxidative stress, or cell and tissue damage. Many chronic diseases are linked to oxidative damage to our tissues.1 Adequate vitamin C levels are also essential for wound healing.
Immune Booster
Vitamin C supports our immune system in several ways - through ensuring our skin acts as a barrier against environmental damage, supporting the cells that help to fight off infections, and remove infected cells.2 Research repeatedly shows that high enough levels of Vitamin C in our diets can help fight off respiratory infections like the common cold.3
Iron Absorption and Energy
Adequate iron absorption is absolutely essential for our health - iron is necessary for hemoglobin, the protein in red blood cells that carriers oxygen to around the body and gives us energy. However, it can be difficult for our body to absorb some of the iron we take in from foods. While animal-based food sources of iron can be absorbed during digestion, it is more difficult for our body to utilize the iron from plant-based food sources. Consuming Vitamin C along with iron-containing foods helps our bodies to better digest and utilize the iron in the foods we eat.4
Collagen Building
Collagen helps to support our joints, blood vessels, hair, skin, and nails, and Vitamin C is an essential factor in the process of creating collagen in our bodies.5
20 Foods High in Vitamin C
Peppers (yellow/orange)
The levels of vitamin C in peppers change over their lifespan from green to red; researchers found that yellow bell peppers have the most vitamin C (159mg per 100g) compared to green bell peppers with 16.52mg.3
Broccoli
Containing 93.2mg of vitamin C per 100g, broccoli is also high in fibre, which supports healthy digestion.
Brussels sprouts
Slightly lower than broccoli, brussels sprouts contain approximately 85mg of vitamin C per 100g. Brussels are also a plant-based source of iron, which is essential for red blood cell health.
Cabbage
Cabbage contains 36.6mg of vitamin C per 100g and has other antioxidant phytochemicals to help fight cell damage and inflammation.
Cantaloupe Melon
Also known as sweet melon, cantaloupe contains about 36mg of vitamin C per 100g. They are also high in manganese, fibre, and water, making a delicious and healthy snack or breakfast item.
Cauliflower
Similar to broccoli, brussels sprouts and cabbage with 48.2 mg of vitamin C per 100g, , cauliflower is a great source of both vitamin C and fibre. It's also popular in many low-carb alternative foods.
Tomato paste
Because tomatoes are a good source of vitamin C, so is tomato paste. A common ingredient for cooking soups and sauces, 100g of tomato paste contains 21.9mg of vitamin C, in addition to vitamin A, folate, potassium and many other vitamins and minerals.
Oranges
Oranges contain 53.2mg of vitamin C, and are probably the food people most commonly associate with vitamin C. While orange juice contains vitamin C, consuming the whole orange provides less sugar and more fibre per 100g.
Grapefruit
Close behind oranges, grapefruit contains about 38mg per 100g. While many choose to eat grapefruit with sugar, it would be better to find a different source of vitamin C than to add sugar to get it from grapefruit.
Guava
Guava contains 238mg per 100g of vitamin C, making it an excellent source of the nutrient, and helping it gain classification as a "super fruit". Guava is also high in other antioxidants, fibre, and potassium.
Kale
While we typically think about fruit for vitamin C, kale contains 120mg per 100g. Related to the cabbage family, you can consume generous amounts of kale (which is also high in fibre) for very few calories — just 50 calories per 100g.
Kiwi
Although they are small, kiwis are packed with vitamin C — 105mg per 100g of fruit. Eating just one kiwi per day can help you get close to your recommended daily intake.
Mango
Mangoes, another orange/yellow-fleshed fruit, contain approximately 26mg Vitamin C per 100g. Also popular as a juice in some communities, it is better to eat the whole fruit than drink the juice so to avoid added calories.
Papaya
With 60.9mg vitamin C per 100g and around 230mg per fruit, you can get all of your daily vitamin C requirements from just one papaya. Although less common than citrus, papaya is a nutrient-packed fruit to add to your shopping list.
Pineapple
Pineapple contains 47.8mg of vitamin C in a 100g serving. This is higher than the amount in oranges or mangoes, and pineapples are quite easy to find year-round. Choose fresh whole fruit or canned fruit in water (with no added sugar).
Potatoes
Regular white potatoes with skin contain about 11.4mg of vitamin C per 100g, and yams contain 17mg. Don't forget that starchy vegetables can be good sources of vitamins.
Spinach
Packed with 28.1mg of vitamin C per 100g, spinach is also a source of non-heme iron for those who follow vegan or vegetarian diets.
Strawberries
100g of strawberries contain 58mg of vitamin C — one cup can exceed your daily requirements. Naturally sweet, strawberries are great to add to smoothies or just as good eaten on their own.
Tomatoes
Tomatoes support your daily vitamin C needs with 39mg per 100g. High in both fibre and water content, tomatoes are also filling.
Watermelon
Sweet watermelon contains about 8.1mg of vitamin C per 100g; while this is not a concentrated source of vitamin C, watermelon is low in calories and a great way to add some vitamin C to your day.
Take home message
Vitamin C is essential for our health, and knowing which foods are good sources can help keep you feeling your best. Luckily, foods that are in high in vitamin C are typically high in other important nutrients, making them even more beneficial. In addition to a healthy diet with fruits and vegetables, some people may choose to take a Vitamin C supplement to make sure their intake is sufficient.
Our articles should be used for informational and educational purposes only and are not intended to be taken as medical advice. If you're concerned, consult a health professional before taking dietary supplements or introducing any major changes to your diet.
Levine, M., Conry-Cantilena, C., Wang, Y., Welch, R. W., Washko, P. W., Dhariwal, K. R., … & Cantilena, L. R. (1996). Vitamin C pharmacokinetics in healthy volunteers: evidence for a recommended dietary allowance. Proceedings of the National Academy of Sciences, 93(8), 3704-3709.
Hallberg, L. E. I. F., Brune, M., & Rossander, L. E. N. A. (1989). The role of vitamin C in iron absorption. International journal for vitamin and nutrition research. Supplement= Internationale Zeitschrift fur Vitamin-und Ernahrungsforschung. Supplement, 30, 103-108.
Nerdy, N. (2018). Determination of vitamin C in various colours of bell pepper (Capsicum annuum L.) by Titration Method. ALCHEMY Jurnal Penelitian Kimia, 14(1), 164-177.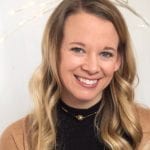 Claire is a Registered Dietitian through the Academy of Nutrition and Dietetics and a board-certified Health and Wellness Coach through the International Consortium for Health and Wellness Coaching. She has a Bachelor of Science in Biology and a Master's degree in Clinical Dietetics and Nutrition from the University of Pittsburgh.
Talking and writing about food and fitness is at the heart of Claire's ethos as she loves to use her experience to help others meet their health and wellness goals.
Claire is also a certified indoor cycling instructor and loves the mental and physical boost she gets from regular runs and yoga classes. When she's not keeping fit herself, she's cheering on her hometown's sports teams in Pittsburgh, or cooking for her family in the kitchen.
Find out more about Claire's experience here.