Feast your eyes on this delicious Spiced Carrot Protein Cake, a high-protein snack designed to help you increase your protein intake.
Ingredients:
– 20 g Myprotein whey isolate*
– 40 g Myprotein calcium caseinate*
– 30 g Myprotein buckwheat flour
– 30 g coconut flour
– 10 g oat flour (ground oats)
– 4 egg whites (125g)**
– 75 g quark
– 110 ml almond milk**
– 1 tsp vanilla extract
– 1 pipettes Myprotein toffee flavdrops
– 1 tbsp cinnamon
– 1/4 tsp ground ginger
– 1/2 tsp Myprotein psyllium husk
– 1 tsp baking powder
– 3 tsp Truvia/Stevia
– 115 g carrot, grated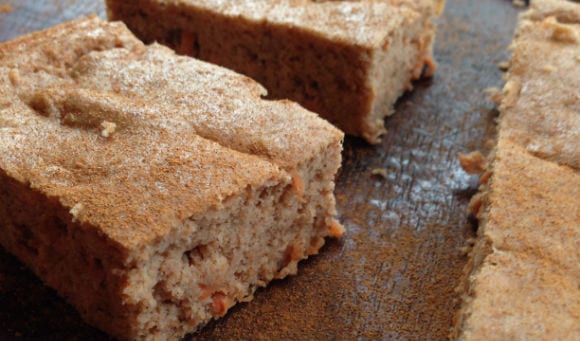 Combine the dry ingredients in a large bowl. Add in the wet ingredients, except the grated carrot, and blend together using an immersion hand blender/food processor. If the batter looks too thin, stir in some more buckwheat flour, if it's too thick, add a splash more milk.
Stir in the grated carrot. Scrape the batter into a lined tin, lightly oiled with Myprotein Coconpure Oil. I used a 20cm square tin, but you can use any – little loaf moulds work well and are handy for a quick snack to grab on the go! Bake at 180C for 25-35 minutes, or until a skewer poked in the middle comes out clean.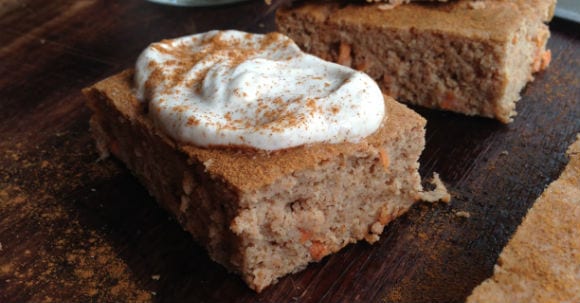 Notes:
*I used unflavoured protein powders, however I have used Vanilla and Cookies & Cream flavours in place of them, and they worked just as well – just be careful not to make the batter too sweet as the flavoured versions already have added sweetener!
**You can use 2 eggs instead of the 4 egg whites, and any kind of milk you have to hand!
Macros (1/10th batch): 69 calories; 6.7g carbs (2.3g fibre; 1.1g sugar); 8.8g protein; 0.9g fat plus 38% vitamin C!
Please note that any changes to the ingredients will slightly alter the nutritional content.