Mass gainer shakes are the ultimate way to pile on pounds if you struggle to gain weight on your normal diet. The problem is, to gain mainly muscle and not fat, you need to keep your diet clean as well as in a calorie surplus.
It's all too easy to dirty bulk, but if you're looking to keep it lean while you get big, then you need to eat right while you eat more. Taking on a mass gainer shake will help you to keep it healthier while you make up the mass. Luckily, @niallkirkland has got 3 tasty recipes to shake up your snacking and get you the calories you need to make the gains you want.
All these shakes have a surplus of 500 calories, simple ingredients and take minutes to prepare for a super convenient way to meet your macros. We've made it with the same Vanilla Weight Gainer Blend, so that you can make all three shakes with only one bag of protein.
Fancy something indulgent? Tuck into a creamy cookies and cream mass gainer shake. Feeling fruity? This strawberry cheesecake smoothie bowl is the perfect way to fuel your day. Going nuts trying to gain? Sip on thick peanut butter and hazelnut spread smoothie for a scrumptious calorie boost.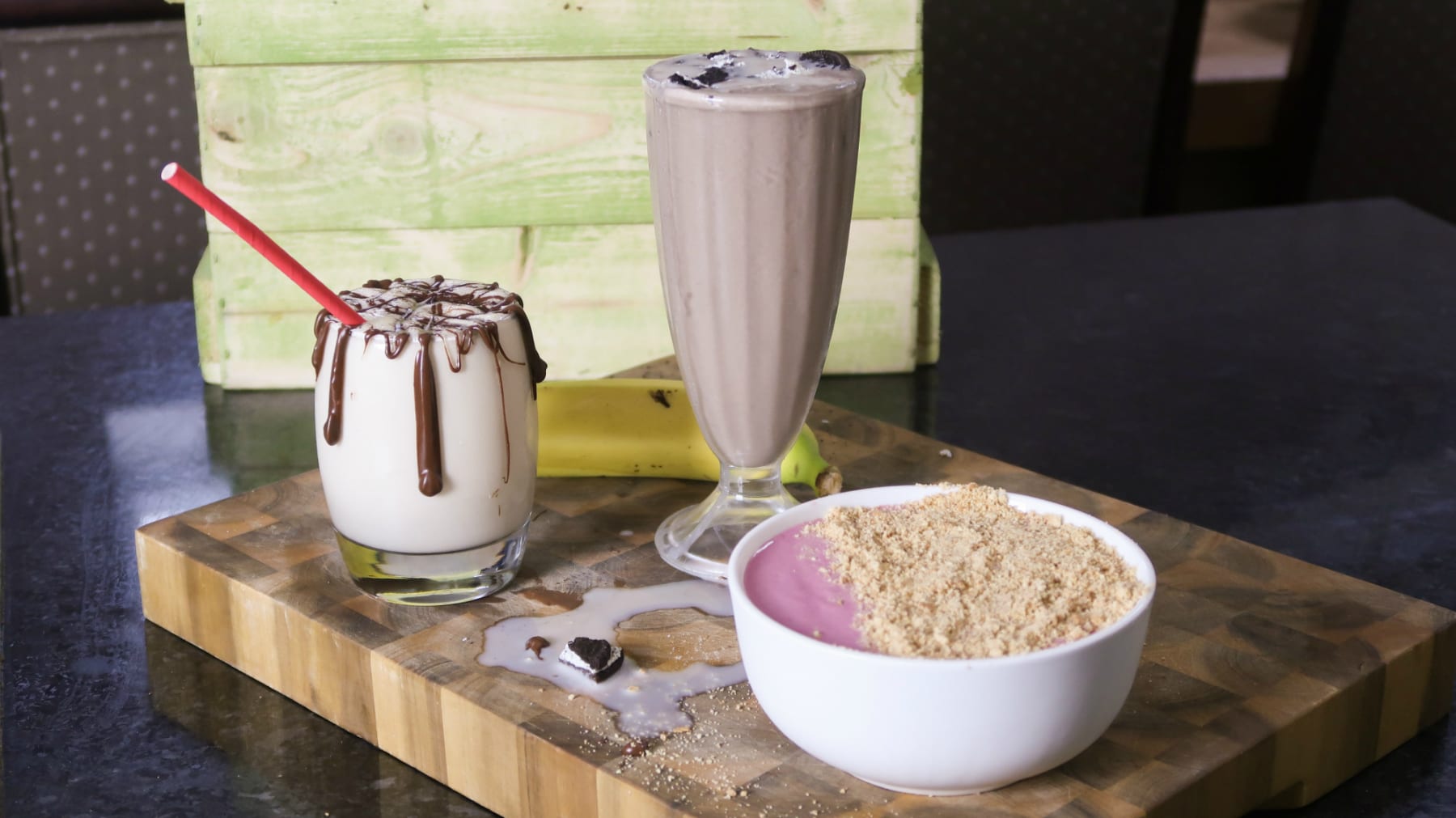 Cookies and Cream Shake
Servings

1 shake
Prep Time

5 minutes
Method
Freeze banana in the freezer for at least 2 hours before you want to make your shake.

Place all the ingredients in a blender and blend until smooth

Pour into a glass or shaker and enjoy.
Nutritional Facts
Amount per serving
| | |
| --- | --- |
| Calories | 580 |
| Total Fat | 12g |
| Total Carbohydrates | 80g |
| Protein | 32g |
Strawberry Cheesecake Smoothie Bowl
Servings

1 shake
Prep Time

5 minutes
Ingredients
100ml milk
50g Greek yoghurt
200g frozen strawberries
2 scoops Weight Gainer Blend in Vanilla
2 digestive biscuits
Method
1. Blend together all of the ingredients, except the digestive biscuits, until smooth.
2. Pour into a bowl and crumble to biscuits over the top before you tuck in.
Nutritional Information
Calories: 522kcal | Protein: 26.8g | Carbohydrates: 65g | Fat: 16g
Peanut Butter and Hazelnut Spread Smoothie
Makes: 1 shake
Prep time: 5 mins
Total time:  5 mins
Ingredients
150ml milk
50g frozen banana
2 scoops Weight Gainer Blend in Vanilla
10g melted hazelnut spread
1 handful ice cubes
Method
1. Add all the ingredients, except hazelnut spread, to the blender and blend until smooth
2. Pour into a glass or shaker and drizzle over the hazelnut spread before enjoying.
Nutritional Information
Calories: 504kcal | Protein: 28g | Carbohydrates: 50g | Fat: 18g