---
Surely a chocolate brownie can't get any better? Ohhhh yes it can! Simply follow this recipe to find out how this surprising combination results in an intense chocolate flavour! Moist texture, super chocolatey and healthy.
What are you waiting for? BAKE!
---
Ingredients
---
---
Method
---
#1 Line a medium sized baking tray with oil or greaseproof paper.
#2 Heat the oven to 150 degrees.
#3 Blend the cacao, beetroot, flour and nut milk together.
#4 Stir in melted coconut oil and cacao buttons.
#5 Add to baking tray and place in the oven.
#6 Cook through for 15-20 minutes until risen and firm.
#7 Take the brownies out of the oven and let cool.
---
For The Ganache (optional):
---
#1 Add all the ingredients to a pan and melt. Once a liquid texture is formed, pour over the brownies.
#2 Sprinkle with extra cacao and beetroot powder
#3 Tuck in!
---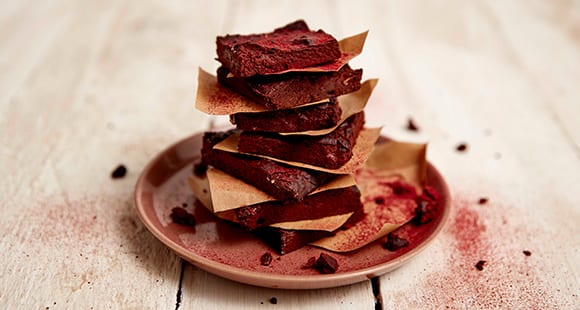 ---
MACROS FOR BROWNIES
Nutritional Facts
Amount per serving
| | |
| --- | --- |
| Calories | 266 |
| Total Fat | 1.9g |
| Total Carbohydrates | 1.9g |
| Protein | 7g |
---