One way we're celebrating World Vegan Month this year is by launching three brand-new flavours of Vegan Protein Blend.
Our vegan and flexitarian customers loved the Vegan Protein Blend so much that we've had to extend the flavour family to include Vanilla, White Chocolate Raspberry and Chocolate Caramel Peanut. But if you're not familiar with the Vegan Protein Blend, let us first introduce you.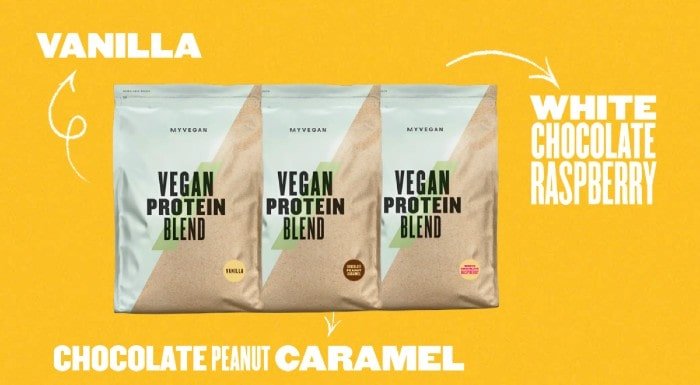 What is Vegan Protein Blend?
With improved taste and texture, the Vegan Protein Blend combines pea and fava bean protein isolates to enhance your plant-based diet and provide a full amino acid profile in one shake.
With 22g of protein per serving and just 110 calories, the Vegan Protein Blend works for anyone trying to pack on plant-powered muscle, lose some fat or simply looking to get some more protein into your diet.
A complete protein source
A common worry for those looking for a vegan protein powder is that they won't be getting a complete protein source. The Vegan Protein Blend provides a solution. Containing the nine essential amino acids that our body can't produce on its own and 5g of naturally occurring BCAAs with the optimal 2:1:1 ratio of leucine, isoleucine and valine, this protein rivals many animal-based proteins.
And did we mention that they're low in sugar and super tasty?