If there's anything in this world that Stan Browney loves, it's completing something either very difficult, something that very few people have achieved, or breaking a world record.
On the agenda this time – lifting a dumbbell that only one other person has managed to lift. Even The Beast, Eddie Hall, didn't master it.
What makes them unliftable...
To an untrained eye, they look pretty standard, just round on the edges. But that's where you'd be mistaken. They're circus dumbbells.
A truck arrived one morning with the circus dumbbells loaded inside. The starter pack included six different weights – 20kg, 31kg, 42kg, 53kg, 64kg, and the unliftable amount, 78kg.
The catch – the handle diameter does not support a simple grip, and to complete the challenge, you can only use one arm.
To give you some reference to the grip size – a tub of Jelly Belly BCAA is thinner than the grip on the dumbbell. It's roughly the size of an apple.
The first two weights, even given the size of the grip, were no match for Arjen or Browney.
Problems hit when they reached the third dumbbell – 42kg.
The circus dumbbells were coated in a thin layer of oil, and matched with the grip size it made them near impossible to lift – and they were still nowhere near the known 'unliftable' dumbbell.
The third dumbbell took some attempts, but they made it in the end. The fourth, however, was where they met their match. But the challenge wasn't over yet.
Watch Browney's attempt here:
The secret to a successful lift is only gripping the dumbbell with your fingertips, apparently.
The first step included removing any oil – that's not part of the challenge. Step two, plenty of chalk. Step three, the new grip. And after countless attempts they managed to lift the fourth dumbbell.
Take Home Message
Browney's challenges are always intense and seemingly impossible - but he always manages to pull it off.
Do you think you have what it takes to lift the unliftable dumbbell?
Enjoy these articles?
READ THESE NEXT: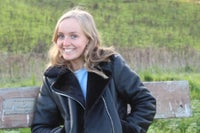 Emily is studying Business Management & Marketing at the University of Birmingham and is currently on her intern year. She has a keen interest in both writing and fitness, so is happy she can now combine the two. She likes to spend time with her friends, both in & out of the gym.