Just when you thought our Clear Whey Isolate couldn't get any better — we've joined forces with Vimto® to bring you the most refreshingly different protein shake yet.
Check out the full unmissable limited edition collection here and find some of your fitness favourites with an unmistakably Vimto® twist.
And what better way to celebrate a partnership this tasty than with a sweet & simple cheesecake recipe? Yep, we've got your dessert cravings completely covered with this healthy twist on a classic cheesecake — we've completely cut the sugar content & left out any butter to give you a lighter version that you can enjoy on any training plan. Plus, each slice packs in nearly 20g of protein. Impressive.
Serves 8
Ingredients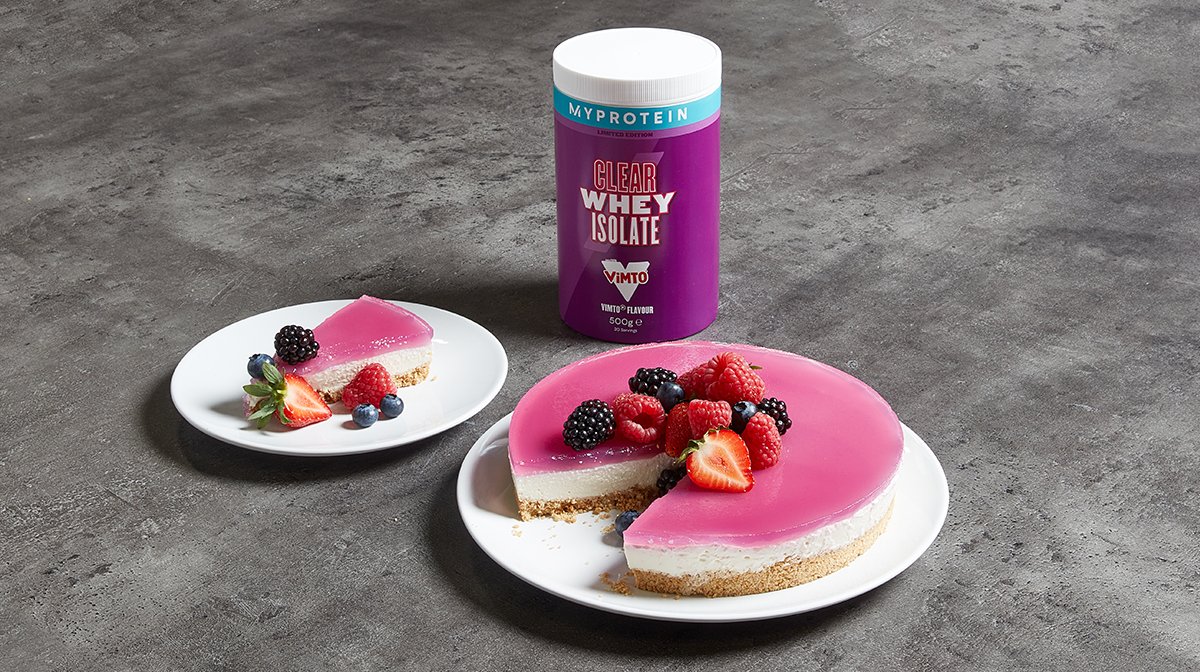 Method
First, add the biscuits and coconut oil to a food processor and blitz until you have a fine crumb mixture. Pour out into a tin and pat down into a smooth layer using a spatula or the back of a spoon. Leave to chill in the fridge for 1-2 hours.
Meanwhile, add the cottage cheese, cream cheese, vanilla protein, and 5-6 drops of vanilla Flavdrops to a large bowl and mix well. Spoon out this cheesecake filling on top of the biscuit base, smooth into an even layer, and chill for 2 hours.
To make the final Vimto jelly layer, add 150ml water and a scoop of Vimto Clear Whey Isolate to a shaker and shake until fully combined. Leave for a few minutes to allow the bubbles to go down.
Meanwhile, mix together the gelatine and hot water, then carefully add this gelatine liquid to the shaker with the Vimto Clear Whey and shake well.
Carefully pour out the Vimto jelly liquid on top of the cheesecake and allow to set in the fridge for 2 hours.
Garnish with fresh berries, slice up, and dig in!