Dreaming of the days when shelves were stocked with more than just lasagne sheets?
---
If you're anything like us, you're craving a big bowl of pasta even more now that it's off the menu. Well, don't worry, our favourite kitchen whizz Niall Kirkland has got things covered with these simple — and super-healthy — pasta alternatives.
Make way for courgetti and… squashetii?
All you need is a spiralizer, then you pretty much have unlimited access to all the vegetable pasta you could want. Not only is it a nifty trick for replacing that penne-shaped hole in your heart, but it's a great way to get in extra vitamins and minerals — while keeping the carbs relatively low.
Paired with a simple yet completely delicious sauce, these pasta alternatives really will hit the spot when it comes to a comforting evening meal. Give them a go now.
Serves 1            
Ingredients
1 courgette or ½ large butternut squash (peeled)
½ tbsp. 100% Coconut Oil
½ red onion (chopped)
1 garlic clove (chopped)
Handful cherry tomatoes (halved)
Handful asparagus tips (chopped)
½ tsp. white wine vinegar
1 handful spinach
½ tsp. chilli flakes
1 tsp. oregano
2 tsp. pesto
Optional toppings:
Handful pine nuts
Parmesan (grated)
25g pancetta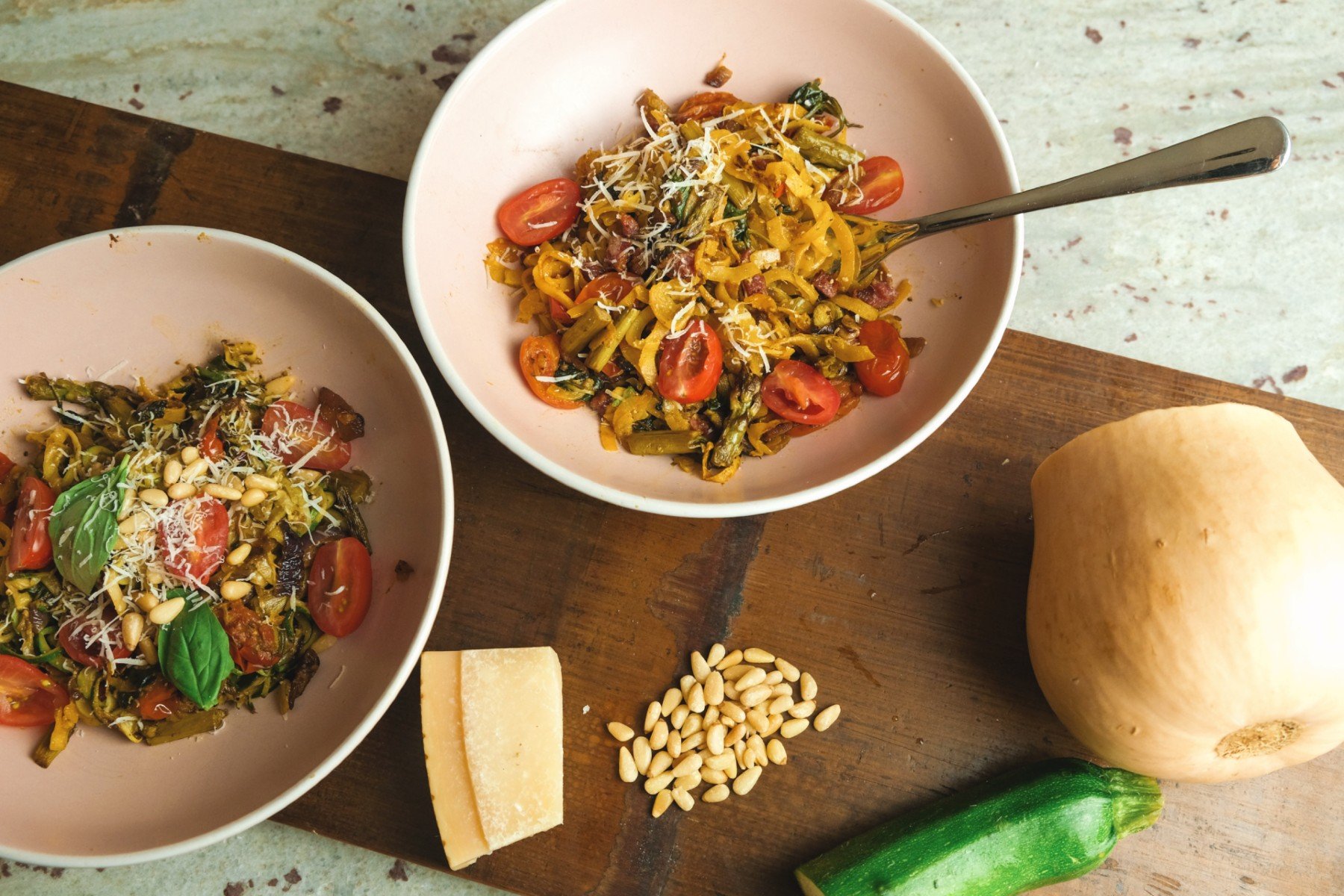 Method
Use a spiralizer to create long thin noodles from either a courgette or butternut squash. If you are using butternut squash, you will have to trim the squash down first so that it will fit.
Now, heat coconut oil in a non-stick pan and add the garlic and red onion.
Fry for 3-4 minutes before adding the cherry tomatoes, asparagus tips, and white wine vinegar.
Leave to simmer on a medium heat for 5 minutes and then add the spinach, chilli flakes, and oregano. Give it a stir and then cover for a 3-4 minutes to wilt the spinach.
Now, add either your courgetti or squashetti to the pan. If you are making courgetti, add to the pan with 2 tsp. of pesto, stir well and the noodles will soften within 2 minutes. If you are doing squashetti, follow the same process, except cover and leave to simmer for 5 minutes to soften.
Garnish with topping of your choice — Niall's gone for a winning combination of parmesan and pine nuts, with a little pancetta on the squashetti too.
Nutritional info per serving (with toppings):
| | | | | |
| --- | --- | --- | --- | --- |
| | Calories | Protein | Carbs | Fat |
| Courgetti | 516 | 12.9g | 23.7g | 39.5g |
| Squashetti | 572 | 14.8g | 30g | 40g |