Naturally Stefanie makes us her fluffiest vegan protein pancakes yet.
---
Vegan diets are more popular than ever. And with the addition of so many brilliant vegan alternatives to meat and dairy products, as well as mouth watering vegan recipes, there's no reason not to try some vegan meals out.
These fluffy vegan maca pancakes, thought up by Naturally Stefanie, are quick and easy to make, as well as full of protein.
They're also micro-nutrient heavy thanks to the maca powder which brings along Vitamin C, B6 and Iron.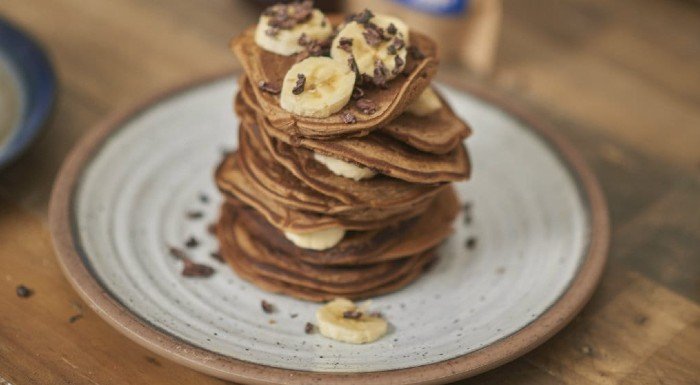 Ingredients
Makes: 6-8 small pancakes
Toppings:
Method
1. First, combine all ingredients except toppings in a blender and process until smooth. The banana acts as your egg replacer to bind all of the ingredients together.
2. Next, add coconut oil to a pan and turn to a medium to high heat.
3. Pour out the batter (around 2-3 tbsp. at a time). Fry until the edges begin to turn golden, then carefully flip and fry for a further minute or so on the other side. Repeat for remaining batter.
4. Once you have your stack, top with banana, cacao nibs and maple syrup. Easy!