Boredom is an inevitable emotion that can hit us all at some point in our lives, and the probability of boredom setting in during the current global situation is fairly high.  
Before you beat yourself up for dreaming about what you could cook with those leftover creme eggs for the fifth time of day, here are a couple of reasons why it's such a good idea to get yourself into the kitchen to cook up a storm.   
Cooking passes the time
If you're bored and looking for something to pass the time until your next Instagram live workout, then look no further than the kitchen.
Not only does cooking provide you with a delicious outcome that can help you reach your macro goals, but it also keeps your hands busy and your mind occupied.
Following a recipe is methodical and allows you to switch your thoughts away from your previous lack of activity and the minutes passing by.  
Good news we have a load of macro-friendly recipes. From shakes to lentil dahls, to healthier versions of your favourite snacks, these recipes will keep you entertained (and full) for as long as you need.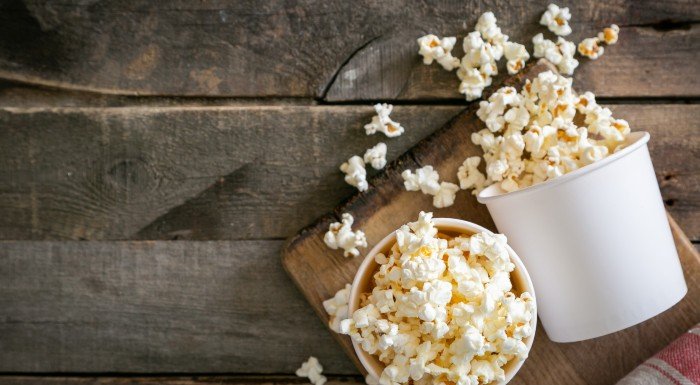 Cooking helps to reli
e
ve frustration
It's no surprise that psychologists often link boredom with frustration as both emotions stem from similar situations – lack of external stimulation or activation. 
Being in the kitchen offers many opportunities to vent your frustration, from ferociously kneading dough to steadily peeling potatoes.  
Aside from providing a complete array of all essential amino acids, meat can also help to alleviate frustration through one simple action… tenderising it.
Sandwich your meat between two sheets of clingfilm and use a meat mallet to break up the tough connective tissue and pound out your frustrations.
This method is best used on tough cuts of meat but could be applied to bread, potatoes you want to mash or fruit that you'd like to puree.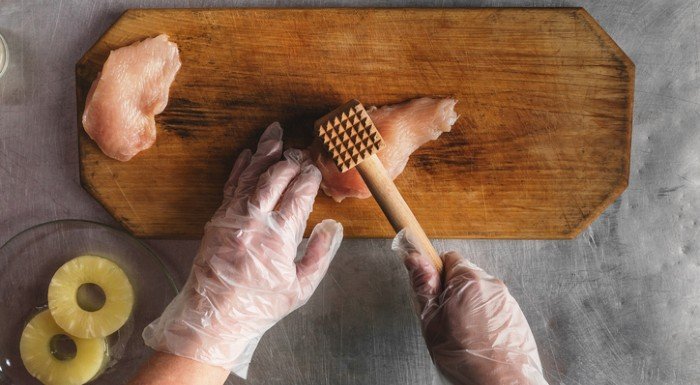 You're in control
At a time when we may feel as if we can't control what food we'll be able to buy or when we'll next be attending our usual spin class, cooking is something that we can control.
You're in complete control of the ingredients you use, the time you bake or freeze or marinade, and what spices you choose to flavour your shakshuka with.
Although it's normally best to follow a recipe if you're a kitchen newbie or trying to imitate a dish you've seen on TikTok, there are plenty of ways to steer your completed food in any direction you choose.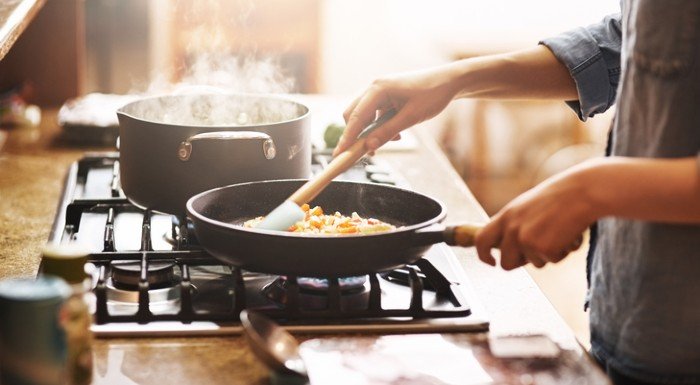 Baking can be a project
If you're a goal-driven gym–goer, then spending time in the kitchen is your perfect match. Baking can be hit and miss, especially if you choose to bake something a little beyond your level of chef, but the feeling of accomplishment when you succeed is similar to the feeling of hitting your bench press goal weight. 
If you like a challenge, pick a recipe that will take you several attempts to achieve the desired end result.  
Boosts confidence
Your kitchen creations need not only be a way to beat the boredom as cooking is also a great way to boost your confidence.
At a time when our confidence may be lacking due to uncertainty which can affect our mental health, it's important to do things that make us feel self-assured again.
Your food doesn't have to be Instagram worthy to make you feel proud and accomplished and bring out that confidence of yours.  
Discovering
something new
Not only does the kitchen provide a chance to cook up a storm to help you achieve your gym goals, but it's also a great way to let your creativity flow.
In doing so, you might just discover new flavour combinations that tickle your taste buds and impress the rest of your house.
Take Home Message
It's only natural that we'll experience boredom sooner or later and spending time in the kitchen doesn't have to be seen in a negative light.
There is no need to fall out with your food processor or throw knives around when you can follow loads of great recipes and practice your new cooking skills.  
There's no shame in dusting off the chef hat that you've saved from your dress-up days at uni – this is the time to get creative and keep yourself busy in the kitchen, not only with quick snack ideas to hit your macro targets but also with projects for the long haul.  
Our articles should be used for informational and educational purposes only and are not intended to be taken as medical advice. If you're concerned, consult a health professional before taking dietary supplements or introducing any major changes to your diet.
Van Hooft, E.A.J. and Van Hooft, M.L.M. (2018) 'The state of boredom: frustrating or depressing?',

Motivation and Emotion

, 42(6), p. 931-946. doi: 10.1007/s11031-018-9710-6