Salads are seeing a revolution recently and with good cause. Inventive recipes mean the humble salad is no longer a sad bunch of leaves to help you lose weight the hard way. Nor is it a vehicle for fat-laden dressings. The salad is truly having its moment, and you can maximise yours by adding these incredible superfoods.
Salad Superfood #1: Prunes
Slice a few prunes and give your salad an injection of sticky superfood sweetness. Prunes are high in the natural polyphenols. This makes them great for your bones, stimulating cell growth to keep your skeleton dense and strong. Try them with: Asian inspired salads go great with prunes. Throw them in with some chickpeas, rocket, cumin, turmeric and garlic oil.
Salad Superfood #2: Walnuts
Walnuts are very high in omega 3, which has fantastic anti-inflammatory properties as well as helping with memory and coordination. This superfood is also a great source of vegan protein, to help you stay full and boost your muscle repair. Try them with: Go classic and opt for a Waldorf salad. Chop up apples, celery, grapes and lettuce. Throw them all together with some natural yoghurt, dried tarragon and a squeeze of lemon.
Salad Superfood #3: Kale
Superfood of the moment, kale lives up to the hype. It's a fantastic source of calcium, as well as being a powerful antioxidant. It's also packed with vitamin A which helps your skin and immune system.
Try them with a salad with an oil-based dressing. You can swap in your regular lettuce or other green leaves for kale, but make sure you rub in the oil for a minute or to so the leaves soften. Strip the leaves from the tough raw stems and shred them up for a delicious salad base.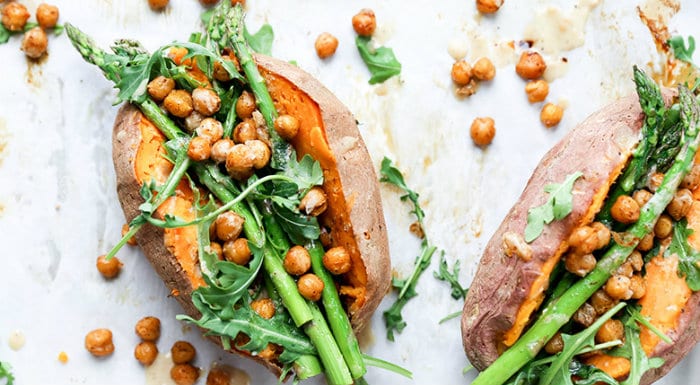 Salad Superfood #4: Coconut oil
Coconut provides the body with medium chain triglycerides. This means that they provide the body with energy quickly and efficiently. They go straight to the liver for oxidisation and can help boost your metabolism.
Try them with: in an oil based dressing, substitute half the olive oil for coconut oil. You'll have to whisk it up to combine it thoroughly, but it's worth it!
Salad Superfood #5: Kiwi
As well as providing an exotic aesthetic to your salad, kiwis are great for your health. Just one kiwi provides the body with its daily intake of vitamin C. Your salad will be an immune busting bowl of goodness in no time.
Try them with: Add them in with other fruits such as strawberries with your greens. For a fruity dressing, squeeze an orange and a lime over your bowl. It will smell so fresh and heavenly, you'll have no doubt it's doing your body some good.
Salad Superfood #6: Sunflower Seeds
These add a nice bit of crunch to your salad, as well as superfood benefits. Sunflower seeds are very high in Vitamin E – a large handful of them provides 50% of your daily intake.
Try them with: Sprinkle them over your normal salad to mix things up. Make a dressing with sunflower oil, lemon and a touch of honey to maximise the flavours.
Our articles should be used for informational and educational purposes only and are not intended to be taken as medical advice. If you're concerned, consult a health professional before taking dietary supplements or introducing any major changes to your diet.