By Myprotein Writer Steven Mackay

It goes without saying that good nutrition is an integral part of football, with every player in the English Premiership having the benefits of highly qualified nutritionists and personal trainers at their disposal to ensure they perform to their optimum levels week in week out. But what about the lower levels of the game in England and Scotland, can good nutrition and regular exercise really enhance your performance?
I compete at a very modest level in the Scottish Highland League for Brora Rangers whereby I make the most of the time I have, giving myself the best opportunity to perform to my optimum levels with the assistance of regular exercise, weight training and good nutrition.  Regardless of what level of football you play at, amateur, semi-professional or professional you want to win every game you play and perform to your best.
If you engage in poor nutrition and don't exercise regularly, the chances are you will not perform anywhere near your peak level over a sustained period of time.  You might get away with it for a few games, but it will eventually catch up with you over the course of a season and you will soon be forced to drop down a level or two in order to compete.  A lot of lower league footballers talk about playing at the highest level possible but in my view very few are willing to put in the work in order to get there.  To provide yourself with the best opportunities it's important to update your knowledge on fitness & nutrition, educating yourself on the benefits of good nutrition.
Football has evolved so much in recent years, gone are the days when players could get away with eating what they wanted and consume alcohol regularly.  The modern day footballer at the highest level is a finely tuned athlete.  Take Cristiano Ronaldo as an example, yes he has been blessed with amazing technical ability and pace but he works incredibly hard on his fitness and physique in order to optimise his performances.  Gareth Bale is another, at Tottenham he was a fantastic player but in order to play regularly for a team like Real Madrid he had to work even harder on his fitness and physique.  He now has the physique of an Olympic sprinter and has enjoyed the most incredible 12 months at Madrid.  I appreciate that they are two examples of elite footballers but regardless of what level you compete at, regular weight training, good nutrition and supplementation can dramatically enhance your performances.
However it's not something that yields overnight success, you need to commit to it and be willing to make sacrifices.  Time management is an issue for most people yet everyone seems to find time to watch TV, go on a night out or spend hours on Facebook or Twitter.  If you really want to be successful you will find time, if you don't you will find an excuse.
2. Supplements for Football
To optimise football performance in addition to your diet several supplements can be used:
In the diet protein is the only macro nutrient that can repair muscle tissue,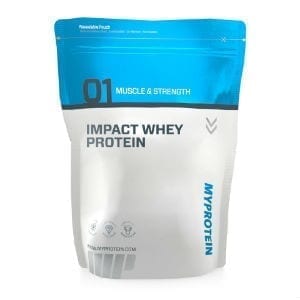 making it especially important to individuals taking part in sports and intense physical activity. Whey protein is a unique type of protein and a bi product in the cheese making process. Whey protein is the fasted absorbing protein that contains a comprehensive profile of the branched chain amino acids (BCAA's). This means when consumed whey protein can be delivered and absorbed directly by the muscles to aid muscle growth and recovery. In football this is important to increase tissue repair after a match and maintain muscle mass.
2) Casein & Protein Blends
Casein is the main component of milk and is also known as a slow digesting protein.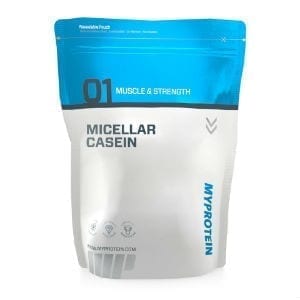 Unlike whey protein casein is released in the body over a longer period of time, meaning it can provide a sustained release of amino acids throughout the day and night. Ideally it is best to consume casein at night as this can prevent muscle breakdown as we sleep. Protein blends are often preferred to casein alone as they can provide sources of both fast and slow absorbing proteins to the muscles in need.
When it comes to training carbohydrates are the body's main source of fuel. There are two types of carbohydrates that should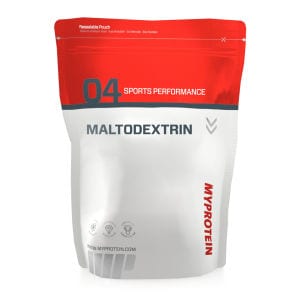 be consumed prior to training, complex and simple carbohydrates. Complex carbohydrates include foods such as rice, bread and pasta which offer a sustained release of energy over time. Simple carbohydrates such as Maltrodextrin and dextrose are simple sugars that can be quickly digested in the body to release glucose- making them ideal to consume prior to a workout.
Amino acids are the building blocks of proteins.
In the body there are essential and non-essential amino acids. 3 essential amino acids lie within a category called branched chain amino acids- BCAA's. These amino acids are unique in structure and instead of being digested in the stomach can be digested directly at the muscles. BCCA's can provide the muscles with a source of energy and promote an anabolic environment to stimulate protein synthesis and muscle recovery. Ideally BCAA's should be consumed prior to training and post training to prevent muscle breakdown.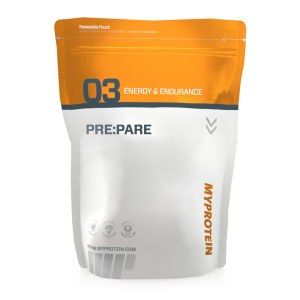 PRE:PARE is part of the Myprotein endurance range, this pre workout formula incorporates caffeine, carbohydrates maltrodextrin and palatinose and fructose- making it the ideal energy source to fuel your football match.
PRO:LONG  is a intra workout formula containing carbohydrates, electrolytes and vitamin C. This formula can help reduce tiredness and fatigue whilst supporting the immune system after and during intense physical exercise.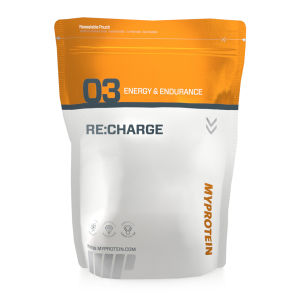 RE:CHARGE is a protein and carbohydrate blend which can help replenish depleted glycogen stores and promote muscle recovery and growth.
Creatine monohydrate is a commonly consumed supplement amongst bodybuilder.
However, creatine has been proven to increase physical performance in successive bursts of short term, high intensity exercise- making it ideal for match performance when fast sprints are required. In the body creatine is a chemical that reacts to produce ATP energy in the muscles. We produce creatine naturally but during exercise these stores are easily depleted. As a result, stores need to be replenished, however due to animal products only offering small amounts, a supplement is often advised.
I challenge everyone that plays football to review their lifestyle and ask themselves, am I:
1) Doing enough to ensure that I perform to the best of my abilities?
2) Content with average or mediocre performances?
3) Letting excuses get in the way of my success?
To optimise football performance both endurance and strength are required. As a result training involving low intensity steady state cardio, high intensity interval training and strength training are all advised. Below is an example of the level of training that could be used to support your playing in football.
Monday – Legs
Exercise
Reps

20min Cardio (Treadmill)4 x Squats

4 x Deadlifts

4 x Weighted Lunges

4 x Good Mornings

Interval Runs – 1min High Intensity, 1min Moderate (2min warm up/down)8 reps

8 reps

10 reps

8 reps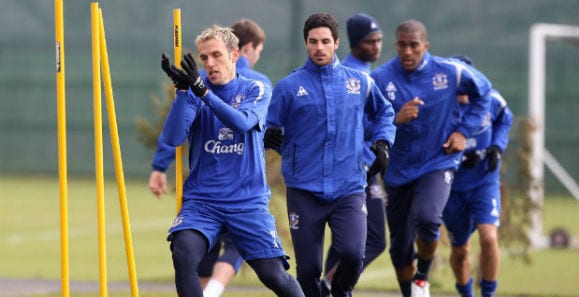 Tuesday – Chest & Core
Exercise
Reps

3 x Incline Chest Press3 x Incline Dumbbell Press

3 x Dips

3 x Incline Flye

3 x Cable Cross Over

3 x Hanging Leg Raises

3 x Jackknife

3 x Plank

8 reps8 reps

10 reps

8 reps

8 reps

12 reps

12 reps

1 min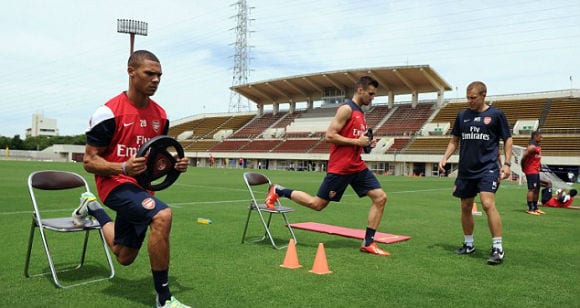 Wednesday – Biceps & Triceps
Exercise
Reps

20min Cardio (Treadmill)4 x Wide Arm Pull Ups4 x Dumbbell Curl

4 x Skull Crushers

4 x Narrow Dips

4 x E-Z Bar Curl

4 x Tricep Push Down

Interval Runs – 1min High Intensity, 1min Moderate (2min warm up/down)8 reps

8 reps

8 reps

10 reps

8 reps

8 reps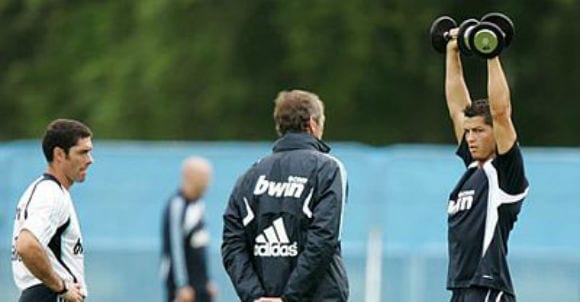 Thursday – Shoulders & Core
Exercise
Reps

20min Cardio (Treadmill)4 x Military Press4 x Dumbbell Side Lateral Raise

4 x Weighted Plate Raise

3 x Weighted Leg Raises

3 x Kneeling Cable Pull Down

Interval Runs – 1min High Intensity, 1min Moderate (2min warm up/down)8 reps8 reps

8 reps

12 reps

12 reps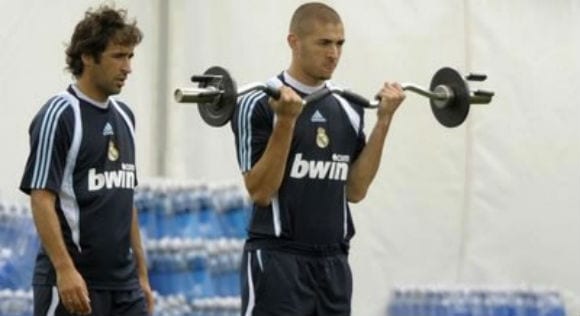 Friday – Back & Traps
Exercise
Reps

20min Cardio (Treadmill)4 x Wide Arm Pull Ups4 x Lateral Pull Downs

4 x Dumbbell Shrugs

4 x Barbell Shrugs

4 x Bent Over Rows

Interval Runs – 1min High Intensity, 1min Moderate (2min warm up/down)8 reps

8 reps

8 reps

8 reps

8 reps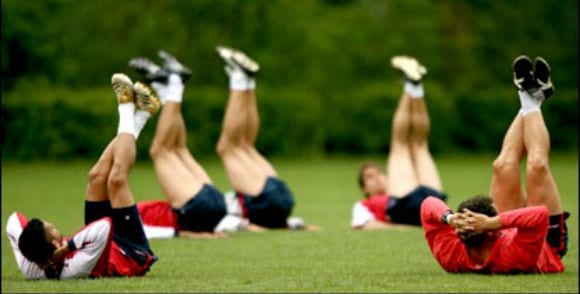 If you're serious about football then you need to be serious about your nutrition. When we exercise the body is stripped of essential nutrients and energy- making nutrition a number one priority. To optimise your performance and training around football supplements should act to support your diet- not replace food.