Vitamin A is a fat-soluble vitamin (meaning it is absorbed with sources of fat) that can be found in many foods. Vitamin A helps to support our immune system, skin health and eyesight.1 Vitamin A occurs in two different forms: retinol, which is primarily found in animal food sources, and carotenoids (like beta carotene),which are mainly found in plant food sources.2 Most adults need between 700-900 mcg per day.3 This article presents 17 foods high in vitamin A to help you make sure you're getting enough in your diet.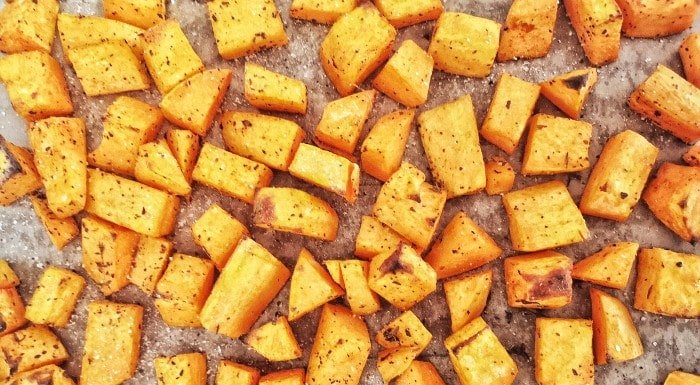 17 Foods High in Vitamin A
Beef liver
The most concentrated food source of vitamin A is beef liver, containing seven times the daily requirement in just 85 grams. Also high in protein, iron, and cholesterol, liver is food that tends to divide opinion but it is incredibly nutrient dense.
It might not be the most aesthetically pleasing food, but liver has a few benefits…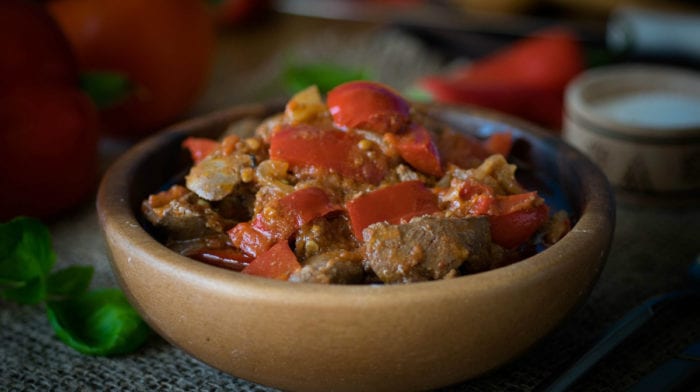 Trust us, it's good for you.
Sweet potato
Sweet potatoes are one of the plant-based sources with the highest amounts of vitamin A. One whole potato with its skin provides more than the daily recommended intake. They're also a source of fibre and vitamin B6.
Get more sweet potato in your diet with these tacos…
Spinach
Spinach is a nutritional powerhouse, containing 573mcg of vitamin A per half cup of cooked spinach. Also high in iron, vitamin C, vitamin K, and folate, spinach is one food that everyone should incorporate into their diets, especially those who follow a primarily plant-based diet.
Pumpkin pie
Pumpkin pie, thanks to its bright orange pigments, is also high in vitamin A. One slice has about 488mcg of vitamin A on average, which is about half of your daily needs.
Carrots
Carrots are high in carotenoids, and half a cup contains about 459mcg of Vitamin A. They are also low in calories and fat, making them a great snack to combine with proteins and healthy fats like hummus and natural peanut butter.
Ricotta cheese
A popular ingredient in many Italian dishes, ricotta cheese is a great source of vitamin A, containing about a third of your daily requirements (263mcg) in one cup. You can also add ricotta cheese to pancakes and other sweet dishes for a protein boost.
Pickled Herring
Preserved and easy to keep on hand, pickled herring has 219mcg of vitamin A in an 85g serving. Although it's an acquired taste to some, herring is also a good source of protein.
Milk
Milk and other dairy products contain vitamin A (149mcg in a cup) and are also good sources of protein and calcium.
Cantaloupe
The orange colour of cantaloupe indicates its carotenoid (vitamin A) content. The melon is low in calories and high in water content, making it a hydrating and naturally sweet treat. One half cup contains 135mcg.
Red peppers
Red peppers are another easily identifiable plant-based source of vitamin A due to their bright colour. Yellow and orange bell peppers contain some vitamin A, too, but it's deep red peppers that have the highest amount, with 117 mcg per half cup. Raw strips of red peppers are high in fibre and water, and make a great snack with hummus to keep you feeling satisfied.
Mangoes
Mangoes are another fruit source of vitamin A, containing 112mcg in one whole fruit. When frozen, they are a great addition to smoothies to provide some extra fibre and sweetness.
Fortified cereal
Because cereal is so popular and vitamin A is a key nutrient for health, many cereals have vitamin A added to them. Check the label on your cereals to see if you can find vitamin A in the ingredients list, as well as other fortified nutrients like iron and Vitamin B6.
Eggs
Eggs are an animal-based source of vitamin A, containing 75mcg per egg. They are not a super-high source of it, but if you include eggs as a protein source in your diet on a regular basis, you'll also be banking some of the vitamin A you need for the day.
Forget boiled, poached or fried, try putting your eggs in a wrap…
Black-eyed peas
One cup of boiled black-eyed peas contains 66mcg of vitamin A, making these beans a great vegan option for vitamin A. They are also high in protein and fibre.
Dried apricots
Apricots are in the bright orange fruit family, which is a good indicator of their vitamin A content. Fresh apricots are also high in water content. When dried, the vitamin A becomes more concentrated, making dried apricots your best bet for the most vitamin A per serving. 10 half dried apricots contain about 63mcg of vitamin A.
Broccoli
While not orange or red in color, broccoli is still a plant-based source of vitamin A, containing about 60mcg per half cup, in addition to fibre and other antioxidants. Eat more broccoli and increase your vitamin A intake.
Salmon
If you don't eat liver or pickled herring, salmon is another common animal-based source of Vitamin A, containing approximately 60mcg in 85 grams. Salmon is also packed with protein and heart-healthy Omega-3 fatty acids, making it a good, nutrient-dense option for any well-balanced diet.
If you've not tried poke bowls yet, now is the time…
Take home message
Vitamin A is crucial for supporting many of the body's maintenance activities and functions. Getting enough vitamin A in your diet is important, regardless of whether your focus is primarily plant-based foods or animal-based sources. If you can't get enough vitamin A in your diet, you might also consider taking a vitamin A supplement to cover all the bases and make sure you're getting the recommended amount.