By Myprotein Writer |
Alex Simpson
Want to know if you can carry on with creatine while trying to lose fat? Whatever your reasons for cutting fat, whilst talking about it is easy enough, actually doing it is a whole different matter altogether. When cutting, your objectives are obviously to strip away as much fat as possible, whilst retaining as much muscle mass as you can, ultimately with the aim of looking as lean, ripped, and as vascular as you possibly can.
Diet, cardio, and different training protocols are all obviously very important, but so too are supplements. Supplements can make such a difference when it comes to changing the appearance of your physique, and indeed, to optimising your performance in the gym, creatine supplements are incredibly popular, but are they appropriate whilst cutting. Some say yes, whilst some inevitably say no. Here's a more detailed look so you can make your own mind up!
---
What Is Creatine?
Creatine is a naturally occurring nitrogenous compound that is synthesized within the human body, as well as being present in foods including red meat and fish.
The liver, pancreas, and kidneys help to synthesize this compound, which is actually a derivative of three separate amino acids, which are: glycine, arginine, and methionine. Numerous studies and pieces of scientific research, have been able to link creatine to muscle growth and repair.
---
Creatine & Dieting
So, the million dollar question 'can you use creatine whilst cutting'? Well, in a word – YES. One of the biggest drawbacks associated with creatine, is the fact that, as many forms help to draw water into the cells, they can therefore cause bloating and water retention, which, as a bodybuilder prepping for a contest, is exactly what you don't want.
To get around this however, experts recommend avoiding creatine monohydrate, and instead choosing a creatine with an increased rate of absorption, with micronised creatine or creatine ethyl ester, being ideal.
For increased rates of absorption, experts also recommend creatine immediately after you train, along with a simple sugar. The sugar will lead to a spike in insulin, which will help to shuttle more of the creatine into the muscles, meaning that more of the creatine gets used up, rather than going to waste and causing bloating and water retention.
Some people however, will respond negatively to creatine and will bloat no matter what, and if this does apply to you, sadly, you will need to look for an alternative supplement.
---
How Does Creatine Work?
Creatine works by being stored by the muscles in the form of creatine phosphate, which plays a key-role in the ATP energy system. ATP, or Adenosine Tri-Phosphate, is a natural source of energy used by the muscles, so by increasing ATP levels, muscle hypertrophy and training intensity can both be increased exponentially.
As mentioned, the body is able to naturally synthesise creatine, but the main problem is simply the fact that the amount of creatine that the body can produce, is simply not enough to prove especially beneficial. This creatine is speedily converted into ATP by the muscles, but unfortunately, the amounts produced can literally only prove beneficial for a few seconds.
Muscle Growth and Repair
Creatine is extremely popular amongst bodybuilders and strength athletes, due to the fact that it can assist with muscle growth and repair.
The main reason for this is simply down to the fact that the more creatine there is, the more ATP can be produced, and therefore, the more energy the muscles will have, resulting in longer training durations and increased training intensity.
---
Different Types Of Creatine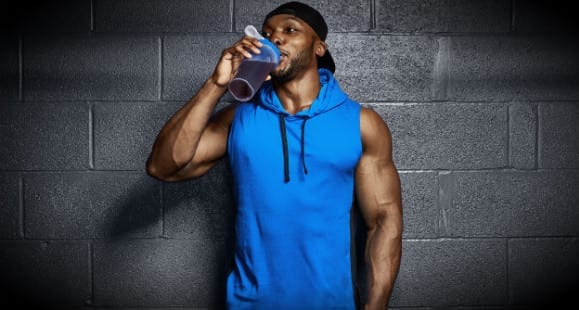 Just like there are many different forms of protein, there are also different forms of creatine supplement currently available, and whilst being similar, they do offer different benefits and drawbacks. Common and popular forms of creatine include:
✓ Creatine monohydrate
This is arguably the most common and popular form of creatine, and generally requires around 5g per day to be effective. Some claim that a loading phase of 3 – 5 5g doses per day is required, whilst others claim this is a waste of time.
There is also no one best time to consume creatine, as some consume it pre, and some consume it post-workout.
✓ Creatine ethyl ester
This form of creatine is thought to require than than 5g per day to be effective, with 2-3g per day being optimal.
This creatine has an additional ester molecule attached to it, which increases the rates of absorption into the body. It is more potent and is considered more beneficial by some creatine users.
✓ Micronised creatine
Micronised creatine is a form of creation monohydrate that has been micronised, which basically means that each molecule has been cut up and divided, which results in a larger surface area, which means more absorption into the muscle cells.
---
Take Home Message
If creatine is used as instructed, and if you listen to your own body, the results will be extremely impressive and you'll look leaner and more muscular than ever…Which can only be a good thing!