The Supplement. is back, and we're back with a special edition. Myprotein's digital magazine has ventured into the world of recipes, to bring you: Not Just Chicken And Rice.  
We've done the research, the cooking, the tasting, we even did the washing up, so that all you have to do is put on your apron and hit the kitchen.  
What's more, each recipe includes options to tailor dishes to your own goals. Whether you want to build muscle, get lean, or lose weight, there really is something for everyone, plus mouth-watering vegan options.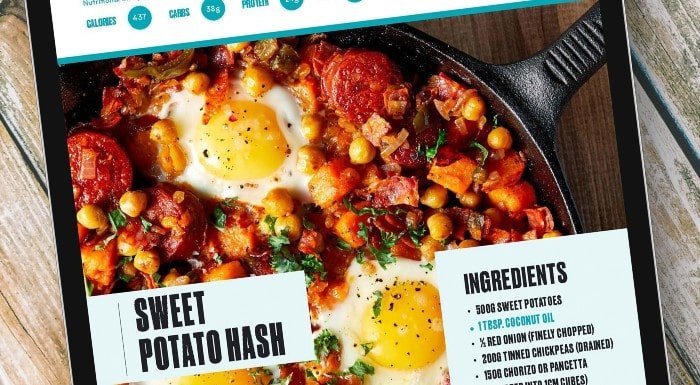 Here's what to expect
Breakfast. The most important meal of the day. But sometimes five more minutes in bed feels like the better option. We've thought ahead. Overnight oats, the perfect breakfast treat. Prepare the night before whilst you're making your dinner. Put it in the fridge and the next morning you can simply grab it and go. 
Alternatively, we've also provided the recipes for lazy Sundays when all you want are pancakes in bed. Requiring only four ingredients, these pancakes are foolproof. You're bound to nail them no matter how sleepy you are. 
Lunch. It's got to be exciting. Something to look forward to after a morning of meetings. Something to satisfy the angry growl of your tummy. We've got plenty of options. Satisfy your taste buds with a one-tray roasted halloumi wrap. Or warm yourself up from the inside out with the one-pot lentil dahl. 
Dinner. The perfect way to end the day. Whether you unwind in the kitchen, or prep in advance so you can get to the gym faster. We've got plenty of options for you. From fakeaways, to stir-frys, to pasta – whatever you fancy, we've got it.  
Snacks and sweat treats. The best section. A recipe book that helps you to ensure your sweet treats are tailored towards goals – a treat without the cheat. Or maybe just a little bit of a cheat. Get your sugar fix fast with our 30-second protein ice cream. Or treat yourself to an after-dinner snack with healthy baked donuts with protein spread.  
Smoothies and shakes. Inject your diet with some nutrients, and some protein. Start your day off right by getting your protein fix early with iced coffee protein shakes 4 ways. For a mid-morning boost, Zack George's supercharged smoothie is ideal. Or for a mid-afternoon pick-me-up the toffee popcorn sundae smoothie will sort out your cravings. 
Take Home Message
The Supplement. is back with a special edition. Tonnes of tasty AF recipes straight from the Myprotein kitchen series to your table. Download yours today or get it with your next Myprotein order. You can even access it via the explore tab on the Myprotein app, for great recipes straight to your phone.