You're rushing out the door, grab your keys and phone, jump in the car and… half way to work realise you left your shake on the kitchen counter. We've all been there.  
What if we told you there was a way to never forget your shake again, or even better, that you never have to make a shake or even CLEAN your shaker ever again? 
No, we're not talking about giving up your precious protein shakes, just swapping it for one that's already ready to drink.  
Keep a couple in your gym bag, under your desk, or generally anywhere cool and dry to enjoy a shake anywhere and everywhere, no erratic shaking necessary.  
Clear Vegan Protein Water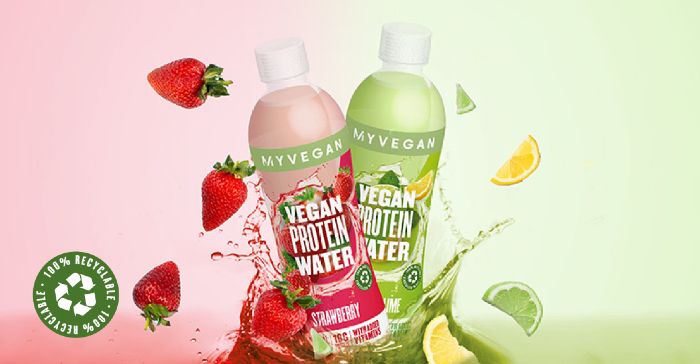 Love to have a light and refreshing drink on hand, but find they're usually lacking the nutritional value? Well, not anymore. Made from high-quality pea protein, Clear Vegan Protein Water packs 10g of protein per drink. 
Now, we know there's more to life than protein, so we've also thrown in vitamin B6 to help you feel energised, vitamin B12 to support your immune system, and vitamin B5 to keep your mental performance peaked.  
All this comes in at a total of only 42 calories with zero fat and zero sugar and no artificial colours or flavours. The bottle is also made entirely from recycled plastic. Name another drink that impressive. We'll wait.  
Want to feel like you're slurping a cocktail on a beach on a hot day? Choose from sweet strawberry or refreshing lemon and lime flavour. 
Why stop at ready-to-drink protein water? It's time to take a break from the shaker…
Impact Protein Shake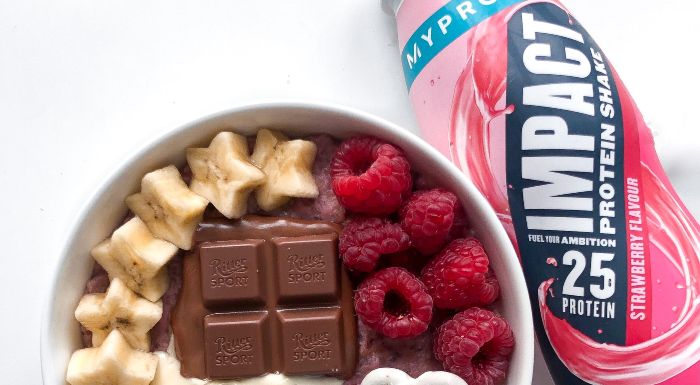 Perfect for when you're out and about (and don't want to carry a shaker around), our ready-to-drink formula offers all the benefits of a normal whey protein shake without the hassle. 
With 25g of protein and 194 calories, this tasty shake is made with skimmed milk and is low in fats and sugars, making it the ideal post-workout snack or morning pick-me-up. 
Unlike other ready-to-drink shakes, there's no added palm oil or thickeners either, just delicious and indulgent flavour and all-natural colouring — take your pick of strawberry, chocolate, or vanilla. 
Vegan Protein Shake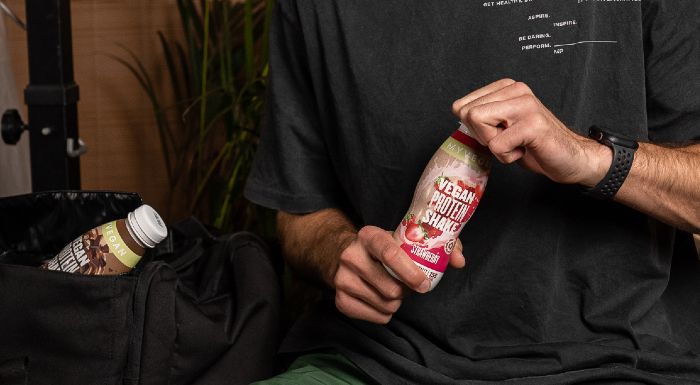 The ultimate plant-based pick-me-up, this shake is ready to go whenever you are. We know it can be tough to find a good source of vegan protein on the go, but with one of these in your bag, you'll never have to go without again. 
Packed with 11g of protein, is low in fat and has less than 175 calories per shake, making it the ideal accompaniment to a busy day or post-workout recovery.  
It doesn't stop there though; this protein shake is also Informed Sports Tested, meaning it's officially safe for pro athletes as well as your average gym-goer. 
Each tasty shake is comprised of almonds, pea protein and real fruit or cocoa solids, and is naturally flavoured and sweetened with stevia. It's also free of thickeners and palm oil, so you can rest easy knowing that you're getting the best. 
Take home message
Whether you're looking for a refreshing drink with all the added benefits, or a quick and convenient high-protein snack, these ready-to-drink shakes are perfect for supporting your goals any time, anywhere.