By Christopher Tack |
Clinical Specialist Physiotherapist
Supplements can mean a fraction of a second difference to a runner's performance. The difference between 1st and 3rd place in a world championship 5K race is 0.53 seconds (1). Meaning a half a second faster run would get you a gold medal, rather than a bronze!
It is no surprise then that elite runners are more likely to use dietary supplements than the average runner (2). Where though, as a runner, do you start?
What is worth taking? How do you know what is going to make you run better?
This article is to answer these questions not simply for an elite athlete, but also those of us who just like to hit the pavement for a run to let of steam.
Let's find out what runners should keep in your supplement cupboard.
---
#1 Carbohydrates
Like every journey, let us start with fuel we need to get us where we want to go.
Since the 1900's athletes have plied themselves with sugary sweets and treats before competing in endurance events to try to give themselves an edge (3).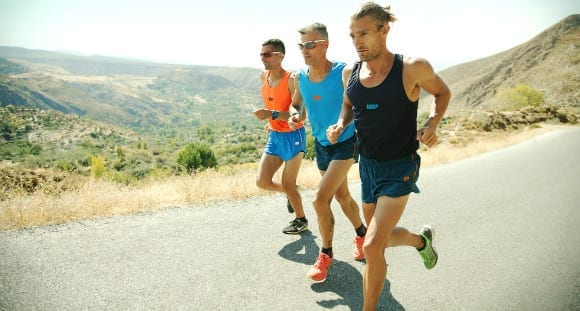 This progressed ultimately to a point where scientists more rigorously examined the benefits of high carbohydrate feedings before and during endurance exercise (4). It has been found that ensuring a sufficient supply of carbohydrates pre- and during exercise has influences on a number of physiological variables which can assist with boosting performance.
For example, utilising carbohydrates as a supplement or through diet can assist with blood glucose level balance, provision of glycogen for working muscles and the maintenance of electrolyte levels to assist and sustain muscle contraction efficiency (5-6). It is the combination of such effects that makes carbohydrate supplements one of the most effective ergogenic aids for running (7).
The process of running any sort of long distance (>8km) has a significant dependence on oxidation of carbohydrates and fats to fuel aerobic respiration. During long distance runs fatigue of the working muscles varies but obviously is greater with increasing distance. It is worth noting that during half and full marathons carbohydrate depletion is a significant component of the fatigue seen in athletes (1).
Experimental studies show the definite advantage carbohydrate ingestion (with or without electrolytes) on running performance. For example, endurance running between 15km and 40km can be boosted between 2% and 10% but carbohydrate ingestion (8-11).
Additionally, alongside these studies which examine running outside, studies also show that running performance on a treadmill was similarly improved by carbohydrate ingestion (12-14).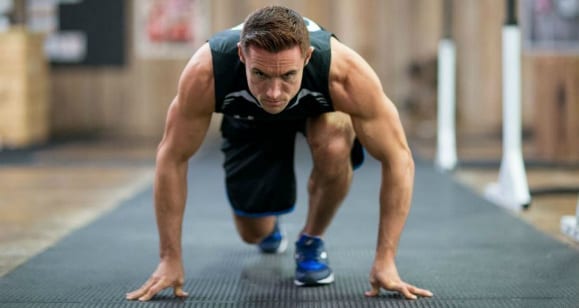 A really interesting study examined how carbohydrate effects recovery following intense exercise by evaluating cellular muscle tissue damage (15).
This study took 24 male runners and gave them either a carbohydrate (maltodextrin) drink or a zero calorie placebo drink every day for 8 days alongside a high intensity running protocol.
After the 8-day intense regime their results were startling.
They measured plasma levels of free DNA and lactate dehydrogenase, which is an enzyme associated with muscle tissue breakdown for energy generation (16-17). They found that in the placebo group levels of this enzyme increased in response to the excessive overload of the running programme. However, when given a carbohydrate drink the runners displayed minimal change in this marker of damage.
Additionally, they found that the increase in free plasma DNA after the running programme was reduced, alongside the concentration of leukocytes; which again indicate muscle tissue damage. This shows that cellular tissue damage can be limited with the inclusion of supplementary carbohydrates.
What form of carbohydrate is best?
Whether you take your carb supplement as a liquid beverage, a gel sachet or as a powder or solid, it makes minimal difference to the usage of that carbohydrate for oxidation (18-19).
This is an important statement as runners tend to be more prone to gastrointestinal stress and related symptoms such as nausea, sickness, stomach pain and other complaints, compared to similarly trained athletes in cycling (20-21). Therefore, the option of varying and modifying your form of carbohydrate supplement ensures all athletes have the same opportunity to gain these benefits.
Should I take carbohydrates when full or fasted?
The benefits of intra performance carbohydrates are reserved for when athletes start their run in a fasted state (e.g. without having eaten in the preceding three hours) (22-23).
Interestingly, when a runner starts their run (having had eaten a high carbohydrate meal in the 3 hours before exercise) this supplement will have minimal effect on the subsequent running performance (23).
However, if the runner is fasted (has NOT eaten a high carbohydrate meal in the last three hours) then taking a carbohydrate-electrolyte drink both before and during the run will provide a 2.5% boost to the total distance ran, and an almost 3% boost to their running speed (22). Thus emphasising the benefit for carb supplements taken in a fasted state pre-run!
How much carbohydrates shall I consume?
In order to answer this question it is worth considering the rate of oxidation of carbohydrates stored in our body. This will of course help us identify how long they may last and when they will need to be replaced, in order to stave off fatigue.
A moderate intensity run can be characterised as working at 65-75% VO2 Max (maximum rate of oxygen consumption).
At this intensity we oxidise (burn) 1g of our carbohydrate stores per minute (60g per hour) (24-25).
This subsequently would leave us scraping the barrel for stored carbohydrates after 60-90 minutes of our run. It would be essential then to replace these carbohydrates however we could (as long as this suits how our gastrointestinal system will react). This could be via food, a drink or a carb gel. However, you can and however much you can- this is the time to get carbs inside you.
Usual guidelines for performance suggest a 30-60g dose of carbohydrates every hour during exercise to optimise their impact on time to exhaustion and speed of run (26-35).
---
#2 Caffeine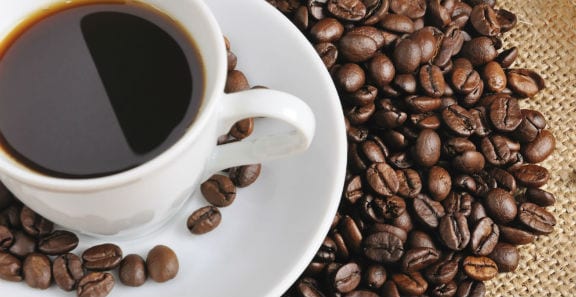 Caffeine (typically found in coffee, tea and soft drinks) actually has a long history of use as an ergogenic stimulant.
It's use as a dietary supplement is due to its ability to improve endurance exercise performance which makes it a very suitable choice for consideration to aid running.
How can caffeine help me as a runner?
The benefits of caffeine to aid running performance centre around prevention of fatigue, sparing of muscle glycogen stores, promotion of greater amounts of fat oxidation and in the reduction of perceived effort during exhaustive exercise (37-47).
The mechanism by which caffeine works is through altering nerve function. It has two main effects to reduce fatigue; which are by inhibiting the effects of adenosine (a neurotransmitter involved with suppression of arousal and sleep) (48); and through enhancing muscle motor unit recruitment (49-50).
Studies demonstrate that a caffeine dose of 3-6mg per kg of bodyweight increases the amount of time it takes to run to exhaustion (51). Additionally, in a different experiment these same researchers found that the same dose given 1 hour before running provided a 21% increase in speed of run time (52). This meant an increased running time to exhaustion of almost 11 minutes!
---
#3 Sodium Bicarbonate
Any run (of sufficient duration or distance) is likely inhibited by fatigue of the neuromuscular system and the process of metabolic acidosis. As such any supplement or dietary aid which can reduce acidosis and sustain performance against fatigue will likely aid running performance.
What does sodium bicarbonate do?
One such supplement is sodium bicarbonate (baking soda), which is a salt compound which can better control blood and muscle PH and facilitate more efficient tissue buffering capacity (63-64).
When you run at a high enough intensity the muscle will release hydrogen and lactate into the blood, which subsequently reduces blood PH making it more acidic. This influx of ions is potentiated by the presence of sodium bicarbonate meaning it takes longer to reach the level where acidosis causes muscle fatigue (65). This of course means you can run for longer before you get tired.
Studies have looked at the effect of sodium carbonate on varied running distances. For example, a collation of data in 2011 (66) showed that 0.3g of sodium bicarbonate per kg of bodyweight improved sprinting power and speed by 1.7%.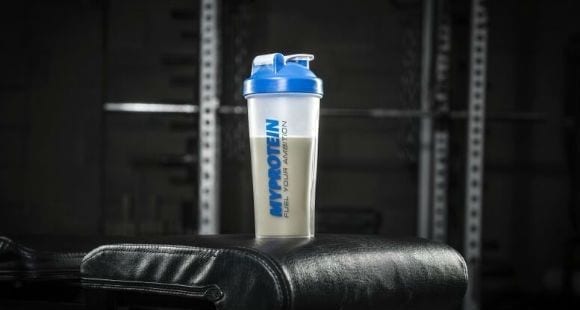 Similar studies have shown improved running performance at increasing distances of 400m (67), 800m (68) and 1500m (69). This would indicate that most short to medium distance runners would benefit by using sodium bicarbonate to prevent fatigue.
How much sodium bicarbonate should I take?
Most studies stick with the proposal of consuming 0.3g per kg of bodyweight (70). This should be consumed with a high carbohydrate meal and 7ml of flavoured water per kg of bodyweight approximately 2-2.5 hours pre run (69). This dose and mechanism of consumption is advised as it seems to provide the required ergogenic effect, but without the frequently described issue of gastrointestinal discomfort which can so inhibit running performance after taking sodium bicarbonate (71).
What about Sodium Citrate?
Sodium citrate is the sodium salt of citric acid. It has been suggested to provide similar metabolic benefits as sodium bicarbonate but without causing as much gastrointestinal symptoms (72).
Studies show that this supplement can improve 3km running performance by 1.7% (210 seconds) (73); and treadmill 5km running performance by 2.7% (230 seconds) (74).
However, the price to be paid with this supplement option is that sodium citrate can both increase water retention (meaning you feel heavier which will influence your running efficiency); and can inhibit an enzyme called phosphofructikinase, which can reduce energy production via glycolytic metabolism (75).
---
#4 Beta-Alanine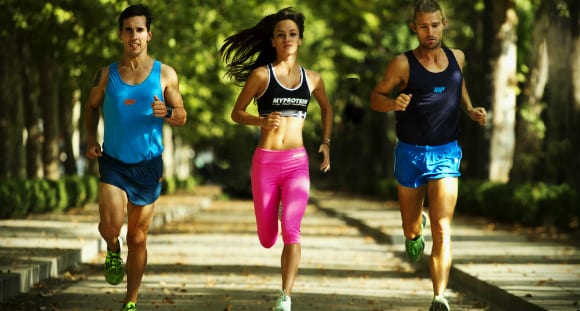 Beta-alanine is an amino acid and works as a precursor for the dipeptide carnosine. It is also rate limiting, meaning that when there is not enough beta-alanine, then the amount of carnosine in our bodies reduces.
Similar to sodium bicarbonate, carnosine is a buffer for our blood. In this case of carnosine, it reacts to reduce the concentration of lactic acid which accumulates through muscle contraction and effectively normalises the PH of our blood (76).
Why should I take beta-alanine?
The muscle contractions which occur when you run will ultimately elevate the levels of hydrogen and lactate ions in your blood reducing the PH to acidic levels. Supplementing with beta-alanine will raise the levels of carnosine to work as a blood buffer, and lead to reduction in muscle fatigue when running.
In fact taking 4.8g of beta-alanine daily for a period of 12 weeks can increase carnosine concentration by 80% (77-78).
But will this actually help my running?
A couple of studies have directly examined the effect of beta-alanine on running performance.
How much beta-alanine should I take?
The usual supplement regime advised is a 4-10 week course of approximately 400mg-800mg per day. The time to reach increase carnosine levels in the muscle can be as little as 2 weeks, but longer courses should consolidate the muscle carnosine concentration and demonstrate more ergogenic effect.
Aim for 179g over the course of supplementation to optimise carnosine levels.
---
#5 Protein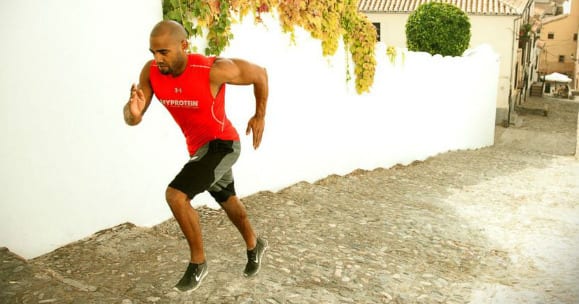 As a runner, do I need protein?
If you train or exercise you will require protein to sustain an equal or positive net protein balance. In order to run you need muscles which have efficient endurance to keep you moving, and every time you run you push the button on protein degradation.
In order to stop muscle atrophy and overuse injury, you need both rest and protein for recovery. This is particularly true if you perform concurrent or periodised strength training to improve your running performance (as is generally suggested) (57-58).
A male endurance athlete requires approximately 1.6g of protein per kg of bodyweight, with females needing 1.3-1.45g (59). This elevated protein need is to provide enough amino acids for oxidation and sufficient protein to balance muscle protein degradation. This is particularly true when running in a carbohydrate deficient state (fasted) in order to preserve lean muscle mass (59-60).
It is evident then that the ingestion of protein (particularly with carbohydrates) following a period of running can assist muscle protein re-synthesis and promote a positive net protein balance (61). This in turn should then result in improved running performance endurance (62).
---
Take Home Message
There are vast arrays of supplements available, some of which are suitable for those of us who enjoy or compete at running. The most commonly discussed are carbohydrates and caffeine which have good evidence supporting their use as long as both dosage and timing are carefully considered and planned.
However, other supplements are likely just as worth of attention, particularly in the attenuation of fatigue, if that is an issue which is limiting your running.
As always, test and try these supplements and measure the effect specifically on YOUR running performance.
Many thanks,
Chris Tack
Our articles should be used for informational and educational purposes only and are not intended to be taken as medical advice. If you're concerned, consult a health professional before taking dietary supplements or introducing any major changes to your diet.