Protein Rhubarb Cake
Recipe by Hanna Skytta
Who cares if it rains? Get rid of the summer blues by whipping up this super-easy, jaw-droopingly good strawberry protein rhubarb  cake and you will instantly be back in the summer spirit!
Everybody knows that rhubarb pies are to die for, but when you combine that with strawberries and protein-vanilla sauce, you will get the ultimate taste sensation and what's more…as it is sugar-free, grain-free and contains no added fats! – the perfect desert!
You can even lick the plate. It's like a party in your mouth and party for your muscles!
Ingredients
Rhubarb-strawberry cake (grain-free, sugar-free):
Ingredients
1 Egg
2 tbsp erythritol
3 tbsp unsweetened apple sauce (or quark or a mixture of both)
16 g coconut flour
1/2 tsp baking powder
1 My Protein Vanillla Flavdrops
1 tbsp shredded coconut or crushed almonds
50 g rhubarb cut in small pieces
50 g strawberries cut in small pieces
for greasing the cake tin: MyProtein coconut oil
Serve With:
MyProtein protein dessert or Calcium caseinate
coconut milk or almond milk
Preparation
Step One
Preheat oven to 175 degrees.
Mix the flour, baking powder and shredded coconut (if you use it) together in a small bowl.
Step Two
In another bowl, whisk the egg with erythritol with a electric mixer until it forms a thick foam.
Pour the egg foam to the flour bowl and mix carefully. Add the apple sauce (or quark or a mixture of both) and taste. Does it need more sweetening? If so, add Vanilla Flav drops.
Add the fruit pieces and mix again.
Grease a small (appr 12cm) cake tin (I use silicon cake tins from Lekue) and pour the dough into it.
The Cooking
Bake in 175 degrees approximately 20 – 25 minutes.
Let cool.
The Eating
Mix the protein dessert or casein with coconut milk so that it forms a thick sauce. Taste and add vanilla flav drops if you wish.
Enjoy!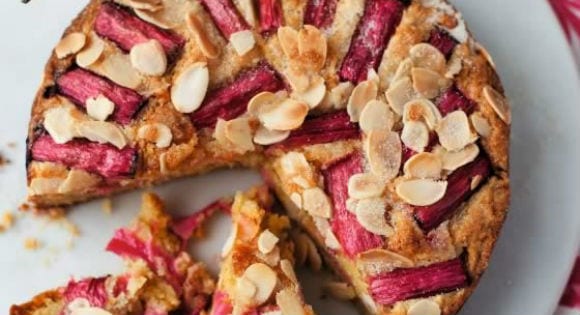 4 slices
Macros per slice:
Nutritional Facts
Amount per serving
| | |
| --- | --- |
| Calories | 61 |
| Total Fat | 1.9g |
| Total Carbohydrates | 5.5g |
| Protein | 3g |
For More Recipes Click Here.