Maltodextrin can have a huge array of benefits for performance in fitness. And if you're in need of a burst of energy to push you through a plateau, maltodextrin could be the supplement for you.
Not sure what it is or where to begin with this supplement? Keep reading for a full breakdown of the benefits, correct dosage, comparison amongst other popular supplements and any potential dangers.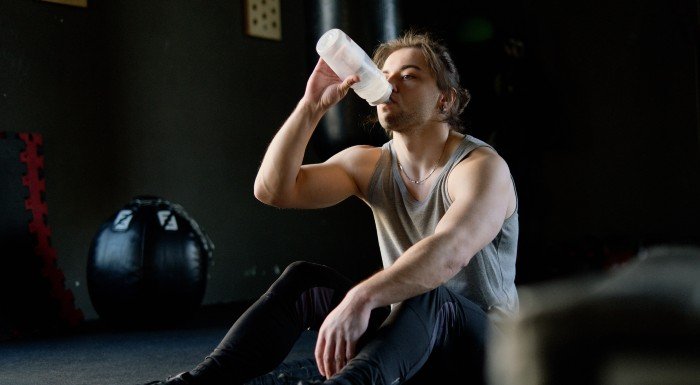 What are the Benefits of Maltodextrin? 
Fitness fans – this is what you came here for. The main benefit of maltodextrin is it's use as a great source of energy when you need it – we're talking high calories and fast. So, when you're working on explosive power, or hitting the drop sets and you feel your levels plummeting towards the end, supplements and sports drinks containing maltodextrin have got you covered.  
Maltodextrin is a rapidly digestible sugar. It provides you with 4 calories per gram and because it is so readily absorbed into your system, it gives a quick energy boost, which is particularly beneficial to bodybuilders and weight lifters in general. When your energy levels plummet, maltodextrin helps you recover for that extra-hard set.  
Maltodextrin can also be used for improved endurance, enabling you to keep going during a longer cardio workout or HIIT session.  
Another key benefit of maltodextrin is the way it will help you recover from high intensity exercise.   
Dosage 
To help you recover for your next training session, and train at a high level again, it is important to replenish your depleted glycogen stores. The faster you can replenish your glycogen, the quicker the recovery.   
To maximise glycogen replenishment rates after high intensity exercise lasting longer than 90 minutes, it recommended that you consume 1-1.2g/kg/hr of high GI carbohydrates (e.g. maltodextrin) in the first 4 hours of recovery.  
Whether you need to follow this recommendation will depend on the intensity and duration of your exercise session and how long you have to recover before your next session.  
What are the Dangers of Maltodextrin? 
The main risk with maltodextrin is also linked to its benefit: the ability to give you a lot of sugar – fast! Maltodextrin has a high glycaemic index (GI), which means that it can cause a spike in your blood sugar. It's safe to consume in very small amounts but always consult a GP if you have any concerns. 
For anyone on a low-carb diet, maltodextrin would need to be considered as part of your daily carb intake. 
There is also evidence to suggest that maltodextrin consumption may affect the composition of your gut bacteria. An unhealthy gut can cause a number of problems so this is another thing to keep in mind when taking maltodextrin.
Maltodextrin vs. Dextrose 
Maltodextrin and dextrose are both carbohydrate supplements that come in powder form. You'll find both supplements in shakes that are geared to build mass and aid in recovery.
While they share many properties in common, dextrose is the simpler form of sugar of the two. Your body doesn't need to break it down as much as maltodextrin for energy – maltodextrin features a string of glucose molecules, which can be easily broken down, but not quite as quickly as dextrose.  
Is Maltodextrin Sugar? 
Yes, maltodextrin is a naturally occurring sugar and is found in vegetable starches.  
Are There Any Food Sources of Natural Maltodextrin? 
As maltodextrin is not a naturally occurring sugar (it is derived from vegetables starches) there are no natural food sources.
Food sources that typically contain maltodextrin are soda drinks, sweets and cereal.  
FAQ 
What is maltodextrin?
Maltodextrin begins as rice, corn, wheat or potato starch, which is cooked and added with enzymes and acids. You are then left with the soluble maltodextrin powder. 
What are the benefits of maltodextrin? 
Maltodextrin is a great source of energy, as it is a rapidly absorbed sugar, with 4 calories per gram. It is beneficial for both explosive power and endurance. It will also help you recover by increasing your rate of glycogen replenishment. 
What are the dangers of maltodextrin? 
Maltodextrin has a high GI and causes a rapid spike in blood sugar, which could be problematic for some. It may also cause problems if you suffer from digestive issues as it may alter the bacteria profile of your gut. 
What is the difference between maltodextrin and dextrose?
Dextrose is a simpler sugar than maltodextrin, meaning that it is broken down in the body quicker than maltodextrin.  
Is maltodextrin gluten free?
Maltodextrin is completely gluten free.  
Take Home Message 
Maltodextrin is a water soluble, vegan, quickly-absorbed processed version of starch that can provide you with a serious hit of sugar when you need it. This is particularly beneficial for bodybuilders in need of an extra hit of calories to power through their last sets. 
However, due to it's nature, maltodextrin can cause blood sugar to spike, so if you have any concerns, always speak to your GP first.