If you love tiramisu, you'll love this high-protein cheat's version.
---
Looking to satisfy your sweet-tooth with something quick, easy, and packed with protein? This incredible recipe from Niall Kirkland ticks all of those boxes.
He's used our brand new Pop Rolls as the base for this delicious treat, which are soon to become a staple in your snack cupboard, trust us. They're low in sugar, high in protein, and come in at less than 100 calories per roll — pretty sweet, right?
With irresistible layers of smooth cream cheese filling and rich, coffee-soaked chocolate sponge, these tiramisu pots are definitely a game changer. Get your spoons at the ready, people.
Makes 3
Ingredients
150g mascarpone
100g 0% fat Greek yoghurt
2 scoops Impact Whey Protein (Vanilla)
1 squeeze FlavDrops (Vanilla)
2 tsp. instant coffee
100ml boiling water
6 Pop Rolls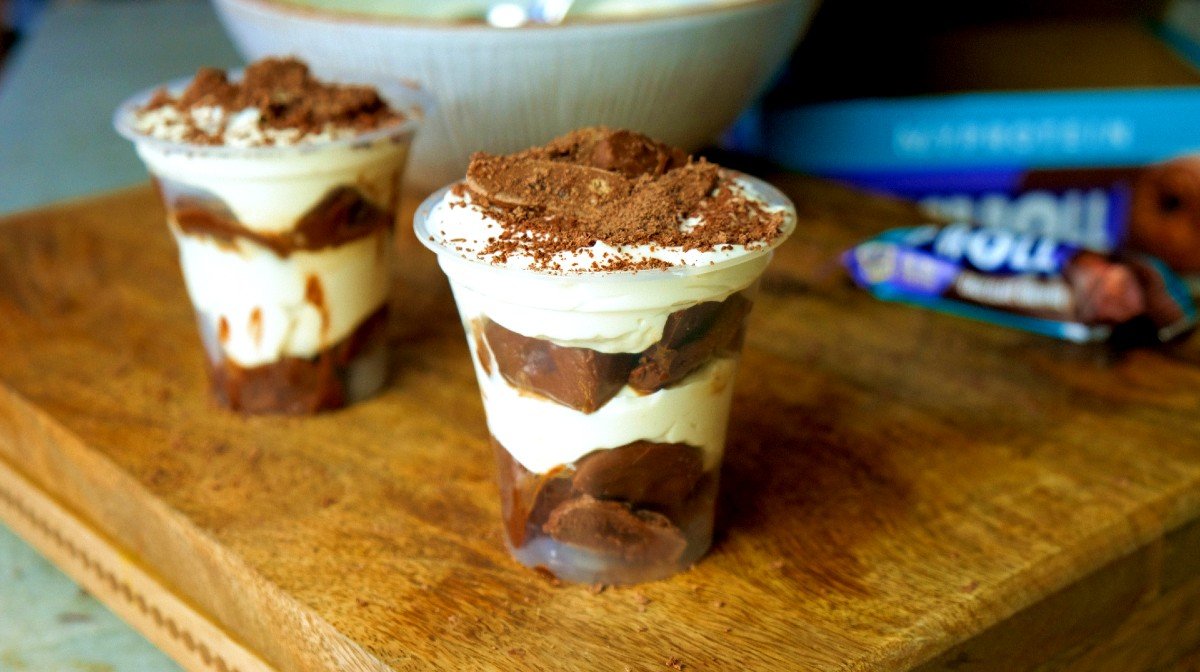 Method
In a bowl, mix together the mascarpone, Greek yoghurt, protein, and FlavDrops until fully combined.
Unwrap the Pop Rolls and slice thin slices off either end and then cut down the middle to make two large slices, so you are left with two large pieces and two thin slices.
Add the instant coffee to the boiling water and stir to combine thoroughly. Dip each piece of Pop Roll into the coffee for a few seconds and then transfer to your dessert cup.
Put 4 pieces of Pop Roll at the bottom, then 2 tablespoons of the protein mascarpone mixture, followed by another layer of Pop Roll pieces and protein mixture.
Top with some Pop Roll pieces and grated dark chocolate. Dig in!