No more weighing and measuring for ages. No more whisking lumpy batter until your arm falls off. Only delicious vegan protein pancakes that you can make in a matter of minutes.
Just add water for perfectly smooth pancake batter packed with all-natural protein for the perfect breakfast boost, or post-workout treat. No need for a "flax-seed egg" or any other obscure ingredients, or any guilt as you dive in as they're really low in sugar and less than 190 calories per serving.
They're also flavoured with only natural flavourings and the huge 20g of protein per serving comes completely from fava beans and wheat. The best bit about these easy-to-make vegan pancakes is that you can put all your focus on creating the best toppings.
We love a tower of mixed berries and a slathering of syrup, but you could also pile on the peanut butter, and cover in dark chocolate and banana if you're looking for an epic dessert option.
We've also got two tasty flavours to get excited about, or you can get creative with the unflavoured version. Try adding your favourite FlavDrops flavours — try banana or peanut butter. If you'd prefer to stick with the ready-made flavours, you can get indulgent with Chocolate flavour, or spice up your mealtimes with Blueberry and Cinnamon.
Jump straight to the nutritionals here.
Makes: 3-4 pancakes
Ingredients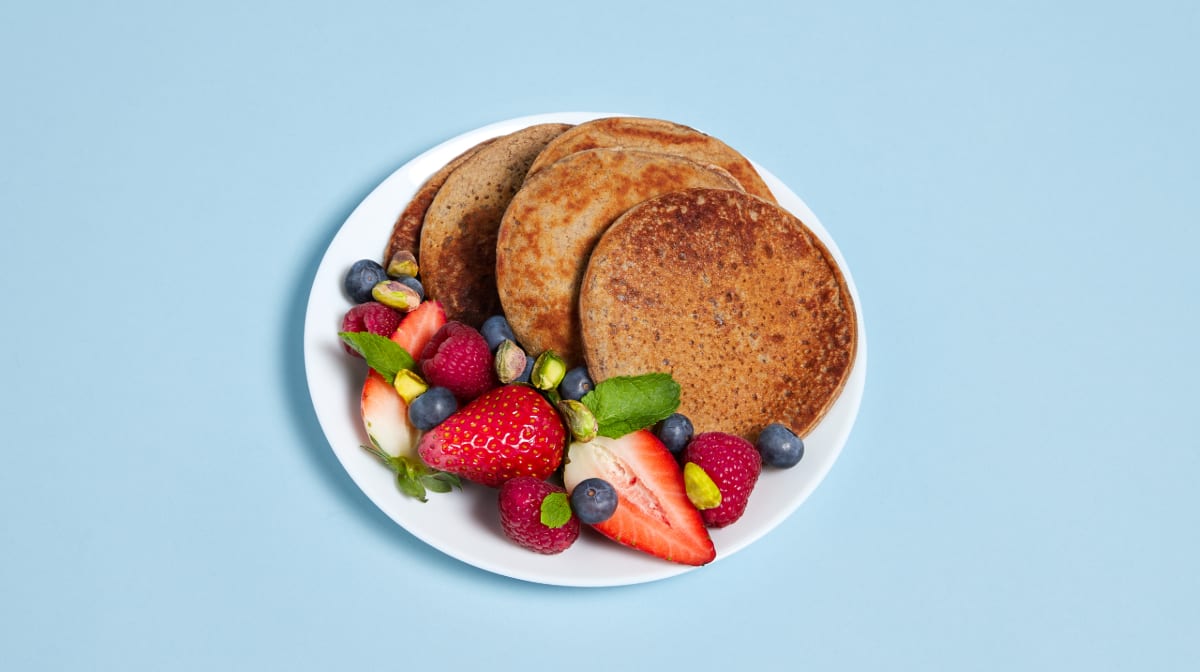 Method
1. Take 2 scoops of the Vegan Pancake Mix and put into your protein shaker with the water.
2. Shake up until you have a smooth batter. You can also blend or whisk together.
3. Heat a small amount of oil on a medium heat before pouring in enough mixture to make the pancake.
4. Cook on one side until brown before flipping and cooking the other side.
5. Repeat this for the rest of the mixture, making 3-4 pancakes.
6. Stack up the pancakes and cover in your favourite toppings.
Take Home Message
Vegan pancakes can be just as fluffy and delicious as traditional ones, and with our recipe, they'll help you hit your protein target too. What's not to like?