Give the gift of pronuts this Christmas with this perfect protein doughnut recipe.
This tasty, moist, and super-easy-to-make recipe is the only protein doughnut recipe you'll ever need. Each protein doughnut contains just 161kcal and 5g fat, and a whopping 8g protein. Who said doughnuts couldn't be healthy?
If you feel like showing off this Christmas, top your protein doughnuts with green frosting (in the recipe below) and make a little stack of doughnuts like we did – or if not, simply bake, top with your favourite topping and gobble them down.
Click to jump straight to the nutritionals.
Don't forget to check out more delicious fitness recipes.
Makes: 6 doughnuts
Equipment needed: Doughnut pan
Ingredients
For the doughnuts:
For the topping (optional):
Method
1. Preheat oven to 200°C or 180°C for fan-assisted.
2. Next, combine Instant Oats (or blended rolled oats if you're using them), whey protein, baking powder and salt in a bowl. Mix until the ingredients are well-distributed. Set aside for a moment.
3. Place the egg, maple syrup, milk, peanut butter and vanilla into a blender and process until smooth.
4. Pour the wet mixture into the dry mixture and gently fold few until just a few lumps remain, and you can't see any dry powder anymore.
5. Grease a doughnut pan with coconut oil or your preferred oil and pour the batter into the doughnut holes, up to just under the rim.
6. Place onto the middle shelf of the oven for 11-13 minutes, or until an inserted knife comes out clean. Once cooked, remove from the oven and allow to cool for 10 minutes in the pan, then remove from the pan and allow to cool completely.
7. To make the topping, simply whisk the cream cheese, sweetener, vanilla and matcha until smooth. Dip each doughnut into the topping and set in the fridge. Store covered in the fridge for up to 3 days.
Enjoy this protein doughnut recipe?Check out more delicious fitness recipes.
Give these protein dessert recipes a try...
NUTRITIONAL INFORMATION
PER DOUGHNUT WITHOUT TOPPING
Nutritional info per serving:
| | |
| --- | --- |
| Calories | 161 |
| Total Fat | 5g |
| Total Carbohydrates | 22g |
| Protein | 8g |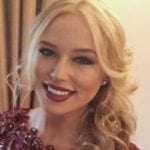 Jennifer Blow has a Bachelor's of Science in Nutritional Science and a Master's of Science by Research in Nutrition, and now specialises in the use of sports supplements for health and fitness, underpinned by evidence-based research.
Jennifer has been quoted or mentioned as a nutritionist in major online publications including Vogue, Elle, and Grazia, for her expertise in nutritional science for exercise and healthy living.
Her experience spans from working with the NHS on dietary intervention trials, to specific scientific research into omega-3 fatty acid supplementation and also the effect of fast foods on health, which she has presented at the annual Nutrition Society Conference. Jennifer is involved in many continuing professional development events to ensure her practise remains at the highest level. Find out more about Jennifer's experience here.
In her spare time, Jennifer loves hill walking and cycling, and in her posts you'll see that she loves proving healthy eating doesn't mean a lifetime of hunger.