---
Fed up of searching the supermarket aisles for vegan goodies? Look no further, we have created a 100% vegan cookie recipe that you are bound to fall in love with.
These pecan cookies will impress all your friends and family!
---
Ingredients
---
? 75g Buckwheat Flour 
? 50g Almond Puree
? 50g Brown Sugar
? 1 tsp Vanilla Flavdrops
? 50g Apple Sauce
? 1/2 tsp Baking Powder
? 30g Pecans
---
Method
---
#1 Preheat the oven to 180 degrees.
#2 Mix the flour, sugar and almond puree.
#3 Add the applesauce, vanilla flavdrops and baking powder.
#4 Mix well until a smooth paste is obtained.
#5 Crush the pecans and add them to the dough.
#6 On a sheet of baking paper, form small balls of dough and flatten them.
#7 Bake for approximately 15 minutes (depending on the size of the cookies.
#8 Tuck in!
---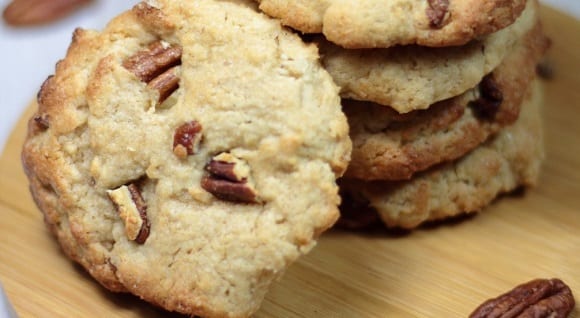 ---