---
 Surely there isn't anything better than chocolate brownies? You're mistaken, Brookies are the way forward! One half chocolate brownie, the other half cookie dough! Yes, you heard correct!
Before I forget, this is also a healthy alternative!
---
Ingredients
---
For The Brownie:
? 90g of High Protein Chocolate
? 50g Coconut Oil 
? 150g Apple Puree
? 40g Instant Oats
? 40g Almond Flour
? 40g Cacao Powder
? 1 Egg + 1 Egg Yolk
? Vanilla Flavdrops
? 5 tbsp Sugar-Free Syrup
For The Cookie Dough:
? 100g Instant Oats
? 150g Almond Flour
? 150g Apple Puree
? 40g Coconut Oil
? 1/2 tsp Baking Soda
? 1 Egg
? 70g Chocolate Chips
? 4 tbsp Agave Syrup
---
Method
---
For The Brownie Part:
#1 Preheat oven to 175 ° C.
#2 Melt the chocolate and coconut oil in the microwave, mix and let cool.
#3 Stir in the egg, yolk, vanilla flavdrops, agave syrup, apple puree and mix well.
#4 In another bowl, mix the flour & cacao.
#5 Add the dry ingredients to the moist ingredients and mix until a homogeneous paste is obtained.
#6 Transfer the dough into a square silicone mould, and set aside.
For The Cookie Part:
#1 Mix the flour and baking soda in a bowl.
#2 In another bowl, whisk the egg with the apple puree, coconut oil and agave syrup.
#3 Pour the dry ingredients into the moist ingredients and mix until you get a homogenous paste.
#4 Add the chocolate chips and mix one last time.
#5 Place the cookie dough on the brownie dough.
#6 Bake for about 35 minutes (the top must be nicely coloured)
#7 Allow cooling before cutting into pieces.
#8 Your healthy Brookie is ready!
---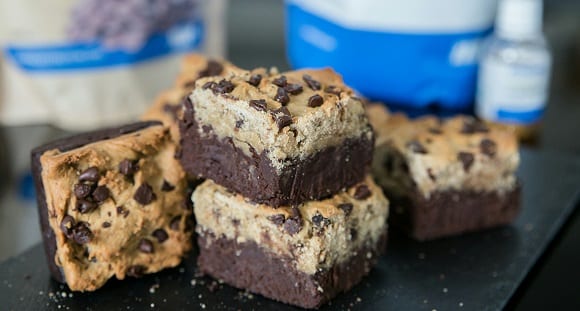 ---