Granola Bar Recipe
If you're always rushed in the morning why not try this granola bar recipe! These tasty granola bars are the perfect addition to your morning protein shake and a great way to get some in some morning carbohydrates and protein. What's more this recipe is no bake!
Ingredients
To make these fruity and nutty granola bars you'll need:
20g of sultanas
20g of dried Super Berries
100g of mixed nuts
20g of Omega mixed seeds Mix
50g of yogurt
100g of Peanut Butter
100g of Rolled Oats
3 scoops of Vanilla Stevia Myprotein Impact Whey powder
½ a bar of Dark chocolate.
Method
Step Two
Start by weighing out your mixed nuts (ideally a mixture of almonds, walnuts, brazil nuts, hazelnuts, pistachios and cashews). To find out the benefits of nuts read out nut nutrition guide.
Slightly chop the nuts using a Food processor or hand blender.
Step Two
Mix your chopped nuts, protein powder and seed mixture in a bowl.
Add 100g of peanut butter.
Step Three
Using the back of a spoon or fork, mash and rub the peanut butter into the dry mixture.
Once completely combined (after some good old elbow grease), add 50g of yogurt and mix in the dried Fruit and seeds.
Step Four
Line a deep square tin with greaseproof paper. Empty the protein bar mixture and begin to press down hard with your fingertips.
Step 5
Melt ½ a bar of dark chocolate and spread onto the top of your protein bars.
Place the tray in the freezer for 20 minutes.
Remove, slice into bar and enjoy!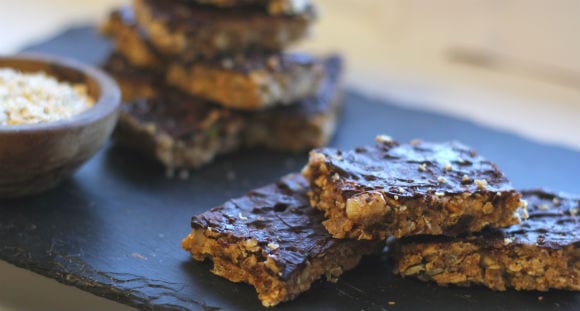 This recipe makes 12 Bars.
Macronutrients
Per Bar:
Calories: 178Kcals
Protein: 10.9g
Fat: 9.6g
Carbohydrates: 10.3g
Sugar: 2.2g
For more recipes click here.