If you're looking for a pudding to impress at your next dinner party, this is the one. Especially if your dinner party is big on macros …
This protein pudding from @Kirstyfletcher_ not only looks pretty impressive, but it pulls through on both flavour and macros. Featuring the brand new Vimto Clear Whey Orange, Strawberry & Lime, the pudding delivers a whopping 38g of protein. With strawberries, jelly, and most importantly, a generous lashing of whipped cream, it's summer in a bowl.
Enough chit chat, here's how you make it.
Ingredients
1 sachet sugar-free strawberry jelly
60 g fresh strawberries
1 pot vanilla kvarg (quark)
1 clementine (or other easy peeler)
30 g reduced fat whipped cream
Dash of sprinkles
Instructions
1.
In a small bowl make your jelly following the instructions on the sachet.
2.
Next, grab a glass, jar or bowl, and add a layer of sliced fresh strawberries.
3.
Pour your jelly over the sliced strawberries until they're completely covered.
4.
Place this in the fridge for 3-4 hours or until completely set.
5.
Once your jelly is set, grab a bowl and combine your protein yoghurt and protein powder.
6.
Pour your yoghurt mixture onto the jelly.
7.
Next, add a layer of clementine slices, top with your whipped cream and as many sprinkles as your heart desires!
Nutritional info per serving:
| | |
| --- | --- |
| Calories | 318 |
| Total Fat | 7g |
| Total Carbohydrates | 26g |
| Protein | 38g |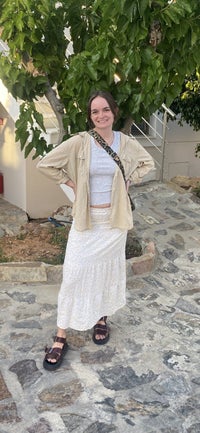 Originally from South London, Monica graduated from the University of Leeds with a degree in Philosophy. After discovering a love for the gym whilst studying, Monica was drawn to weight training which helped her hugely through stressful times as a student. From writing for a popular student site, Monica developed her skills as an author, writing trending feature pieces regularly. She is thrilled to be able to combine her love for writing with her passion for the gym. In her spare time Monica loves to cook, try out new restaurants with friends and explore new walking trails.