Sometimes we just don't have time to make a proper meal, or sit down and eat it. For those serious about meeting nutritional goals, but struggle with busy lives, this may mean meal replacement shakes.
Although there are many ready-to-drink options on the market, you might want to opt to make your own, which gives you complete control over what goes into your shake. This article will show you the blueprint for making your own meal replacement shake and suggest some homemade meal replacement shake recipes. 
Shakes are also a great, quick breakfast idea or a nice treat on those hot summer days.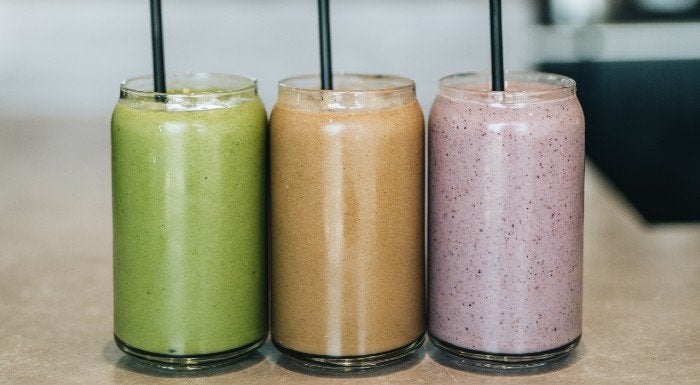 How To Make Homemade Meal Replacement Shakes
1. Choose a carbohydrate base
Carbs are our body's preferred energy source - easy to digest and use for fuel. You can choose one or more sources of carbs - based on how many calories you want to add. A few examples are Oats or a banana (frozen bananas work for a creamy shake).
Soy and cows' milks also contribute some carbs (along with protein). 
2. Choose a protein base
Whey Protein, Casein, yogurt or milk (almond, soy, coconut, cow's milk) are popular options, but you could also use soy, bean or pea protein depending on preference. 
3. Choose vegetables/fruit
Examples of vegetables which work well include spinach and kale (you won't even taste them!); ideal fruits would be berries, apples, mango, pineapple (frozen fruit or vegetables work well and are great time and money savers).
Not only do fruits add flavour, but both fruits and vegetables contribute micronutrients (vitamins and minerals) that are essential when replacing a meal. 
4. Choose a fat option
Nut butter, chia seeds, avocado, flax seed and desiccated coconut blend well in addition to giving your shake extra flavour. Seeds and nuts add extra protein and fibre, while avocado makes your shake extra creamy.
Fats are crucial in our diet for optimal health and can help keep you satisfied when you're replacing a meal. If you're trying to bulk up, fats are the best way to easily add calories. 
5. Optional Extras
Ice cubes or a teaspoon of xanthan gum can be used to thicken your shake, giving it the texture of a delicious milkshake! Flavdrops add extra flavour to any shake, making it super-tasty, without added calories. 
Goji berries, raw cacao nibs, bee pollen, powdered peanut butter or cacao powder are also great additions to the top of your shake. 
When you've chosen all your ingredients, simply put it all into a blender and mix. High powered blenders work best when you're using fibrous veggies, nuts and seeds, while smaller, individual sized blenders are easy to use and clean.
Meal Replacement Shake Recipes
Snickers Shake
This shake is not only delicious, but will satisfy your sweet tooth! If you're looking to bulk, double the peanut butter and use full-fat milk.  
Smores Shake
You don't need to be sitting by a campfire to get that smores flavour. This shake is definitely one for those with a sweet tooth. 
 Eton Mess Shake
Berries are some of the lowest carb fruits that are still packed with vitamins and antioxidants. Using low calorie milks and skipping the added oats or banana can make this a low carb meal replacement shake for fat loss. 
Salted Caramel Shake
A classic flavour, this salted caramel shake is bound to become one of your favourites. And with the added benefit of a coffee boost, this one is perfect for a morning wake up. 
Looking for a vegan high protein shake? Swap out Impact Whey for our Vegan Blend.
Or, try this one from Naturally Stefanie...
Take Home Message
These are just a few examples of our favourite go-to shakes, but the formula of carbs, plus protein, plus fat, provides endless options for making your own homemade meal replacement shake.
Refreshing on a hot day, and filling enough to keep you energised, these shakes are definitely contenders to become staples in your kitchen.
Enjoyed this expert article?
READ THESE NEXT:
Our articles should be used for informational and educational purposes only and are not intended to be taken as medical advice. If you're concerned, consult a health professional before taking dietary supplements or introducing any major changes to your diet.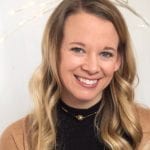 Claire is a Registered Dietitian through the Academy of Nutrition and Dietetics and a board-certified Health and Wellness Coach through the International Consortium for Health and Wellness Coaching. She has a Bachelor of Science in Biology and a Master's degree in Clinical Dietetics and Nutrition from the University of Pittsburgh.
Talking and writing about food and fitness is at the heart of Claire's ethos as she loves to use her experience to help others meet their health and wellness goals.
Claire is also a certified indoor cycling instructor and loves the mental and physical boost she gets from regular runs and yoga classes. When she's not keeping fit herself, she's cheering on her hometown's sports teams in Pittsburgh, or cooking for her family in the kitchen.
Find out more about Claire's experience here.