Written by Sarah Curran
---
Easter Smart Swaps
---
Easter is the time of year we all love to indulge in some extra treats, but you don't have to derail your nutrition in the process with some of these smart swaps!
---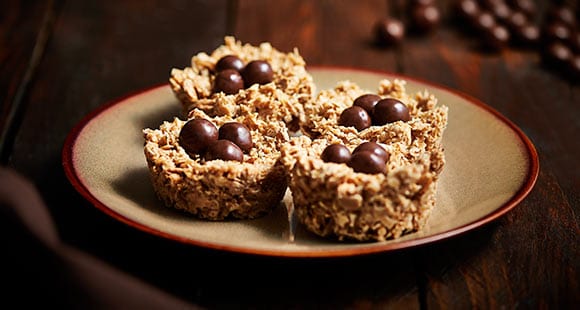 ---
Brownies
Everyone loves a gooey chocolate brownie, but sometimes the calories can be pretty high on your standard run of the mill brownies. Try swapping a normal shop brownie for a protein brownie and you will pack in a massive 23g of protein with only 9.7g of fat and a mere 27g of carbs.  You can also choose from plain chocolate or white chocolate flavour, and they come individually wrapped meaning your portion size is perfectly controlled.
---
Cookies
The problem with cookies is that it's very difficult to just have one. Why not swap your average giant cookie for a skinny protein cookie? With only 3g of fat and 25g of protein, these cookies make a great snack that won't push you over your macros for the day. They are also individually wrapped making them great to keep in your gym bag or desk at work.
---
Pancakes
Why not make a change from your standard supermarket pancake mix and try protein pancakes. They are super easy to make and are great as a breakfast or dessert. You could add some berries or zero syrup to make them even more delicious! Packed with protein, these pancakes will help to keep you full and satisfied while also promoting growth and repair.
---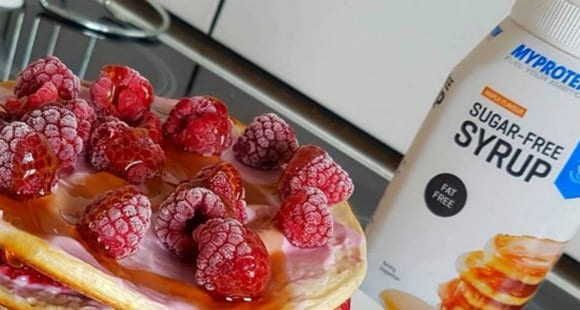 ---
Zero Syrup
A great swap for normal, sugar filled syrups from the supermarket, this syrup comes in many great tasting flavours from apple and cinnamon to chocolate flavour. It tastes great on everything, from pancakes to oats and even as a topping for granola.
---
Granola
Shop bought granola, although tasty, tends to be full of added sugar and fat. Try swapping your normal supermarket granola for some protein granola. It's also lower in carbs in comparison to most supermarket brands, making it great for breakfast or as a snack on the go. Try adding some natural yoghurt for a great tasting dessert.
---
Protein Mug Cake
Mug cakes are a delicious, super easy snack to make in minutes. You can buy pre-made mixes in the shops, but they tend to be a poor source of protein and high in fat. Try a protein mug cake mix, macro friendly without compromising on taste. There is only 2.7g of fat per serving and a protein punch of 25g. Choose from flavours such as natural chocolate, salted caramel and blueberry cheesecake!
---

---
Flapjacks
Flapjacks are a super handy treat to eat on the go, and although they are generally made with oats, supermarket versions tend to be quite low in protein for the notably high-calorie content of this snack. Protein flapjacks are a much more macro friendly option to try out instead. They come individually wrapped and have 20g of protein per flapjack.  They come in original, chocolate and forest fruit flavours so there is one to suit everyone's taste!
---
Chocolate Protein Balls
Anything chocolatey is always going to be a firm favourite for snacking, but often chocolate coated treats are calorie laden with little nutritional value. Try swapping your bag of Maltesers for chocolate protein balls next time you plan a trip to the cinema and reap the benefits of having a high protein snack that isn't high in fat!
---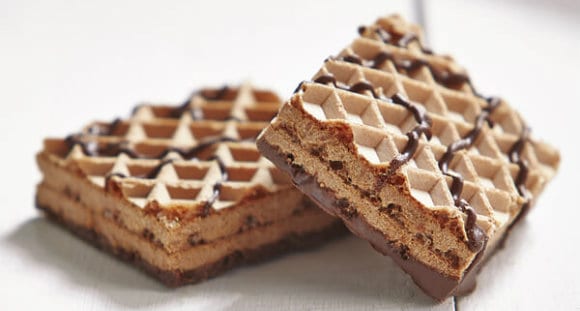 ---
Protein Wafers
One of my favourites, protein wafers are a delicious snack that will help satisfy anyone's sweet tooth. They come in a variety of tasty flavours including vanilla, chocolate hazelnut, strawberry, peanut butter and cookies and cream. One packet contains just 13g of carbs, and 9g of fat while the protein content is an impressive 15g. A great snack to have handy in your cupboard for when you need something sweet!
Try some of these snacking swaps to help you still on track with your nutrition without feeling like you are missing out on some of your favourite treats!
---
Our articles should be used for informational and educational purposes only and are not intended to be taken as medical advice. If you're concerned, consult a health professional before taking dietary supplements or introducing any major changes to your diet.