We've all heard the phrase, "breakfast is the most important meal of the day," but in this modern day and age most of us are in too much of a rush to either eat a breakfast or take something fairly healthy before leaving for work!
Admit it – you've fallen victim day in, day out, grabbing something quick – and usually something very low in nutrients and protein!
The below 6 recipes helps on both of these fronts and just as you'd expect – being high in protein will keep you fuller for longer so you can get on with your day without feeling starving before lunch time!
1) High Protein Oreo Breakfast Cheesecake
First up, this high protein and calcium recipe will kick start your day feeling like you've had a treat, but look at those macros… just amazing! Watch the recipe here: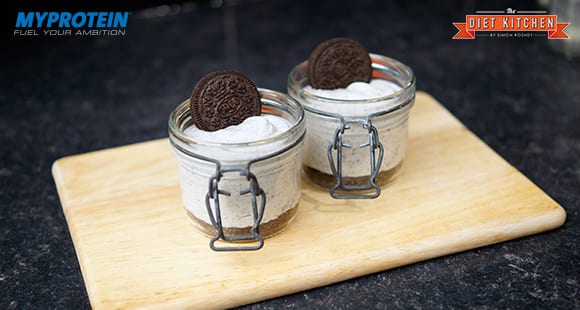 Ingredients:
– 4 Oreos for base
– 2 Oreos for filling
– 180g Extra Light Cream Cheese
– 180g 0% Fat Greek Yogurt
– 1-2 scoops of Myprotein Impact whey protein
---
Directions:
a) Put base Oreos in a food processor and blend till a crumb mixture
b) Separate the crumbs between two serving glasses
c) Put the filling Oreos in a food processor and blend till a crumb mixture
d) Add in the Cream cheese, the Greek yoghurt and Whey and blend until smooth and thick
e) Spoon the mixture over your crumb base and leave to set in the fridge overnight for breakfast, unless you're really hungry, then make in the morning and eat right away!
---
Macros:
Calories: 358kcal
Protein: 31g
Carbs: 31g
Fats: 10g
Fibre: 1g
2) 60-second Protein Chocolate Spread Sandwich
This recipe really does take 60 seconds to make so try have an excuse for skipping breakfast now!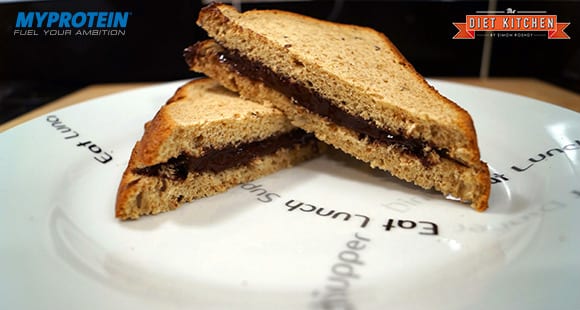 Ingredients:
– 40g Chocolate Smooth Myprotein Impact Whey Protein powder
– 10g unsweetened cocoa powder
– About 40ml water
– 2 slices Myprotein Dr Zak's high protein bread
---
Directions:
a) In a bowl, combine the chocolate powder, cocoa powder and slowly add the water whilst mixing together. Combine until smooth
b) Spread on one slice of bread, top with the other slice and you're done! Toast the bread for extra deliciousness and crunch!
---
Macros (per sandwich made with protein bread:)
Calories: 481kcal
Protein: 64g
Carbs: 31g
Fats: 10g
Fibre: 7g
3) Choc-Chip Banana Protein Pancakes
Who doesn't love pancakes in the morning?
Ingredients:
– 60g Egg Whites
– 1 Banana
– 20g of Impact Whey Protein
– 20g of Casein
– 25g of Rolled Oats
– 10g of Chocolate Chips
---
Directions:
a) Combine all ingredients apart from the chocolate chips in a food processor
b) Put a frying pan onto a medium heat and spray with low calorie cooking spray or use a touch of coconut oil
c) Put roughly 1 tablespoon of mixture at a time onto the hot frying pan and top with a few chocolate chips
d) Fry until golden brown in areas, flip over and cook for 10 seconds on the 2nde) 
Serve and enjoy! 
---
Macros:
Calories: 403kcal
Protein: 41g
Carbs: 47g
Fats: 6g
Fibre: 4g
4) Mango Lassi: Whey-Free
High-Protein Smoothie Recipe!
The classic Indian drink, packed full of micronutrients to jump start your day, the healthy way.
Ingredients:
– 240g Mango
– 330g Greek Yoghurt
– 120g Milk
– 1tsp Honey
– 1Tbsp Pistachios
---
Directions
a) Combine all ingredients in a blender and blend until smooth!
---
Macros:
Calories: 243kcal
Protein: 20g
Carbs: 31g
Fats: 4g
Fibre: 6g
5) Peach and Almond Protein Parfait
Such a lovely breakfast option, the flavours work so well together and full of nutrients from most of the ingredients.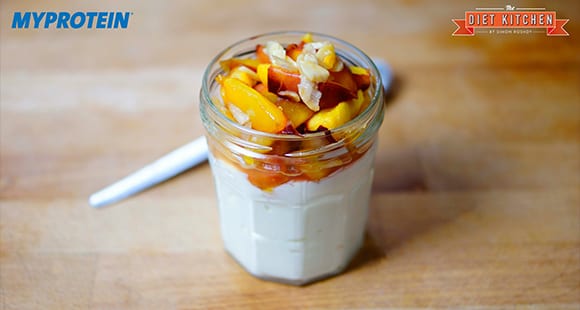 Ingredients:
– 2 Peaches
– 10-15g/1tbsp Honey
– 10-15g Flaked Almonds
– 200g/7oz Greek Yoghurt
– 1/8th Tsp Almond Extract
– 3tsp Sweetener
---
Directions:

a) Chop the peaches up into segments, and combine in a bowl with the almonds and the honey
b)  Spread the mixture onto a baking tray lined with greaseproof paper and bake for 10-15mins at 200c/400f
c) Combine the rest of the ingredients in another bowl and when the peach mixture is done top the yoghurt mixture with it!
---
Macros:
Calories: 310kcal
Protein: 26g
Carbs: 42g
Fats: 6g
Fibre: 5g
6) Apple Pie Protein Oatmeal
Who wouldn't love an apple pie for breakfast?? Well this is the next best thing and macros provide a perfect balance for any healthy individual.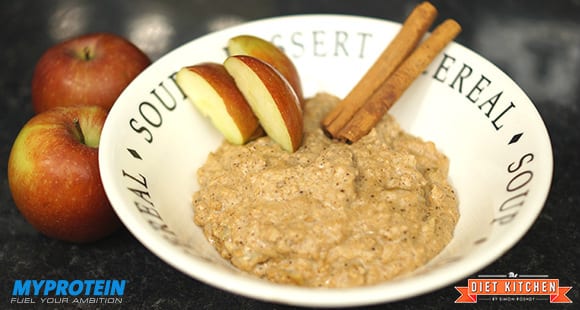 Ingredients:

– 30g Rolled Oats
– 125ml Almond Milk
– 1 finely chopped Apple
– Cinnamon and Nutmeg to taste
– 25g Yoghurt
– 40g Myprotein Impact Whey Protein (vanilla flavour)
– Zero Calorie/fat/sugar Myprotein MYSYRUP – Maple flavour! (optional)
---
Directions:
a) Place the oats in a bowl and add the almond milk, apple, cinnamon and nutmeg, mix together
b) Microwave on high for around 4 minutes
c) Place the yoghurt and protein powder into the hot mixture and mix together
---
Macros per Batch:
Calories: 328kcal
Protein: 37g
Carbs: 32g
Fats: 5g
Fibre: 5g
Brought to you by Si Roshdy at The Diet Kitchen.
Enjoy!
Our articles should be used for informational and educational purposes only and are not intended to be taken as medical advice. If you're concerned, consult a health professional before taking dietary supplements or introducing any major changes to your diet.