"A few years ago we did have a weakness…definitely our legs! That's why these last 2-3 years we've really concentrated on them and smashed them in volume workouts which has really brought them out." Says Owen
---
Ditch the ego, perfect the form…
"On Leg day I'm similar to my brother – I do have a love/hate relationship with squats, sometimes I go in the gym and smash them out and other days I do struggle because I have one leg stronger than the other." Say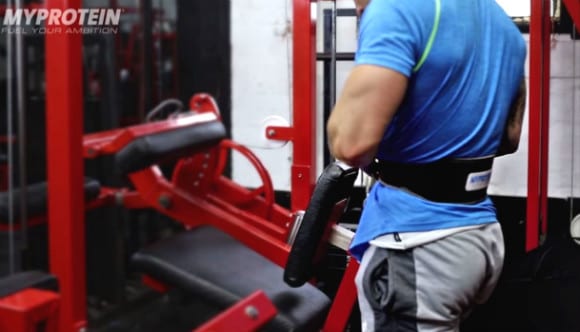 s Lewis.
"We don't put a ridiculous amount of weight on the bar, we're not trying to overload the bar – we're trying to concentrate on contraction, time under tension, correct tempo – to gain aesthetics, to gain lean muscle." Says Owen.
Recommended: Weights belt 
---
Exercise #1: Superset (Squats/Vertical Leg Press)
(4 sets of 10, 10 reps)
"Our first exercises of this leg workout, was a superset – Squats, 10 reps and Vertical leg press, 10 reps – four sets. We did this because squats and vertical leg press are some of the best exercises for the legs and really get your quads popping."
TOP TIP: No Vertical Leg Press? Use the Smith Machine as an alternative.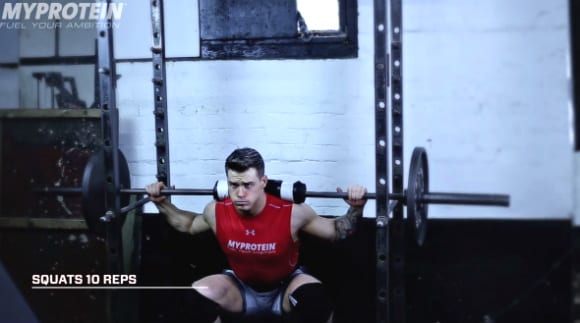 ---
Exercise #2: Tri-set (Leg press/Hack Squat/Body Weight Sissy Squats)
(3 sets of 30, 10, 10 reps)
"Our second exercise was a Tri-set – we did Leg Press, 30 reps, Hack Squat, 10 reps and Bodyweight Sissy Squats, 10 reps – 2 sets. We do this to incorporate all muscle fibres into the tri-set and really get your legs burning."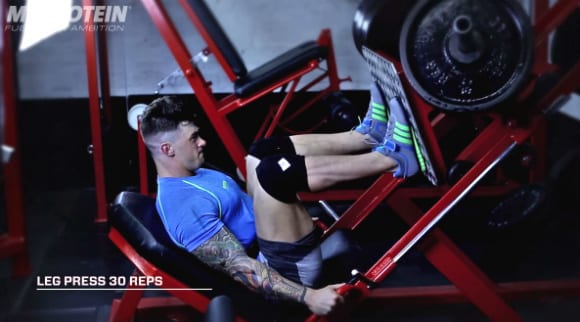 ---
Exercise #3: Tri-set (Seated Hamstring Curl/Stiff-leg Deadlift/Standing Hamstring Curl)
(4 sets of 10, 10, 10 reps)
"Our third exercise was a Tri-set – Seated ~Hamstring Curl, 10 reps, Stiff-Leg Deadlifts, 10 reps and Standing Hamstring Curl, 10 reps – Four sets. We do this for a continuous burn of the hamstrings."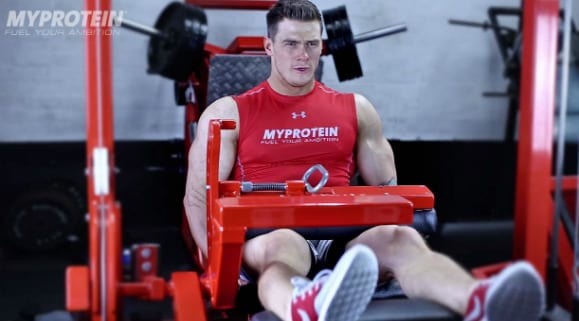 ---
Exercise #4: Superset: (Leg Extension/Lying Hamstring Curl)
(4 sets x 10, 10 reps)
"Our fourth exercise was Quad Extensions 10 reps and Lying Hamstring Curls, 10 reps – four sets. Really get those legs burning."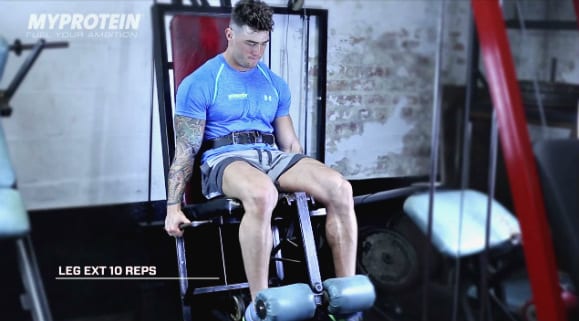 ---
Exercise #5: Superset: (Calf Slay/Calf Raise Machine)
(4 sets of 20, 20 reps)
"Our fifth exercise was the Calf Slay Press, 20 reps and the Calf Raise Machine, 20 reps – four sets. We do this to hit both angles of the calves – and really hit the Soleus as well."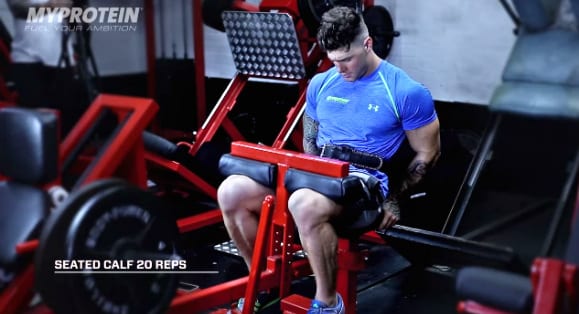 ---
The Harrison Twins High-Volume Leg Workout

Legs Superset: (Squats/Vertical Leg Press)
(4 sets of 10, 10 reps)

Legs Tri-set (Leg press/Hack Squat/Body Weight Sissy Squats)
(3 sets of 30, 10, 10 reps)
Legs Tri-set: (Seated Hamstring Curl/Stiff-leg Deadlift/Standing Hamstring Curl)
(4 sets of 10, 10, 10 reps)
Legs Superset: (Leg Extension/Lying Hamstring Curl)
(4 sets x 10, 10 reps)
Legs Superset: (Calf Slay/Calf Raise Machine)
(4 sets of 20, 20 reps)