The Ultimate Gift Guide 
'Tis the season to be jolly! But if you're like me and find thinking of a million and one present ideas for your nearest and dearest somewhat of a headache then here is a little something to help you out. If someone on your present list is a gym junkie or fitness fanatic then you've come to the right place. Make the Christmas season a hell of a lot easier for yourself with our ultimate gift guide.
Surprise the person you love this year with some special for them to pop in their gym bag no matter your budget – there is something here for everyone.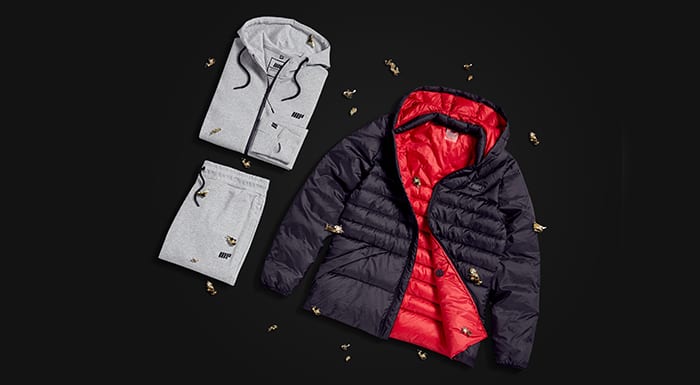 Clothing
The extensive range of gym, team sport and leisure apparel on offer at Myprotein is not only varied but totally stylish – oh, not to mention super-comfy. Hitting the gym in style not only makes you look great, but an instant boost in confidence is just what you need before smashing your 1RM or joining in that never-ending spin class. Recon your friend or spouse could do with a workout wonder? Help them take pride in their appearance at the gym and fill their stockings with Myprotein's finest clothing range.
Working towards fitness goals can be difficult, make sure your gym-buddy is gym-ready with our latest releases.With unique fabric technologies (sweat wicking, breathable & dry-tech), patterns, fits and colours, we've got everything you need to help you and your spotter look, feel and perform great! Revive your fitness wardrobes and be better than ever before.
Searching for your better half's stocking fillers? Why not take a sneak peek at our underwear collection – dare to be bare!
 Accessories
From knee wraps to gallon hydrators, our ever-expanding accessories range has something for everyone, making those HIIT sessions and heavy-lifting workouts not only bearable but on-trend! Whether it's training on-the-go, in the park or in the backyard, our handy range of equipment is here to help all athletes/newbies perform numerous exercises, whatever their fitness goals.
Helping a friend get back into the gym? No problem – why not introduce them to a medicine ball? Perfect for squats, lunges and they're not too heavy to start with! Want to impress your bodybuilding pal? Try our wrist straps, lifting belts or liquid chalk.
It doesn't stop there, we all know hydration is key to maintain a healthy lifestyle and looking great whilst doing so is even better! Check out our range of bottles, hydrators and shakers here!

Protein Essentials
Just in time for Christmas, we've put together a limited edition box, with unbeatable nutritionals and tantalising flavours this literal treasure chest of the best is here to help you and your fellow gym buddies maximise results.
Want to gift big this Christmas or looking to get big this Christmas? Either way, it's time to get that real boost of energy and festivity. Introducing Myprotein's new standard of supplements, Mypre and Thewhey– it's time to enhance, boost and kick-start your muscle growth before and after your intense workouts.
Don't worry, it doesn't stop there, in fact, the gifts keep on giving! We've even thrown in our classic Mixmaster shaker with a stylish black finish, keeping you classy and sassy in the weights room! Clear some space under the tree for all the goodies – it'll be worth it!