PT Reviews: The series where we get a PT to review a trending or popular workout to see if it's any good. This time we pose the question to professional Irish dancer and Myprotein PT Nerissa Shea: is yoga any good for exercise, or is it all posturing?
Yoga has become increasingly popular in the health and wellness space over the last few years. I first began my journey about 10 years ago when I was at uni studying performing arts.
Truth be told, I don't think my heart was truly in it at the time as I preferred more dynamic exercise — I used to fall asleep every time we got into our final resting pose, which was evident to everyone from my audible snores.
Sorry, Claire (my amazing yoga instructor).
Since graduating, I've worked as a professional Irish dancer for more than 10 years. When Covid first hit, I was on tour in Germany and, unfortunately, injured. When I returned home to Ireland I was on crutches and unable to dance or train for six weeks. This is when I first truly got into yoga.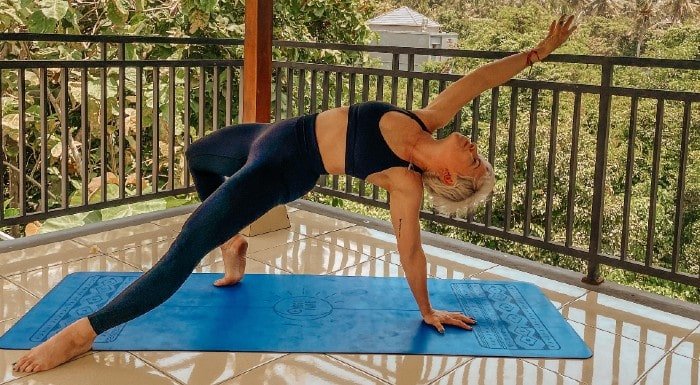 Before this, my yoga practice had always been sporadic, but for the first time in my life I felt a deep desire to commit to regular practice as soon as I was able to get back on my feet.
I began practising regularly in March 2020 and it has changed my life. Yoga is part of who I am now, and I would be lost without it. Although sometimes I may not notice a huge difference day to day when I am practising, but I find the everyday stresses of life really creep up on me when I miss a few days.
The meditative benefits of yoga have allowed me to connect with and understand parts of myself that I had hidden away for years. It has truly allowed me to become who I feel I am supposed to be, and this now allows me to help more people in my life — family, friends and colleagues.
So, what is yoga?
When many people think of yoga, they think of Instagram influencers showing off cool inversions like headstands, handstands and arm balances. I was one of those people. But this is a westernised perception of yoga, which is sometimes closer to mindful stretching. Yoga is an ancient discipline that has been practised for more than 5000 years, and one of six ancient philosophies that originated in India.
The word yoga itself is derived from the Sanskrit word "yuj", meaning "to join" or "to unite", and touches on yoga's emphasis of the union between individual consciousness and universal consciousness, ego and soul, body and mind.
In the writings of Patanjali, who is thought to have lived more than 2000 years ago and is sometimes referred to as "the father of yoga", the practice is described as the process of controlling the modifications of the mind. Unsurprisingly, this ancient way of thinking bears little resemblance to what we often see on social media.
One of the most common forms of yoga practised in the west today is based on hatha yoga, which places great emphasis on posture and breathing techniques. This form of yoga involves:
Asana (physical postures): Traditionally the seated posture (the term comes from the Sanskrit word meaning "seat"), this now refers to any of the postures used in modern yoga, such as downward dog, warrior one or triangle pose.
Ujjayi (breathing technique): A technique that allows you to calm your mind by focusing on your breath. This helps you override thoughts that could possibly distract you from your meditative state. It also creates a sound that helps you synchronise your movements with your breath.
Drishti (focused gaze): This is a way of developing concentration and is key for balance during poses. When the eyes move, mind and attention follows, so this technique allows you to maintain focus.
Bandhas (energy locks): This works by synchronising deep rhythmic breathing and movement,
Many of the different forms of yoga seen in gym classes today use all or a combination of these techniques: power, yin, vinyasa, ashtanga vinyasa, restorative, even goat. The list goes on and on…
So, a bit more to it than cool handstands!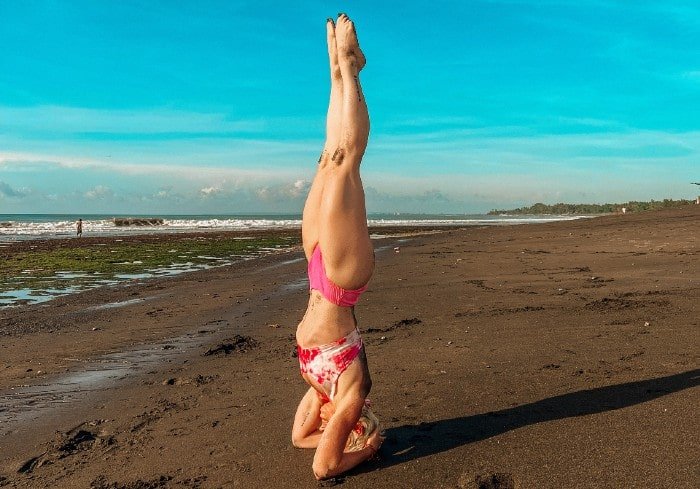 I decided I wanted to learn more about the philosophy of yoga and its history — where it came from, how it evolved into what it is today — as well as its physical practices. I was also keen to experience it on a spiritual level, so in January 2022 I travelled to Bali for a 200-hour teacher training retreat.
The 200 hours was split across three weeks, with six days' training and one day off per week. It was intense.
Every day was a little bit different, but the schedule typically looked something like this:
6am-6.45am: Pranayama (breath work)
7am-8.45am: Asana (physical practice: either vinyasa flow or ashtanga vinyasa)
9am-10.15am: Breakfast
10.15am-1pm: theory — yoga philosophy, the history of yoga, anatomy, chakras, ayurveda.
1pm-2.30pm: Lunch
2.30pm-3.15pm: Yoga nidra (yogic sleep)
3.30pm-6pm: A mixture of evening asana practice, teaching practice, alignment classes and workshops
6pm-6.30pm: Evening meditation
There were also plenty of workshops throughout, covering topics such as power of the mind, sound healing, and conscious breathwork.
We also spent approximately four hours a day practising physical poses — there was a lot of downward dog.
Unfortunately, I suffered an injury about two thirds through the course. This meant I had to finish the course with one working arm, but this was actually a blessing in disguise. I became very focused on teaching via explanation rather than demonstration, which helped in developing my awareness of how other peoples' bodies move.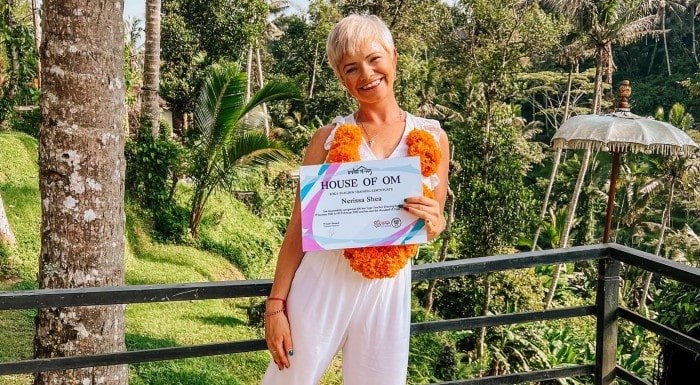 Now on to my review…
So, this is the longest I've ever been without doing some form of weight training in the gym. For a month, yoga has been my sole form of exercise. I can't believe the difference it has made to my body composition — my arms and back look so lean.
It's worth mentioning I've also been following a vegetarian diet. Cutting out meat and an increased activity level has probably put me in a larger calorie deficit, but even still I've been pleasantly surprised by the muscle tone and definition in my back and arms.
My strength with regards to the various physical postures has increased tenfold. I'm practising similar flows but finding them so much easier now — even on the intense power yoga courses I follow online. So overall strength and muscle definition are better.
Also, my flexibility and cardiovascular fitness have seen huge improvements. I've always been someone who suffers from very tight hamstrings — from all my years of dancing — and in just one month my paschimottanasana (seated forward bend) has improved beyond belief.
At the start of the course, it was a struggle to even bend my knees. Now I can grab my toes and nearly kiss my knees. And my cardiovascular fitness has also improved — I'm less out of breath after taking the stairs.
Overall, I feel stronger, fitter, more flexible and, most importantly, mentally I feel incredible.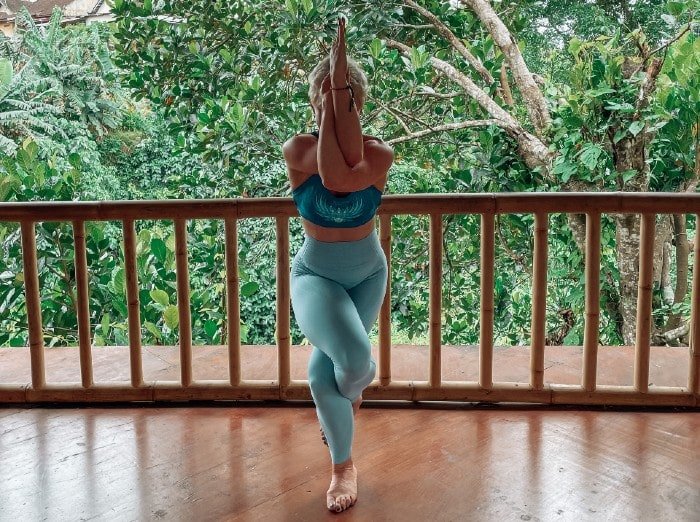 Who is this workout good for?
Everyone. Yoga is for everybody.
It's just about finding a class and instructor you like. Some people love powerful vinyasa flows and other people prefer more yin-style classes where you stay in postures for a while and let gravity do its thing.
There really is a class for everyone, and even as much as I love a good powerful vinyasa flow, sometimes I prefer more restorative classes — especially at times of the month when energy levels are low.
Why do I recommend yoga to everyone? Because it has so many benefits. Among them are improved posture, increased flexibility, enhanced balance, stronger muscles, and stress relief.
Take Home Message
My personal favourite benefit of yoga is how it has enabled me to become so in tune with my own body and mind, which has greatly improved my quality of life.
My honest advice to anyone who has attended a yoga class and thought "nah, this isn't for me" is to stick with it and try a few different classes or instructors until you find one you enjoy. I promise it will be worth it — not only physically, but mentally as well.