To celebrate the relaunch of Power, one our strongest women's training collections yet, we got together with sixteen fierce female ambassadors and influencers to put the clothing to the test.
Absolutely rocking sets of either dusky Copper Rose or pastel Seafoam, the girls arrived at Hale Country Club & Spa ready to be put through their paces in a Body Sculpt class.
This is what went down.
After letting the ladies catch their breath and refuel with some post-workout snacks — including the brand new and super-delicious 6 Layer Bar, of course – we got their thoughts on Power.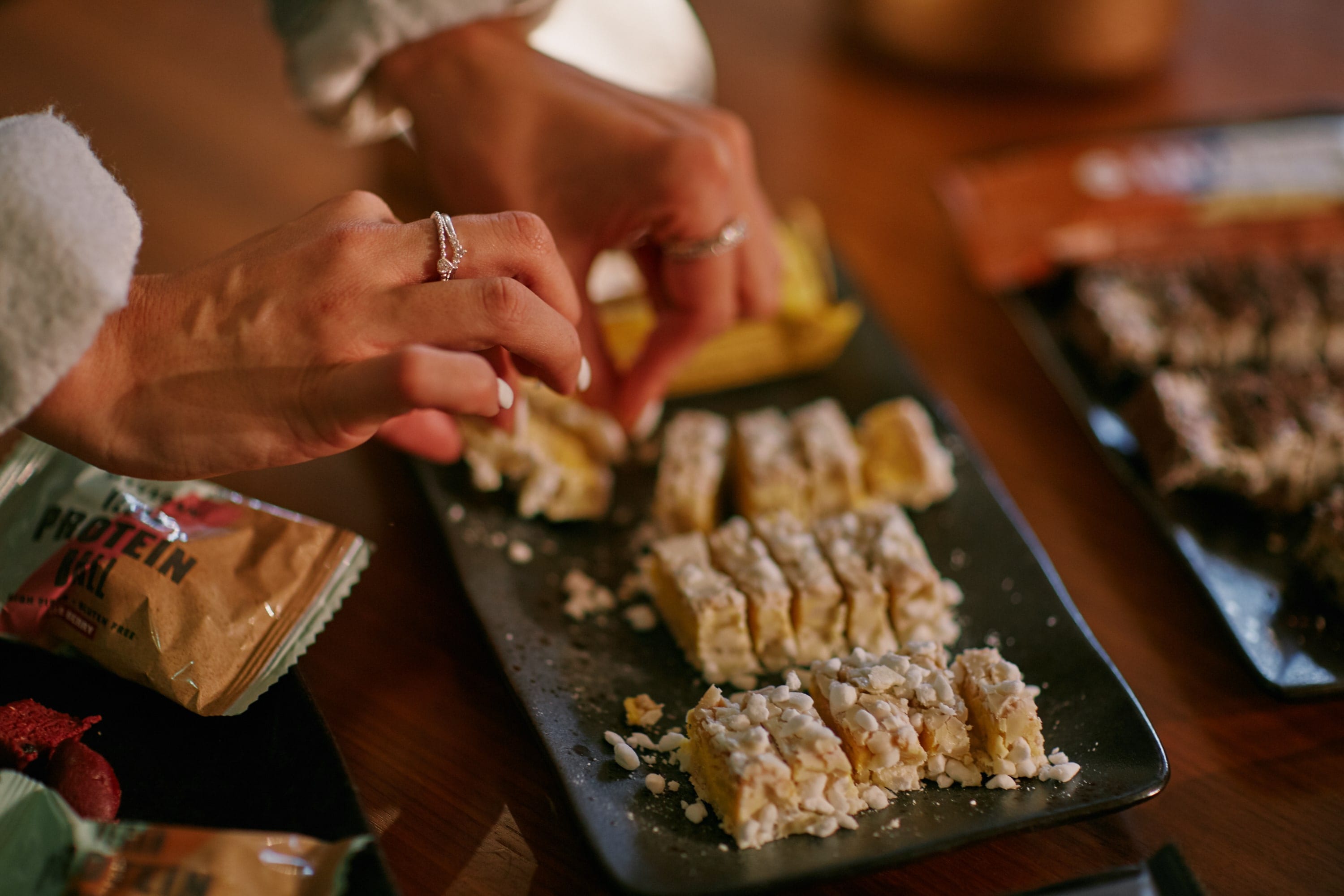 1. What do you think of the Power set?
Sam (@samdewhurstofficial): I absolutely love it. I'm a big believer in high-rise pants, so anything that's high-rise I just love. They're comfy and they are squat-proof as well which a lot of girls obviously do worry about when training in the gym — you always want your gym wear to be squat-proof. So those are two big ticks for me. And the colour, I love pastel colours, especially in summer.
Sarah (@squatbot): Really cute, love the colour and the fit is really nice — makes my boobs look banging.
Gemma (@gemma_nicole_stanley): It's my favourite so far, I really like it. Love the matching colour of the bra and the leggings. The cross at the back of this sports bra is so nice and it's really supportive.
Rosi (@rosijayfitness): I like how high-waisted the leggings are, without being too high though — I'm quite short so sometimes leggings can come right up to my bra which isn't a good look. And they're stretchy.
Amelia (@ameliacourtney): I'm just in love with the back of this bra, the open back and cross-over detail is so nice.
Arianna (@arianna_atjar): I love the shape of it — these seams contour your legs, the design of it is great for your bum.
Jazz (@jazzfranks): I absolutely love the colours, I love the variations of the colours, so you've got your pastels but then you have some darker tones as well. I think actually that dark burgundy set I spotted on the rail is my favourite. I always wear black in the gym so I felt really weird coming in this morning and being in light blue, but I think it's lovely.
Evie (@evangelinegomez): The colours are poppin' — especially when I have a tan in the summer. And the high-waisted leggings to just bring everything in, it's the dream.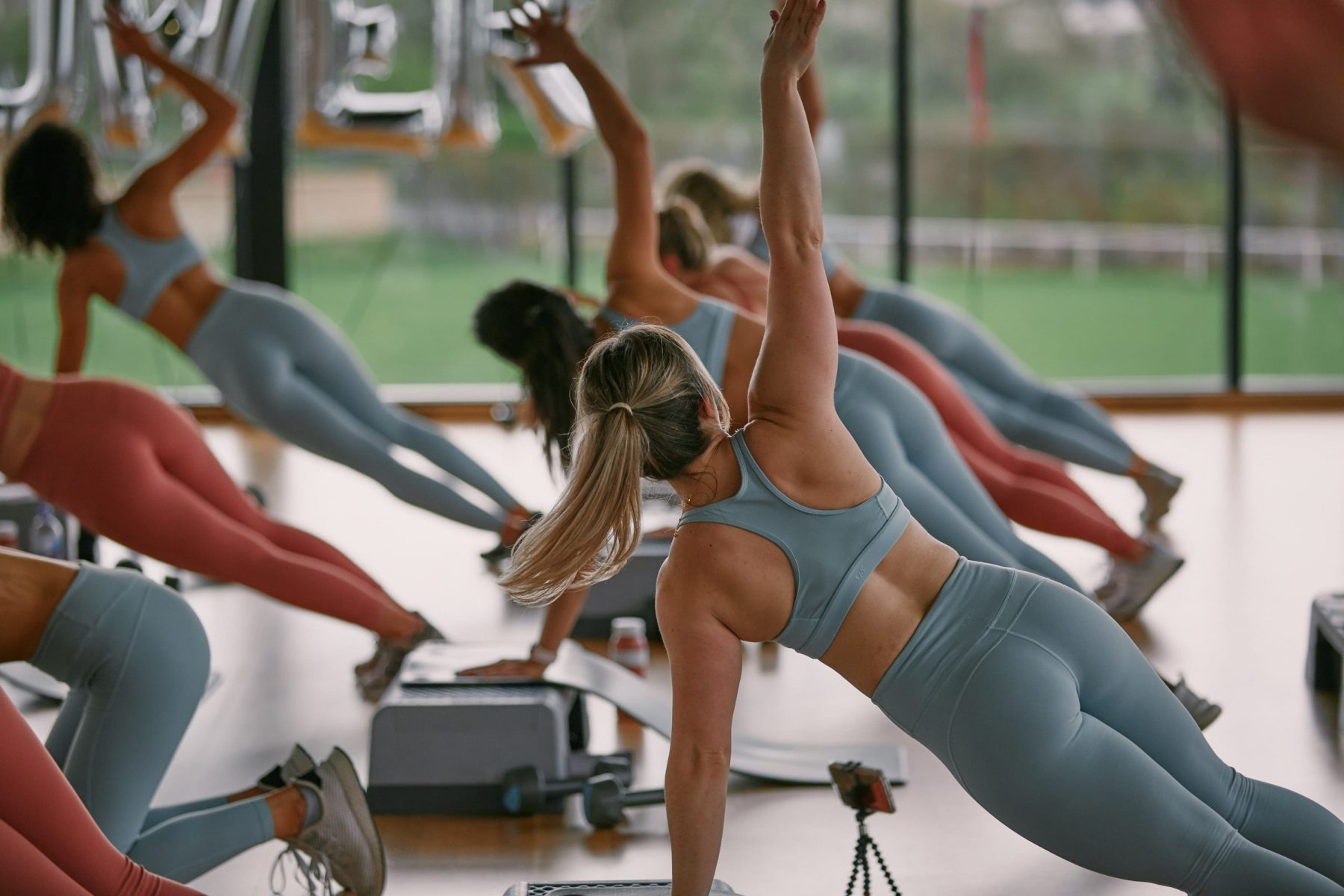 2. How did you find the workout?
Jazz: I wasn't used to it — you might have been able to tell. I really enjoyed it, it's nice to mix things up a bit with a class. It's not something I'd run to my gym and do, but it was good. The abs! The abs section did me in, I never really work just my core as it's used in all the other moves I do — so I don't ever specifically do sit ups… so yeah that was painful.
Amelia: Loved the workout. Felt like we went back in time a little bit, back to the 80s but yeah I enjoyed it.
3. Do you think of yourself as powerful?
Sam D: I think I am yeah; I've been through a lot of hard things in my life. I've been in a very low place mentally, but I feel like everything happens for a reason and I believe in karma. I meditate daily and so mentally yeah I think I am quite strong, which then goes towards my strength in the gym.
Sarah Harradine: I think so. I'm a power athlete anyway, so even though it's not something that I necessarily actively pursue, I guess I just make it part of my everyday life.
Arianna: Yeah definitely, I'm a boss. Going to the gym gives you confidence, even more so when you go in something that makes you feel good and confident — and Myprotein do that.
Jazz: Oh 100%, I think I'm pretty strong. I mean I powerlift, so.
Evie: Definitely, I know that I've got the strength to do everything by myself, I'm not depending on someone else for anything. I can go to the gym, lift some weights, feel strong and know that I did it by myself. And joining together as girls, this has been really nice to have some girl time but also to show that women are strong as well.
4. What motivates you?
Sarah Harradine: I always want to do the best for my family and friends, and I want to do the best for my clients to inspire them — as well as just feeling nice and comfortable in myself.
Rosi: I think just because I enjoy training, and I know that it's going to make me feel good about myself I don't even think about it. I just set my alarm, get up, go to the gym and that's it.
Jazz: I just want to be a better version of myself every day, I don't really have an end goal, so I just want to make sure I'm being the best version of me.
5. If you could have one super power, what would it be?
Sam D: To be able to stop negativity spreading — because I feel like it's a disease. If someone's negative around you, you catch it.
Sarah Harradine: Oh god, I'm gonna show I'm really nerdy here, but you know Black Widow from The Avengers… she doesn't have a super power, but she's just absolutely sick. She's clever, she's a super fighter and she's so strategic, so I'd just want to be her. Mega all round.
Gemma: To be a fly on the wall.
Rosi: To stop time so that I could sleep for longer.
Arianna: I'd want to be able to read minds — but only selectively, not just hearing everyone's thoughts all the time. You could get people's ideas and know what they were thinking.
Jazz: I'd be invisible, but I'd probably end up in a lot of trouble as I'd be sneaking up on people and going to see what they were doing.
Evie: To fly, then I'd be flying to Australia.
Amelia: I'd be invisible, I'm too nosy.
All that's left for you to do now is to make the hard decision of what colour set to get first.
#MyPower