Written by: Lauren Dawes
Nutritionally reviewed by: Jennifer Blow
This is how you get a workout started. Our potent formula has been specifically designed to have you firing on all cylinders and pushing past your limits. Shake off the sleep, leave behind your long day at work and get ready to give 100% to every single rep — THE Pre-Workout+ delivers across the board.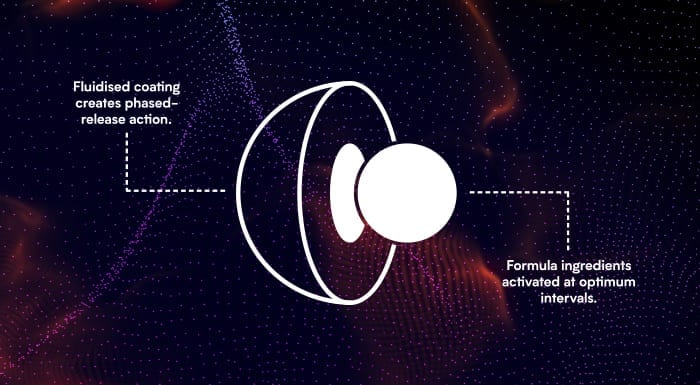 Dual-Phased Caffeine Release
Caffeine is an important and popular pre-workout ingredient. Scientific studies have shown again and again the beneficial effects of caffeine on exercise — specifically how it can delay fatigue1 and increase a person's power output.2
With our innovative PhaseTech™ time-release technology, The Pre-Workout+ won't just hit you with one spike of caffeine. Oh no, the cutting-edge beadlets with their phased-release coatings will give you a more sustained series of energy boosts — perfect for a longer, stronger workout.
Wary of caffeine jitters? Don't worry, we've thought of that too. We've included the amino acid L-theanine to help to combat the adverse effects that some people get from consuming caffeine, as studies have shown it can reduce psychological and physiological stress responses.13
Focus & Endurance
We realise that sometimes the real struggle to having a productive workout isn't even anything to do with your physical state, but actually your mindset. On a Monday evening, after a long day of emails and meetings, your sofa is sounding much more appealing than the squat-rack, right?
That's where THE Pre-Workout+ can help to kick you into gear. Not only does caffeine help to increase alertness and improve concentration,3 but we've also included exciting new ingredients — huperzine-A and alpha-GPC — that have been shown to increase neurological focus.4,5
A study in the Journal of the International Society of Sports Nutrition has specifically shown that alpha-GPC supplementation can be beneficial for both physical and mental performance tasks.5
Plus, with popular ingredients like beta-alanine for endurance, and taurine and tyrosine for neurological focus, this hard-hitting blend should help you get into the zone, with your sights locked on smashing those sets.
Vasodilation
What's a pre-workout without the pump? In THE Pre-Workout+ we've included superior ingredients that we've never used before to make sure we nail just that — both VASO6™ and hawthorn berry extract have been added for their naturally vasodilating effects.6
Vasodilation means increased blood flow, which in turn means that more oxygen can be delivered to the muscles for energy generation and nutrient delivery. All the good stuff.
VASO6™ is a patented green tea extract that has natural vasodilating properties. Clinical trials have shown it to be 10 times more effective than arginine, a more common pre-workout ingredient — consuming 300mg of VASO6™ can result in up to 50% vasodilation,7 while 7g of arginine only results in 5%.8
Nutrient Absorption
And finally, with so many highly-researched ingredients in one blend, it seems only right that we give your body a helping hand in putting them to use. That's why we've included AstraGin®, which has been shown to improve amino acid absorption,9 and BioPerine®, which has been shown to improve the absorption of vitamins and minerals.10
The latter is especially useful considering THE Pre-Workout+ has added vitamins — including vitamin B12 and C, which are both natural energisers and support the immune system — perfect for a pick-me-up before training.11,12
Who is it for?
THE Pre-Workout+ is for anyone who wants to take their training to a new level. Whether you're a pro athlete looking for something to help shave seconds off your personal best, or a gym-goer who needs a new formula to shake up your routine — this could be the answer.
When to Take?
To get the most from this powerful blend, we recommend you have THE Pre-Workout+ about 30 minutes before your workout. This gives your body a chance to start processing these high-performance ingredients, so you can begin with a buzz.
And of course, with the help of our unique PhaseTech™ time-release technology, this feeling won't fade after your first set.1,2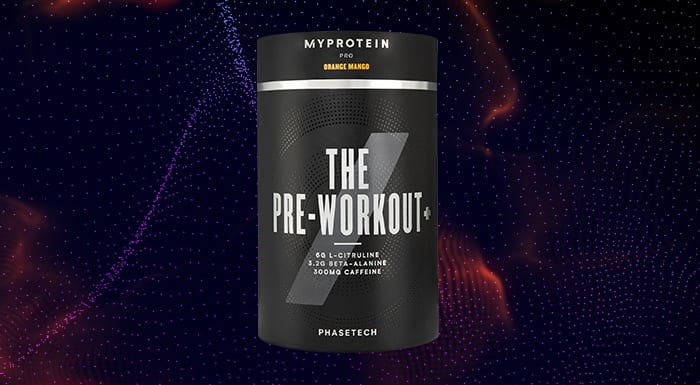 Take Home Message
Superior blends get superior results. Release your power with PhaseTech™ — the next generation of sports nutrition.