Raspberry and Lemon Protein Cupcakes Recipe
These Raspberry and lemon protein cupcakes are low in sugar, yet the perfect high protein sweet treat to enjoy with your afternoon tea.
Ingredients
In this recipe we use Kamut flour. Kamut flour is a healthier alternative to normal flour, providing a high protein content of around 15g per 100g! We use kamut flour in a lot of our recipes, but kamut flour can also be used in a range of different recipes- not just protein goods!
Here's what else you'll need:
The Cupcakes:
1 Squeezed lemon
5 large heaped tablespoon of sweetener
100g of plain Greek yogurt
2 eggs
25g of melted coconut oil
1 teaspoon of vanilla extract
2 scoops of Myprotein Kamut flour
4 scoops of Myprotein vanilla raspberry impact whey protein
12 fresh raspberries
1 teaspoon of baking powder
Protein Icing:
1 Pot of quark
Raspberry Myprotein Flavdrops
½ scoop of Vanilla Casein protein
½ scoop of Vanilla raspberry impact whey protein
Preparation
Step One
Preheat your oven to 150 degrees Celsius.
In a bowl combine your dry ingredients- kamut flour, whey protein, baking powder and sweetener.
Step Two
Beat two eggs and add to the dry ingredients.
Add your Greek yoghurt, the juice from one lemon and a teaspoon of vanilla extract.
Mix Well.
Step Three
Stir in 25g of melted coconut oil and fresh raspberries.
Step Four
Spoon the cupcake mixture into tin cupcake case and drop half a raspberry into the center of each case.
Place in the oven for 10-12 minutes- being careful to watch the time, as overcooking the cupcakes can cause them to become dry!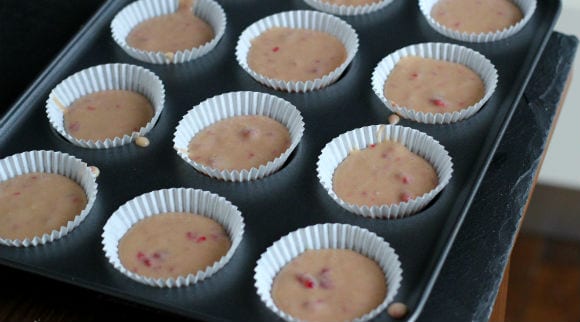 Step 5
Once removed from the oven allow your cupcakes to cool.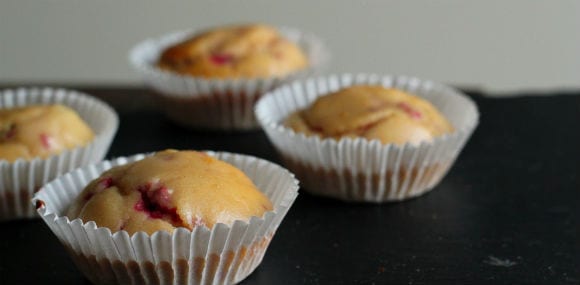 In a dish combine a pot of quark, ½ a scoop of vanilla casein, ½ a scoop of vanilla impact whey protein and 5-10 drops of raspberry flavdrops. In the icing we use ½ a scoop of casein protein- this is to create a thicker frosting, whereas using just whey protein would create a runnier mixture.
Top with fresh raspberries and enjoy!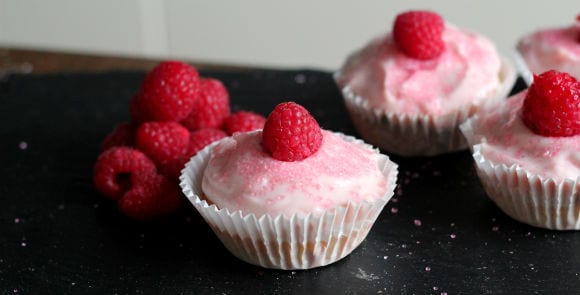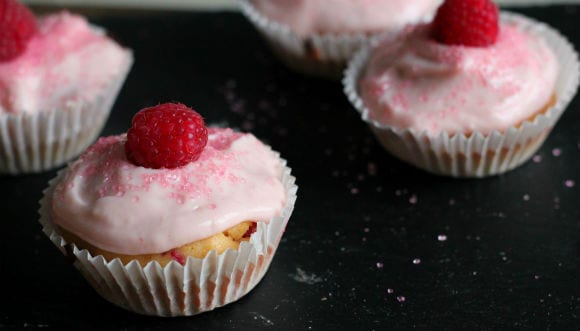 For more recipes click Here.
To Buy Myprotein Kamut Flour click buy now.