You couldn't possibly pack any more goodness into this homemade vegan protein bar — if you could, then we would have done it. Even better, this bar requires zero baking, which means you can mix it up, throw it in the fridge, and forget all about it until you're ready for a nibble.
The most important ingredient in these nutty, chewy bars is the Vegan Protein & Greens as it's brimming with superfoods such as kale and spirulina, while also packing in 19g of plant-based protein for that post-workout pump, or breakfast boost.
The no-bake vegan protein bars are also free of all added sugars, with the sweetness coming from blitzed-up dates and a chocolatey taste from a few spoons of cocoa powder. The oats are a great source of low glycaemic index carbohydrate, meaning a slow release of energy to keep you going for longer. You'll be feeling fuller for much longer, as well as getting on board some health fats and extra protein from the cashews.
Skip straight to the nutritionals here.
Makes: 16 bars
Ingredients
400g pitted dates
2 scoops Vegan Protein & Greens
3 heaped tbsp. cocoa powder
80g chopped cashews
350g oats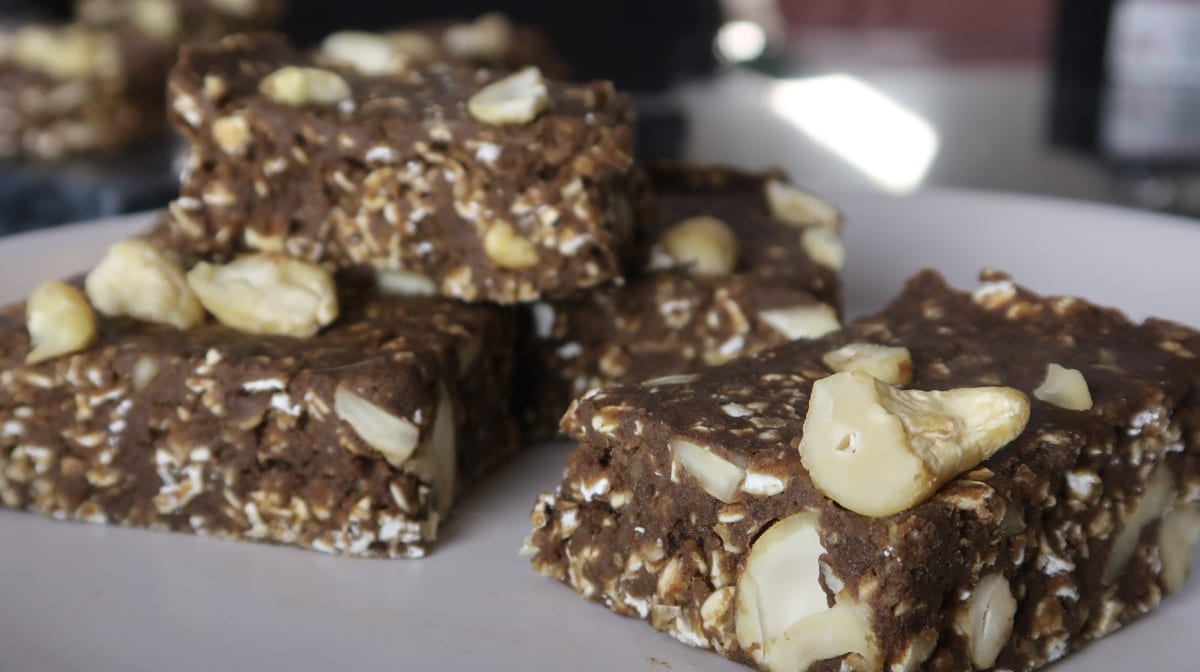 Method
1. Firstly, blend the dates with 150ml of water until it becomes a smooth paste.
2. Then, in a large mixing bowl, mix together the blended dates, Vegan Protein & Greens and cocoa powder.
3. Then add the chopped cashews and oats and mix well.
4. Transfer your mixture to an 8×8" lined baking tray and flatten with a spatula.
5. To flatten a bit more, cover the mixture with a sheet of baking paper and press it down firmly with your fingers.
6. Remove the baking paper, seal the tray with cling film and chill for at least 2 hours (overnight is better).
7. When ready, remove from the fridge and slice into 16 delicious bars.