Written by Charlotte Campbell
---
Zoats For Breakfast
Any fitness fan worth their spiralizer will tell you courgettes are the low-cal cook's best friend. But increasingly, courgetti is being overshadowed by its breakfast counterpart – zoats. Over 42,000 Instagram posts feature #zoats, so what is the fuss about? Made from oats and courgette, zoats is porridge with a serious upgrade.
---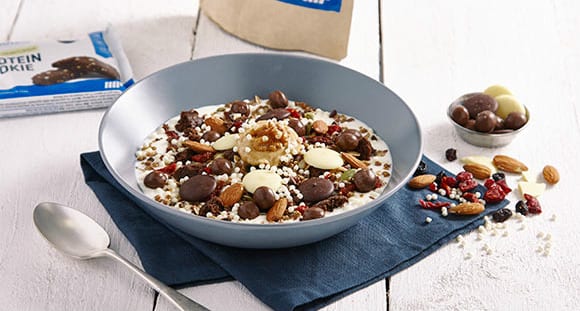 ---
How Do You Make Zoats?
Zoats are extremely simple to make (even early in the morning!). Simply follow your usual porridge recipe but replace a third of the oats with grated courgette. Don't forget, courgettes are high in water so reduce your milk content a little.
Good news is if you don't want to leave the remaining courgette in the fridge, or you're feeling particularly hungry, you can add as much as the green stuff in as you like!
---
Do Zoats Work As Overnight Oats?
Of course! As with porridge, be aware of the courgette's water content. Simply reduce the amount of milk you use, and it'll be perfect in the morning.
---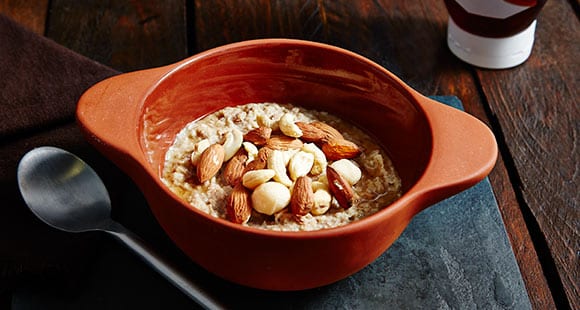 ---
What Are The Benefits Of Zoats?
Firstly, adding courgette to your breakfast is an easy way of getting part of your recommended 5 a day. In addition, they add satisfying but low-calorie bulk to your breakfast. So you can get extra health without sacrificing feeling full.
Plus, this is a recipe you can easily heat up in your work microwave. It's a perfect go-to breakfast or lunch. Alternatively, you could make a small portion for elevenses or afternoon snack. Keeping your energy high never tasted so good.
Courgettes are also high in fibre. You could get up to a third of your recommended daily fibre intake from a portion of zoats. Fibre is a key part of digestion and helps stabilise your blood sugar. This is particularly advantageous for those who work out, as it can keep your energy from crashing. Make sure you keep the skin on when grating, as that is where the soluble fibre is found.
Potassium is also plentiful in courgettes. Potassium enhances muscle strength and metabolism. This makes it a great chose for those looking to trim and tone up.
---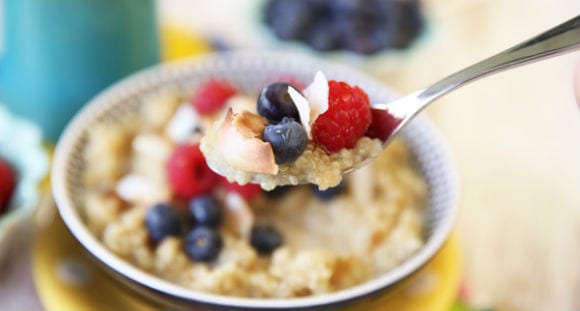 ---
Do Zoats Taste Good?
Vegetables in your oats may sound gross, but don't panic. Courgettes are versatile and not overpowering in flavour. So you can simply adapt your favourite porridge or overnight oats recipes. If you're particularly picky, go for smaller courgettes. They tend to be sweeter. But generally, you won't notice much of a difference in taste (despite the green tint to your dish!).
Our favourite toppings are: