With the dramatic increase of veganism sweeping across the country, it might feel like everywhere you look there's some sort of encouragement to ditch the dairy and go plant-based.
A recent study conducted by comparethemarket.com suggests that the number of people identifying as vegan in Great Britain has risen to as many as 3.5 million, which equates to 7% of the population.
There are plenty of different reasons why people choose to cut animal products from their diets – some do it for ethical reasons, some for environmental, some for health… some for all the above.
Here at Myprotein, we're all about supporting you every step of the way as you try to become the best possible version of yourself. We wanted to see exactly how much of a difference a vegan diet could make to a person's health and wellbeing, so with the help of a willing subject, we set up a 16-week experiment.
This is what went down.
The Beginning
It all started with a man from Manchester agreeing to go green.
Zak Chowdhury was classed as clinically obese with a BMI of 32 when he began this transformation. The 30-year-old photographer was struggling to perform the simplest of physical tasks and found even climbing the stairs difficult – he also had a strong family history of diabetes and heart disease.
His diet was very unbalanced, consisting of sugary snacks and meat-heavy meals – Zak often skipped breakfast and regularly indulged in all-you-can-eat meat feasts.
We thought he'd be the perfect candidate to put plant-based to the test.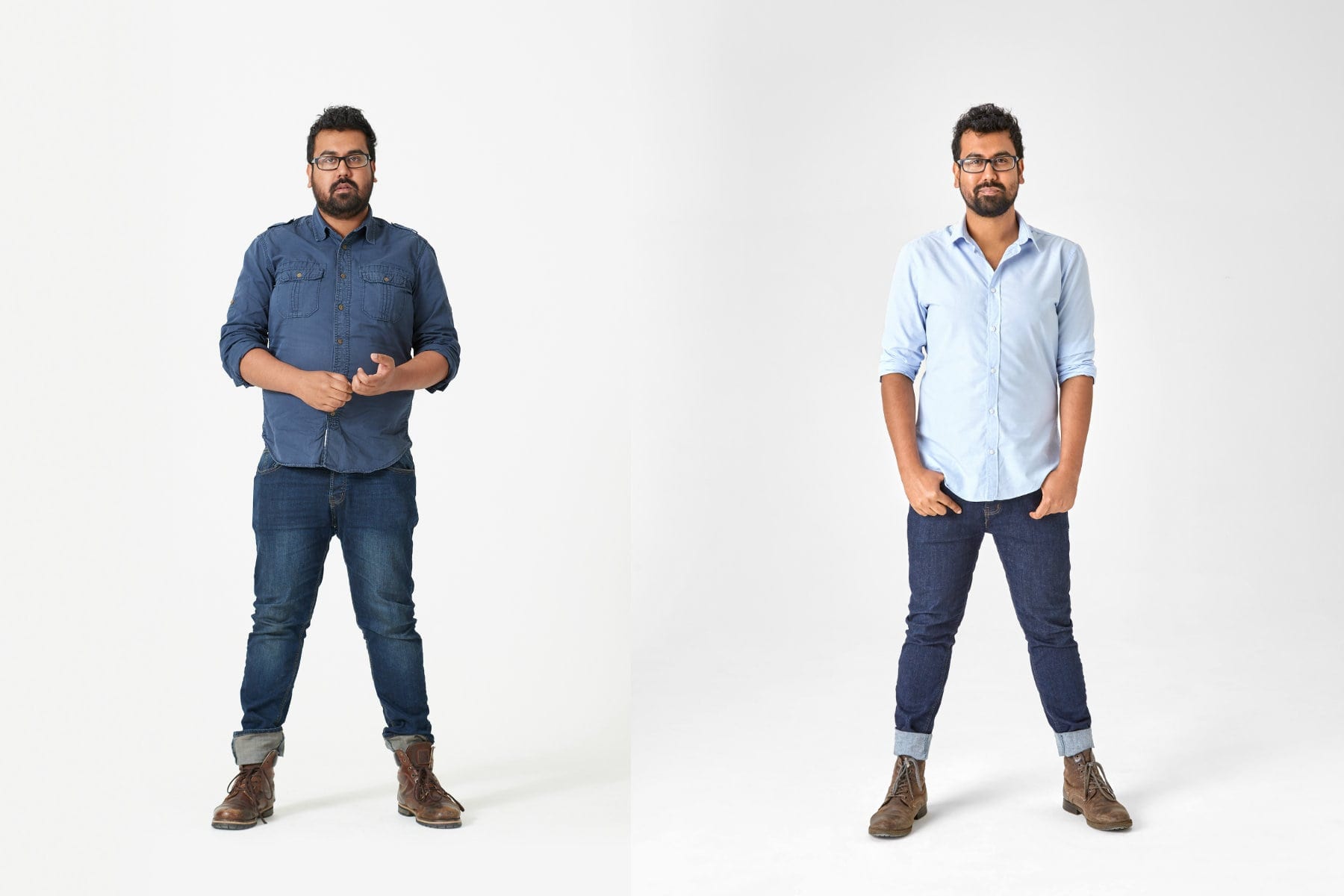 Going Green
Zak began our vegan nutrition and training plan. He swapped late night curries and cheesy naan breads for a high-protein vegan diet mainly consisting of vegetables, legumes and vegan protein shakes.
Below is a comparison of a typical day of eating for Zak, before and after the plan:
| | | |
| --- | --- | --- |
| | Zak's Diet Before | Zak's Diet After |
| Breakfast | Nothing | Shake of the Vegan Blend |
| Snack | Nothing | Apple |
| Lunch | Donner meat kebab and chips | Chickpeas, broccoli, peanut butter, a handful of nuts, bbq tofu and spinach |
| Snack | Cake or chocolate bar | Carrots and hummus or a Vegan Protein Bar |
| Dinner | Mixed grill, lamb rogan josh, rice, cheesy naan bread | Cauliflower curry with a tomato base |
One of the main challenges Zak faced throughout the transition was actually educating himself on what plant-based options were out there for him to eat.
"Like many people, I thought veganism was quite an extreme diet, but I didn't realise how easily you can maintain it if you put your mind to it. After a week I felt so much lighter and I enjoyed the process of cooking my own meals."
With guidance, Zak soon got into the swing of things – and even created an Instagram account (@veganzak) to document his culinary creations.
"I thought the food was going to be a real challenge, but after a few weeks, the vegan alternatives tasted just as delicious."
We enlisted the help of a personal trainer from Hale Country Club, Tom Pitfield, to coach Zak through improving his fitness levels too. He started training five times a week and increased his daily step count from 3,000 to 10,000.
After the very first session, Tom admits that the four week plan he initially had lined up for Zak "had to go out the window within five seconds" due to his lack of strength and endurance.
---
Below is a typical workout that Tom designed for Zak:
Leg Press 4 x 8
Barbell Upright Row 4 x 8
Walking Lunges 4 x 10
Seated Plate Loaded Shoulder Press 4 x 10
Leg Extension 3 x 12
Dumbbell Lateral Raise 3 x 12
Lying Hamstring Curl 3 x 12
Barbell Lying Front Raise 3 x 12
The Results
Zak went from 243lbs to 198lbs, dropping almost 50 pounds overall. His transformation was pretty incredible – and not just from an aesthetic point of view. Arguably, the most impressive changes that he made were to his internal health.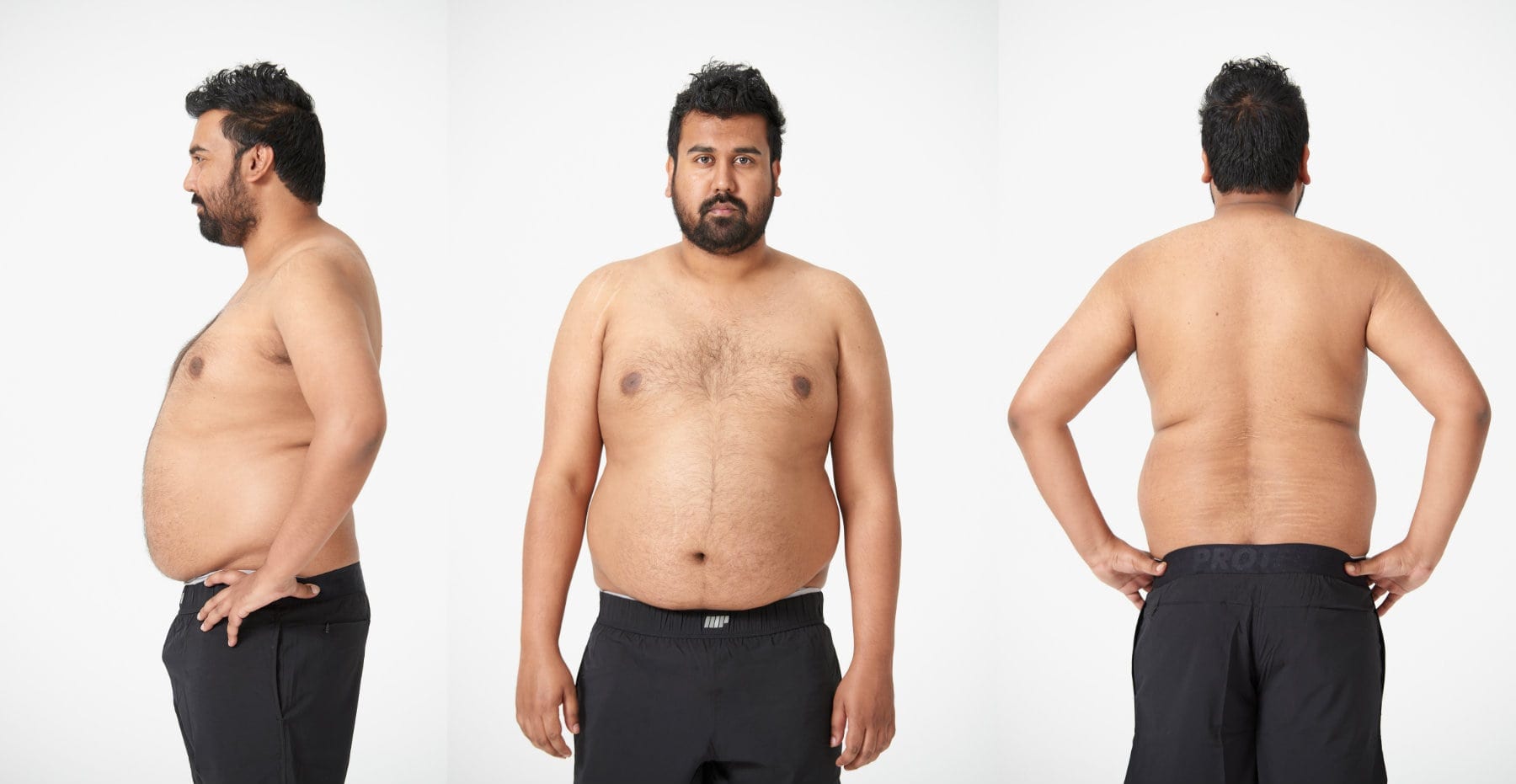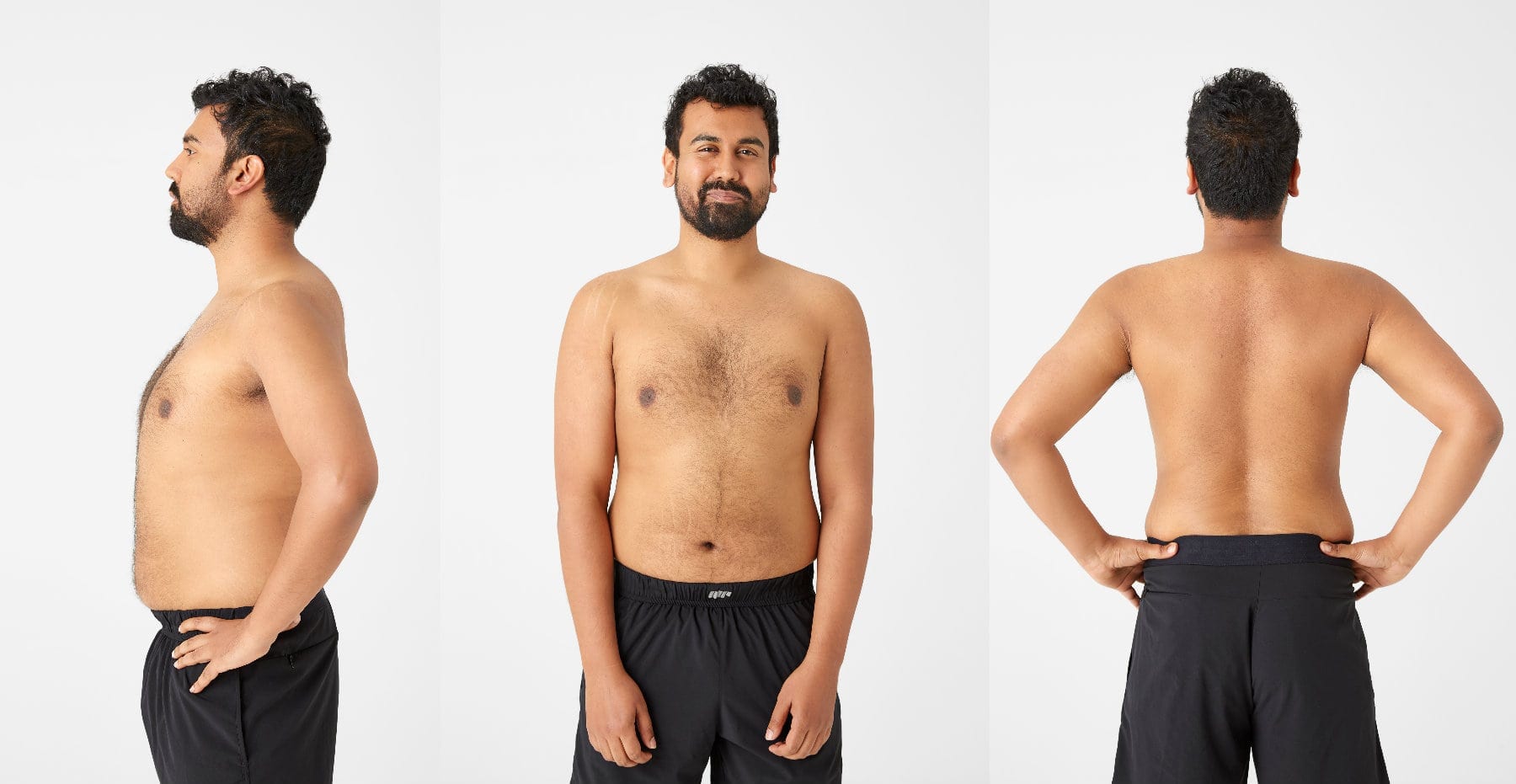 Our registered GP, Dr Mike Orton, consulted with Zak at the beginning and end of his 16-week vegan plan. This is what he had to say,
"The vegan diet has had an astounding impact on Zak's health, and is something we don't usually see transform this quickly over such a short period of time.
Not only has his weight dropped dramatically, taking him from clinically obese with a BMI of 32, to a borderline healthy BMI of 26, it has also reduced his risk of getting diabetes in the next 10 years from 15% to just 3%.
These blood changes have been quicker than expected, probably due to the vegan nature of his diet over this period as he wasn't consuming any animal fats.
Zak has a strong family history of diabetes and heart disease, which he has eradicated with this diet and weight loss. If he had not made these changes it is highly likely he would have developed diabetes and heart disease in the future."
Zak's personal trainer Tom says that he's seeing more and more of his clients transitioning to a plant-based diet as a way to take control of their weight and fitness.
He concluded, "Zak is a great example of how making a simple lifestyle change can dramatically overhaul your health. Zak has consumed a diet very high in animal fats for many years, so by going completely cold turkey, he's dramatically reduced his body fat and risk of diabetes."
And what about the man himself?
Zak said, "I hope the results inspire other overweight blokes and prove that people can reinvent themselves physically and mentally – I've got loads more energy and confidence to go out. And I'm starting to date again, which is a brilliant result!"
Take Home Message
Our 16-week vegan experiment with Zak clearly shows that going plant-based can be a really positive step towards weight management and reducing the risk of health conditions like diabetes. Does that mean we should all wave goodbye to chicken and cheese forever though?
We checked in with our nutritionist Jennifer Blow for her take on the transformation.
"The view that people struggle to get enough protein on a vegan diet is a complete myth. There are so many options for dairy and meat-free alternatives which can easily help provide the recommended protein intake of 0.75g of dietary protein per kg of bodyweight per day.
Ensuring you have a good intake of particular vitamins and minerals like iron, vitamin B12 and omega-3 fatty acids from supplements, as well as having a good protein intake from range of foods can make a vegan diet healthy and wholesome. If your intake of animal fats is particularly high, risk of heart disease can be reduced on a vegan diet."
It might not be for everyone, but as long as you properly consider all your body's requirements, it looks like we can give green the go ahead.