Are Protein Bars Good For You?
They're an easy, go-to snack that keeps hunger at bay. You can pick them up at most supermarkets and have them handy whenever you want – plus, the wrapper says 'high in protein'. So, aren't all protein bars good for you?
Not always, is the honest answer. Follow this checklist when you're picking a protein bar and you should end up with one that's both satisfying and healthy.
Jump straight to our favourite healthy protein bars.
Sky-High Sugar?
You should always check that your protein bar is low in sugar if you're trying to lose fat. It might taste delicious, but so does a box of chocolates, and they're not ideal for weight loss, either. High sugar levels will mean your energy is more likely to spike and then drop, leaving you with less energy (and often more calories) than a low-sugar protein bar.
Sugar is listed under 'carbohydrates, of which sugars' on the label. However, carbohydrates and sugars themselves are not necessarily always a negative thing. They provide the energy to take on a full workout (or just tackling the rest of your day in the office) and replenish glycogen stores after a workout (stored carbohydrates within muscles).
Colossal Calories?
Make sure the protein bar you chooses fits in with the calorie intake you're aiming for. Some protein bars can be relatively high in calories, and if you're all about the mass gains, this might be a plus for you. If you're restricting your calories, however, you'll be shooting yourself in the foot.
A low-calorie protein bar, however, is a great way to stick to your diet plans whilst staying full.
Stuffed With Salt?
In a similar way to sugar, some protein bars contain way too much salt. Salt in the diet is essential, however, too much of the stuff can lead to high blood pressure (and further complications if it goes on for too long). As anyone who has actively tried to reduce their salt intake will know that this sneaky seasoning can turn up everywhere. So, just check out the back of the pack and aim for a low amount of salt.
Filled With Fibre?
Fibre provides plenty of benefits to the body, for example, it helps to keep us feeling fuller for longer – a key reason you should select a high-fibre protein bar if you're trying to lose or maintain a healthy weight. In addition, fibre helps to regulate the body's water intake, so it can help prevent feelings of being bloated. Make sure you look for a high-fibre protein bar for maximum health benefits.
Why Not Make Your Own?
Prepping your own protein bars can be a great way to control exactly what you're putting in your body. Protein powder, oats, nut butter, dessicated coconut and dried fruits all make great ingredients for easy snacks that are high in protein. Of course, make sure you consider each ingredient's nutritional content and measure out your portions so you can avoid the same protein bar pitfalls!
Check out our favourite healthy protein bars…
Best Low-Carb Protein Bar: Carb Crusher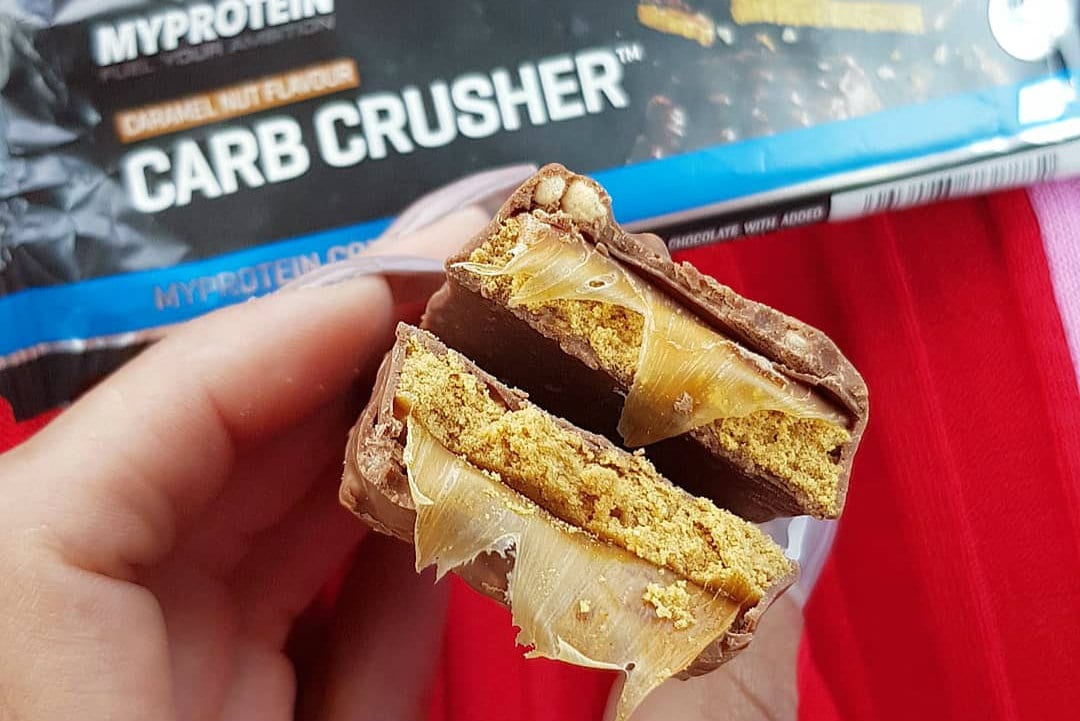 Our Carb Crusher bars are an unrivalled high-protein, low-sugar snack – simply made for snackers with a sweet tooth.
Each delicious bar delivers a hefty 21g of protein and an average of 100% of your recommended daily allowance of 20 different essential vitamins and minerals – all with no more than 2.7g of impact carbohydrates (that's the sugar that sends your blood glucose out of control).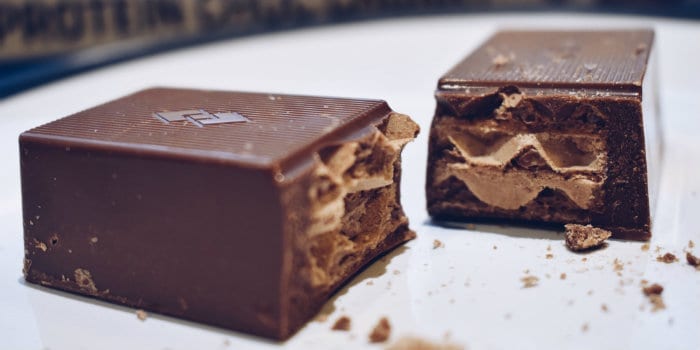 If you're looking for a snack with a bit more bite, this hefty protein bar delivers a decadent chocolatey wafer hit – keeping on top of cravings and contributing to maintenance of muscle mass, too.
Boasting 14g of high-quality protein and only 2.7g of sugar per bar, Protein Choc Chunky hits the supermarket alternatives out of the ball park.
Best Informed-Sport Protein Bar: Pro Bar Elite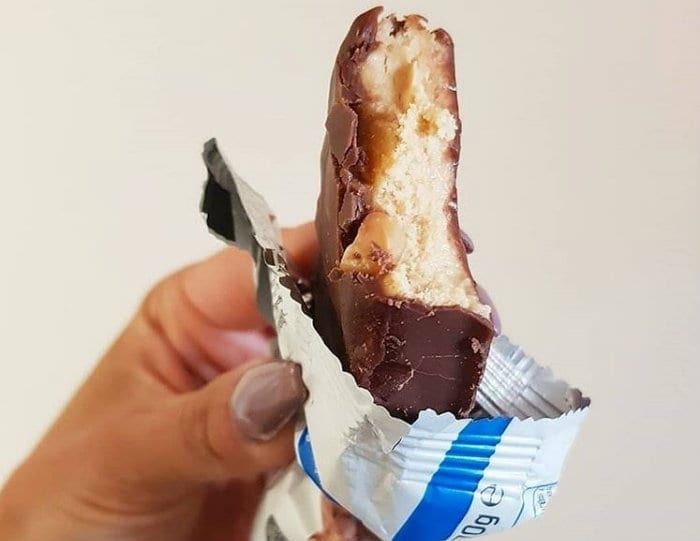 Every batch of the Pro Bar Elite is certified by the Informed-Sport Supplement Testing Programme, providing the very highest level of assurance for athletes.
With flavours like Toffee Vanilla, Dark Chocolate Berry and Caramel Hazelnut – all covered in crunchy toppings and sweet milk chocolate with a soft centre – you'll find it hard to believe these bars are actually good for you.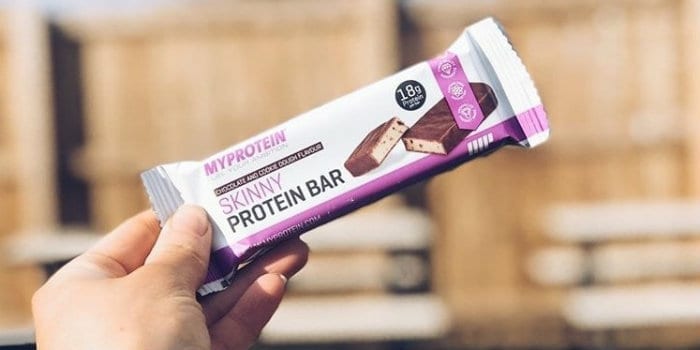 The Skinny Protein Bar, which comes in Cookie Dough or White Chocolate and Raspberry, is super-low in calories and contains just 1.2g sugar per 80g bar.
Soft and sweet on the inside and covered in milk chocolate, this protein bar satisfies the sweet cravings while packing a massive 18g of high-quality protein.
Take Home Message
Protein bars can be a healthy snack to help fuel your muscles after a workout, keep hunger at bay or simply as a healthy treat. However, select your protein bar based on your goals – if you're trying to lose weight, go for a low-sugar protein bar that fits into your daily calorie allowance, or if you're looking to refuel after a workout, go for a protein bar that contains a good amount of carbohydrates, too.