Preparation is the key to living a life of reaching every goal imaginable – and when it comes to health and fitness goals, it can be anything from losing two stone and entering a fitness competition to merely saying no to that piece of cake!
You may have heard the phrase "failing to prepare is preparing to fail" –  a typically used phrase in the fitness industry when it comes to highlighting the importance of nutrition. Many people may be surprised to hear that hitting your goals will be mostly down to acing the right nutrition and not all about what you're doing in the gym.
If you wanted to go on a drive you wouldn't put the wrong petrol in your car, it's the same for your body. No matter what goal you have you should strive for a healthy lifestyle, so fuel your body right and it will treat you right and certainly get you where you strive to be.
Click to check out our delicious meal prep and fitness recipes.
---
The Benefits of Meal Prepping
Meal preparation is a life changer. It inevitably:
Gets you into a routine.
Saves you time from always cooking in the kitchen.
Stops your mind from wondering about what you can have for tea (when you are hungry your body will instantly crave carbs!)
Now this ones the biggy. Cravings are one of the hardest things to get past. If you have your food prepped your mind can't wander, so it will be less likely that you will fall off and give into those cravings!
However, it's important to note that if you're not enjoying what you're eating you will not stick to it. Meal prep to some may give the impression that all they consume is chicken and broccoli for breakfast, lunch and dinner.
And on that note, here are a few food prep tips to get you started and get healthy eating into your daily routine.
Read this next: Meal prep recipes for muscle building and fat loss
---
Step #1: Cook meals in advance
---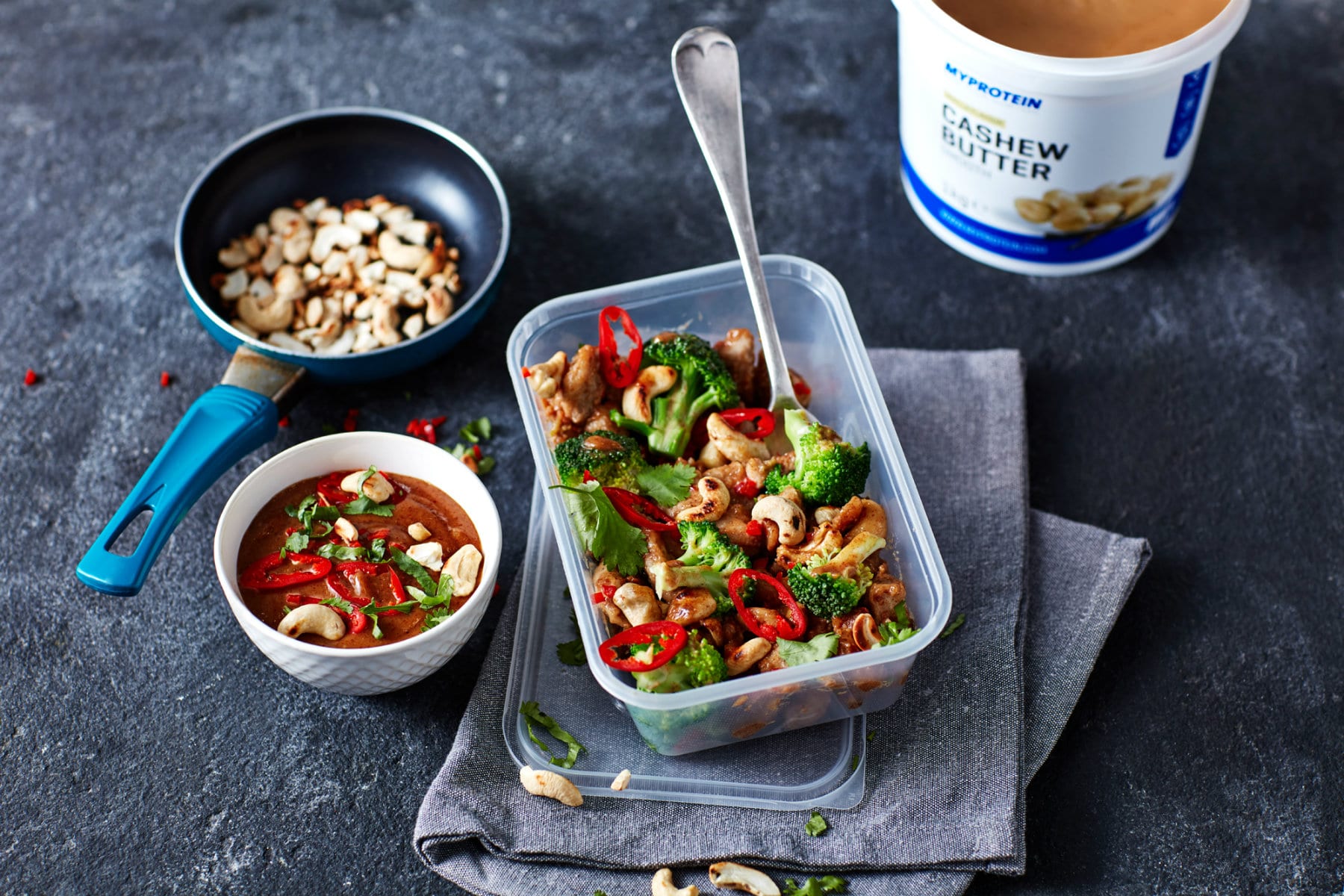 Cashew Chicken Meal Prep. Recipe here.
What I found easier when prepping my food was to prep two / three days' worth of food – all the same meals in advance. I have prepped food going from day to day before and I felt like I spent my life in the kitchen cooking chicken…
After a long day, every day, the last thing you want is to be cooking food ready for the next day.
Freeze day three and defrost the day before.
Book an hour or two out of your day every Sunday and Thursday to prep your meals for the following days. Get into a routine!
---
Step #2: Plan your meals around your job
---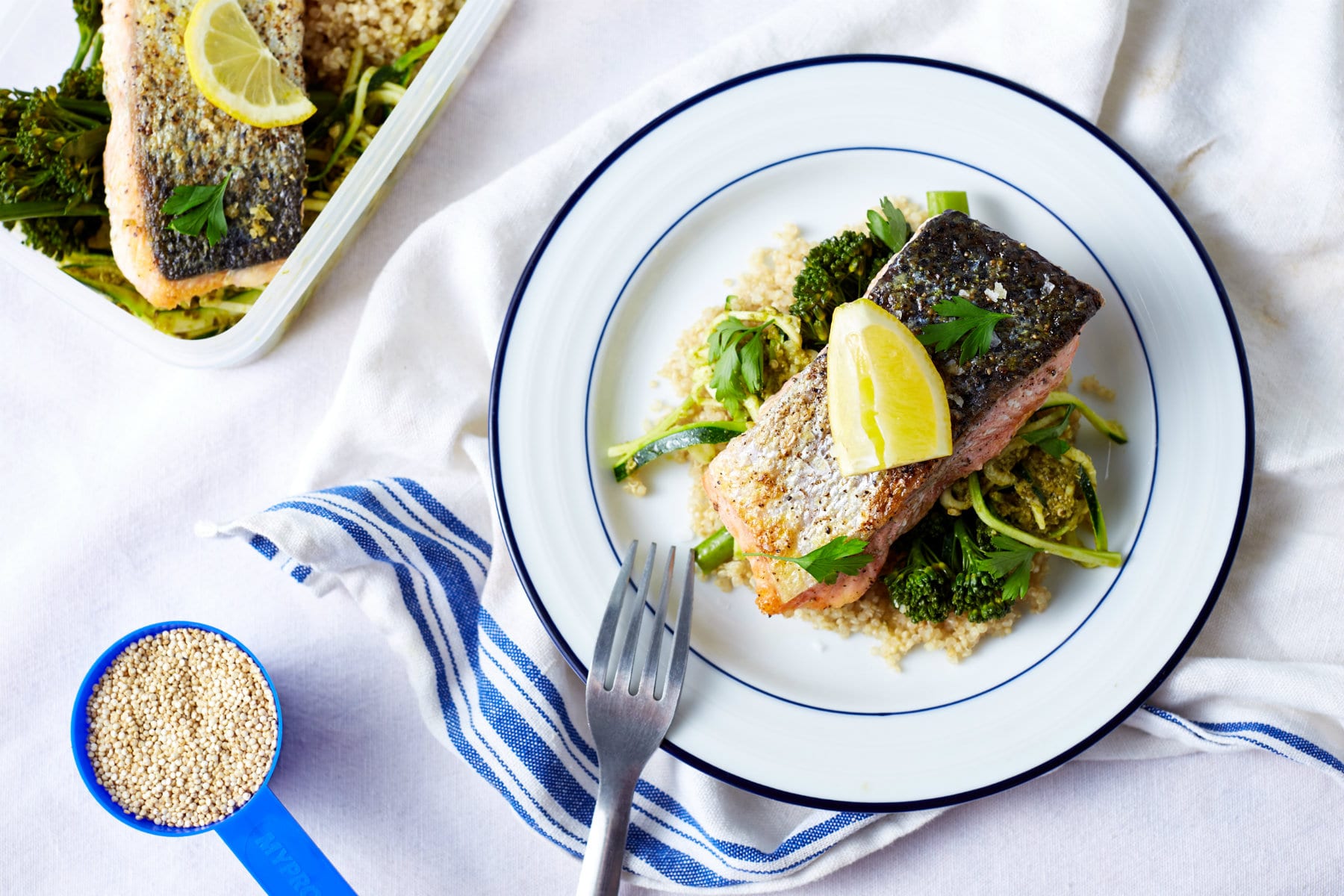 Spicy Cajun Salmon Meal Prep. Recipe here.
I'll openly admit – I tested and failed my first over food prep and it's easy to see why. I'd began by preparing and cooking all of my foods – and then end up eating every meal cold.
It soon hit home that missing a hot meal doesn't feel great, which didn't have a great effect on my motivation to carry on prepping, day in day out – therefore I began planning my meals to fit around being at home.
'Prepping' your food doesn't always mean having it cooked and ready to eat, it's knowing what you are having and having it prepped and ready to cook or eat depending on where you are. For example:
Instead of having cold overnight oats on the way to work, prepare all the ingredients which only leaves the job of adding hot water!
The same can be said for couscous – if you don't want to reheat your food in the case of it turning dry, opt for an accompanying food that can be heated on the go!
---
Step #3: Add spices!
---
Harissa Chicken Meal Prep – Recipe here.
"I get bored of healthy eating" is definitely one of the most common phrases coming from clients. Not everyone loves salad and vegetables – personally, I could live off it. However, many people couldn't think of anything worse!
It's all about figuring out what you do like – and making slight adjustments to prepare healthier versions of your favourite foods! One of the most simple, yet effective tips I can give is to use different spices / herbs / healthy condiments. This will give your food a ton of flavour, satisfying your taste-buds with minimal effect on your waistline!
For example: Balsamic vinegar, paprika, garlic, chilli powder, good old pepper – a little extra tip – The hotter spices may work to increase your metabolism! Do try and stay away from creamy, sweet sauces – as these will have unnecessary calories, fats and sugars in that may counteract your time, effort and dedication to eating healthier!
So all you new food preppers – if you want to hit any goal put the majority of your efforts into your food prep! Cook meals in advance; don't force yourself to have all of your meals cold and stock up your spices!
---
Example Meal Prep
There's no doubt that it can be difficult to start – well, just about anything!
If you are having trouble thinking about quick and easy meals that will take the least amount of time to prep, scan over the following "Day 1" example to get your own food diary on a roll!
The following foods will take less than 1 hour to prep and cook for the next day – this is an easy guide for those who are just starting out and don't wish to count macros. For those a little further on, feel free to adjust portions to your needs!
Breakfast
– 30g overnight oats
– 1 scoop Impact Whey Protein (Vanilla flavour – but can use favourite!)
– 2 teaspoons of Greek yoghurt
– 1 tbsp. honey
– Small handful of cashew nuts and raisins
Snack 1
– One banana sliced in half
– 1 tbsp. of natural peanut butter
Lunch
– Mixed leaf salad with couscous
– Chicken drizzled with balsamic vinegar/Tofu cooked in your favourite spices
Snack 2
– Hummus (want to make low-fat, home-made hummus?)
– Peppers and carrots
Dinner
– Salmon cooked with lemon/Seasoned soy pieces
– Pepper stir fry – try adding some low-carb 7-calorie noodles.
---
Follow this prep in 10-Easy-Steps
---
Step 1) Get your Tupperware ready.
Step 2) Put your chosen spices onto your protein and prepare them cook – whether it be in the oven/pan/steamed.
Step 3) Whilst that is cooking get your overnight oats out the way. Mix all the ingredients up, pop into a jar/container and into the fridge!
Step 4) Chop the salad and vegetables up for your lunch, snack 2 and dinner.
Step 5) Put your salad and snack 2 in the correct Tupperware, then pop your veg for your Dinner in a heated pan with a bit of coconut oil and lightly fry.
Step 6) Put a spoonful of hummus in your tub with your chopped up carrots and peppers – this may be a two-sided tub/two small separate tubs.
Step 7) Pop a banana in your bag with a spoonful of peanut butter in a small tub.
Step 8) Once your stir fry veg is cooked, also place in a tub.
Step 9) Finish off by letting your protein cool down then pop in with your salad – and your fish (if applicable) in with your stir fry vegetables.
Step 10) Once cooled place food in the fridge, relax, and be proud that you are one step closer to your goals!
(Depending on goals and Macros, you can add healthy desserts or bulk up your meals to add more calories, I track my macros using a fitness app!)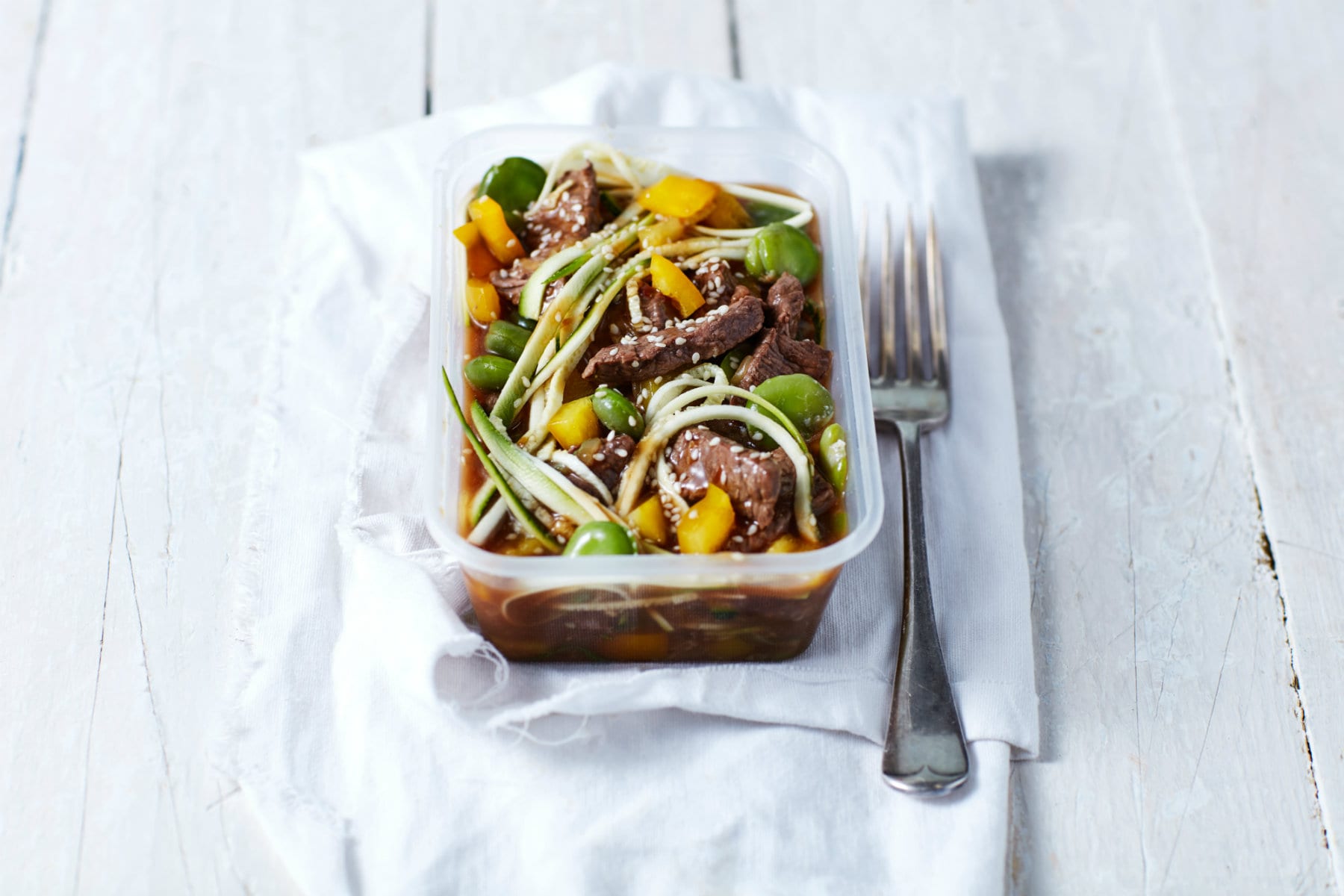 Low-Carb Teriyaki Beef Meal Prep. Recipe here.
---
Take Home Message
Enjoy experimenting with your foods to make delicious, quick and easy meals – every week!
Click to check out our delicious meal prep and fitness recipes.