Snacking can be tough to get right, especially if you are trying to keep your calorie intake low. Snacks can be really beneficial to reaching your goals, especially if you choose ones that are a good source of protein and will help bridge the gap in between meals.
Here are some go-to snack ideas that will fill you up, ready for the day ahead but are also 100 calories or under – bonus!
They're already portioned out in a convenient bag that are super easy to chuck into your gym bag – we're thinking post-workout cravings, one-step ahead of the game. They're also handy to keep in your pantry as they hold for a long time and don't have to be kept in the fridge – say goodbye to those mid-week supermarket sweeps.
To top this super snack off, we've even got the macros at hand…
Kcal: 97
Protein: 11g
Fat: 1.4g
Carbs: 9.2g
Mynoodles with a tin of tuna
They're not just noodles. They're the perfect choice for anyone looking to lower their carbohydrate intake, without overly restricting mealtime options. Simply add chopped tomatoes, mixed herbs and a tin of tuna – you can thank us later.
Did you know Mynoodles are made from glucomannan? And at only 7 calories per serving, they're the treat to help you start shredding the pounds. Game on.
Kcal: 93
Protein:15g
Fat: 1g
Carbs: 6g
Wait, a cereal bar that's under 100 kcal? You've got to be kidding. Luckily, for you – we're not.
These yoghurt drenched bars are perfect for those tempting moments, and with less than 95 calories per bar and a high protein content – they're your latest post-workout ritual.
Low in carbohydrates, fat and containing 6.3g of fibre, Virtue Bars are especially great for putting any cravings to rest, anytime of day.
Kcal: 92
Protein: 4.8g
Fat: 2.6g
Carbs: 14g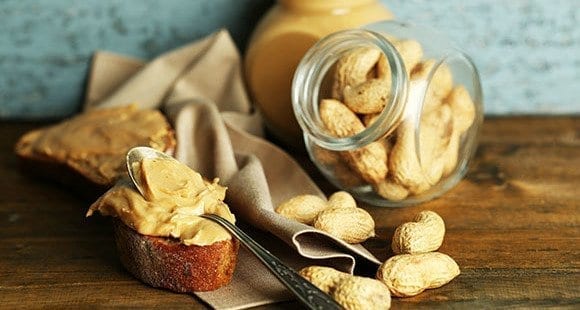 Rice Cake With 10g Peanut Butter
A rice cake with peanut butter makes a great snack (addiction), while still keeping the calories below 100. Just be careful to watch your portion size with peanut butter as it is calorie dense, so if you go overboard you will jack-up those fat calories pretty fast!
Kcal: 95
Protein: 4g
Fat: 5g
Carbs: 8g
30g Dried Mango
Dried fruit is a great snack before, during and after a workout. It's high in carbohydrates which can be absorbed quickly by the body, providing you with an energy boost when you need it most. If you have the extra calories to spare, dried mango tastes great when mixed with yoghurt or even through your oats in the morning.
Kcal: 100
Protein: 0.5g
Fat: 0.3g
Carbs: 24.6g
Whole Almonds
Whole almonds are a great snack choice. They are full of healthy fats and for this reason; a small amount goes a long way. They're also delicious when roasted in the oven, and make a great topping when combined with yoghurt or even mixed with granola.
They taste just as good solo though and are easy to transport if you pop them portioned out in a small tub or even a ziplock bag that can be bought cheaply in your local supermarket.
Kcal: 92
Protein: 3.1g
Carbs: 1g
Fat: 10.2g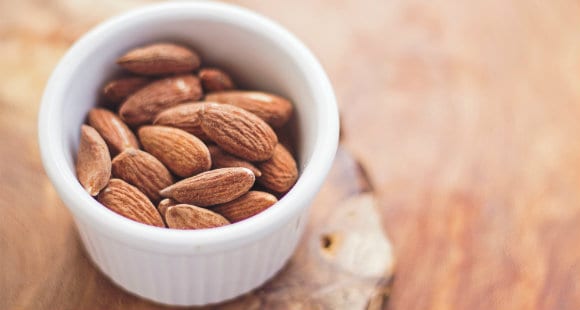 Chocolate Caramel Whey Protein Shake
A staple for many bodybuilders, the humble protein shake makes a great snack for those who are calorie conscious. Although the chocolate caramel flavour is 103kcal instead of under 100 kcal as stated in the article title, due to its high protein content yet low fat and carbohydrate content it still deserved a mention, and especially so in the chocolate caramel flavour.
You can mix it with water, or if you don't mind adding extra calories use some milk. It also tastes great added to smoothies or oats. Protein shakes are brilliant after a good gym session but are also great at any time in the day if convenience is the name of the game. Simply portion out your powder into your shaker and add water when it suits then enjoy!
Kcal: 103
Protein: 19g
Carbs: 3.3g
Fat: 1.6g
Take Home Message
There are plenty of great snack options available for under a hundred calories that taste great and will help you reach your goals. Consider keeping a snack in your gym bag or even the glove compartment of your car, so that you are never caught short for a healthy option.
Sometimes when you are on the go, if you have nothing to hand, junk food tends to be readily available, so if you prepare ahead, it will be much easier to make a better choice that will be more conducive towards your goals. It is important to get the bulk of your nutrition from whole foods, but using some supplements can make life a little easier!