The Summer-splurge is coming to an end and most will be stocking up on brand-new Tuppaware ready for school, college, work… whatever it may be!
We're kicking off our September with a budget-friendly meal prep totting up to less than 700 Calories and a satiating 70g of protein for those wanting to shed a bit of excess fat!
Our meal-prep has a good mix of fats and carbs giving you a healthy all round lunch box without using costly ingredients – ingredients can easily be subtracted/added depending on your goals.
---
Box One

– 75g cooked Penne pasta
– 1 Tsp mixed dried herbs
– Drizzle of Olive oil
– 25g Myprotein low-fat protein cheese
– 3 mini Turkey Muffins (Recipe available)
Macros
Calories – 360
Protein –  35g
Carbs – 33g
Fat 11g)
---
Box Two
– 1 Can Tuna in brine or spring water
– 2 cups – Mixed green salad with cucumber
Macros
Calories – 123
Protein – 28g
Carbs – 2g
Fat – 1g
---
Box Three
– 20g Plain Peanuts
– 20g Sweetcorn
– 30g Chickpeas
– 20g Grated Carrot
Macros
Calories – 170
Carbs –  13g
Fat – 10g
Protein – 7g
… Enjoy!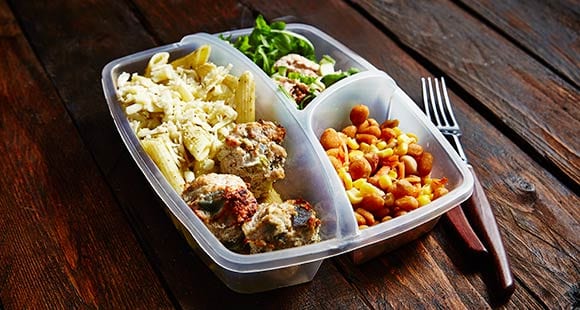 Our articles should be used for informational and educational purposes only and are not intended to be taken as medical advice. If you're concerned, consult a health professional before taking dietary supplements or introducing any major changes to your diet.