Chi Cheng has been climbing since he was 15 years old and is now the assistant manager at Manchester Climbing Centre (MCC), having worked there for the past 9 years.
Manchester born and bred, Chi has witnessed first-hand the growing popularity of climbing and understands how tough a sport it can be to really conquer, after getting injured just over 3 years ago. His love for the sport has brought him back, better than ever and ready to take on a new challenge.
This summer, he'll be using his climbing expertise to guide our very own clothing marketing executive, Kiran, through an intense 8-week climbing course.
We caught up with Chi to find out all about his passion for climbing.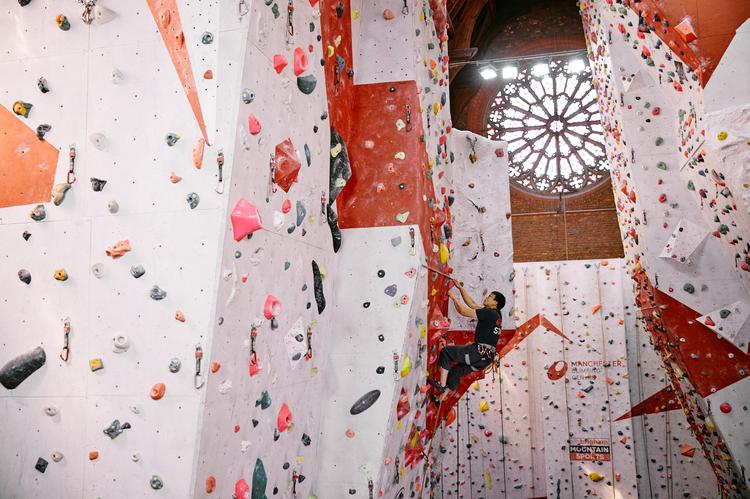 Were you an active child?
To be honest, I wasn't an active child at school. I didn't enjoy football, I did, however, play badminton once a week with my parents. I was never a natural at sports, so I had to try very hard to keep up with my cousins and friends.
Do you think this changed as you grew older?
I carried on playing badminton until very recently, but now a knee injury has prevented me from playing. I'm also very self-conscious and don't like gyms very much. For me, gym exercise is also very monotonous, so I guess my perception of these kinds of sports hasn't changed much.
When did you first discover climbing?
I started climbing when I was 15 years old and I did it on and off for a couple of months. The nearest climbing centre was in Liverpool at the time, so I wasn't able to climb as much as I wanted. Coming to university, I wanted to focus on a sport and so I joined the Manchester Mountaineering Club. After a year of climbing, MCC opened, so the club was able to climb much more often — about 3 times a week.
Did you instantly take to climbing or did your passion for it develop over time?
I definitely enjoyed climbing from the start, but really start to love it when I started working at MCC. I got coaching from Andy who pushed me to be better and to try harder.
I fell off while bouldering just over 3 years ago and I dislocated my elbow and tore 2 ligaments in my knee. Due to this, I stopped climbing for just over 2 years. I tried to climb a few time in that period, but was always disappointed with how my injury had set me back.
I had to start on the lower grades and rebuild to my original ability. During these sessions I would try too hard and cause another injure and cause another setback, so I stopped climbing for a couple of years. In this time I joined the circus starting with acro balance, then static trapeze and aerial rope and then eventually got back into climbing.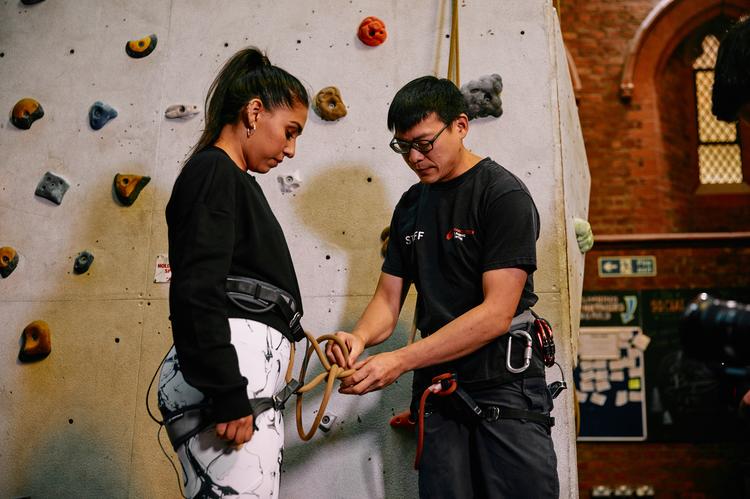 What are your favourite things about climbing?
The climbing community is really supportive in helping you to progress. Most of my friends now are climbers and it's also how I met my partner. I love being outdoors and climbing with friends.
There's also the physical aspects — I've developed power and have become more agile thanks to climbing.  Since my injury, I've found I still have the technique and the strength to climb hard, but I'm lacking the endurance or fitness to finish hard climb without falling off or resting.
I also think climbing has made me mentally stronger as I can now keep moving up and relax more easily in stressful situations.
Do you compete? If so, when did you start competing?
I have competed in the local completions and a couple of nation completions. I started
competing a couple years after I started climbing properly at university. When Mountaineering club were forming a team to compete against other universities, I thought I'd join. Mostly, I've just done local comps that were mostly for fun.
What's the hardest part about competing?
I actually climb better during comps as the community is always very supportive and the competitive atmosphere makes you want to do well.
Is there anyone in the sport that you find especially inspiring/look up to?
At the moment I am just trying to really get back to climbing, but I'm keeping an eye on Alex Honnold, Shana Cox, and Adam Ondra.
Can you imagine your life without climbing?
I can't really imagine my life without it. Climbing's been an integral part of my life. It's given me a job, and that's given me the opportunity to buy a house, as well as meet my friends and my partner.
Would you recommend that people try climbing?
I would absolutely recommend people to try climbing, the health benefits are huge and the community is extremely friendly and encouraging. I think not enough people know about climbing, but I think the inclusion of climbing in the 2020 Olympics will spread the word.
We already saw a little increase of beginners after the release of the film The Dawn Wall. My advice for beginners is to trust your feet, push with your legs and don't pull with your arms. Also, always remember that falling is a part of climbing.
Want to see the action as it happens? Make sure to follow @myprotein to stay up to date.