Zinc is a mineral that everybody needs in their diet. It may be especially important for men as dietary deficiencies in zinc have been linked to lower levels of testosterone – it is a vital hormone for strength, muscle mass and general well-being. As the body doesn't produce zinc, it needs to come from either diet or through supplementation. Zinc has been associated with a wide range of health benefits and the following article will discuss those most relevant to men.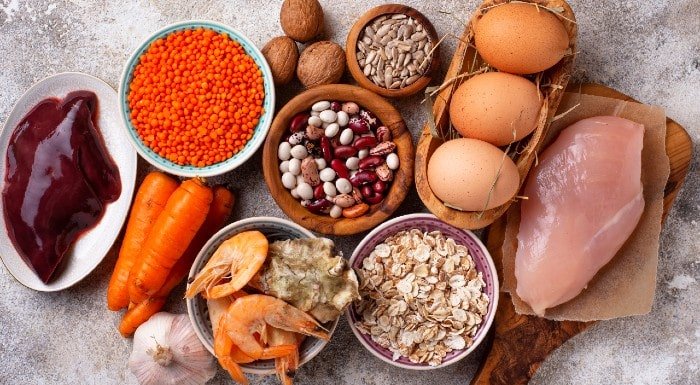 Zinc Benefits for Men
Helps to prevent testosterone deficiencies:
Zinc plays a role in modulating testosterone levels. It has been shown that restricting zinc in the diet for a period of 20 weeks may have a negative effect on testosterone levels.1 Whilst the evidence for zinc increasing testosterone in males with healthy levels of testosterone in minimal, there is evidence to suggest that zinc supplementation may help to increase it in elderly men that are marginally deficient.1
May help to improve sleep: 
Due to its role on the cognitive system, zinc may help induce sleep and improve sleep quality.2 In a study performed on nurses working in an intensive care unit, those who supplemented zinc reported a higher sleep quality than those that didn't.3 Poor sleep has also been linked to a drop in testosterone. In a study comparing 8 hours and 5 hours sleep, those that slept for 5 hours a night reported 10-15% reductions in testosterone levels.4 Improving sleep with zinc supplementation may therefore help prevent a drop in testosterone via lack of sleep. 
May help to maintain gut health:
Zinc may help with gut health as zinc helps to maintain the integrity of the intestinal lining. The intestinal lining is joined together by 'tight junctions' and zinc plays a key role the production and regulation of these.5 Zinc supplementation may reduce the likelihood of 'leaky gut', which is a term used to describe damage to the intestinal lining. 
May help preserve immunity:
Zinc helps maintain the function of the immune system by contributing to the production of immune cells that fight viruses and the spread of bacteria. Whilst the results are currently mixes and inconclusive, recent evidence has suggested that supplementing zinc lozenges may help to reduce the duration of common colds.6
Zinc Dosage for Men
The recommended daily amount of zinc for men is 11mg and this can be taken in oral form. Dietary sources of zinc include beef, lobster, oysters, chicken, baked beans and fortified breakfast cereal so if your diet doesn't include any of these supplementation may be beneficial.  
Take Home Message
There are a wide range of health benefits associated with zinc. Whilst the evidence for increasing testosterone in healthy males is currently lacking, low zinc intake has been linked to low testosterone levels and supplementation has been shown to increase testosterone in those that are marginally deficient. Other health benefits include gut health, immunity and sleep.