Written by: Lauren Dawes
Nutritionally reviewed by: Jennifer Blow
Transform your recovery time with this revolutionary amino blend. With a killer combination of active ingredients and our advanced dual-phase delivery system, it'll fuel and repair muscle over a prolonged period.
With a hefty 14g of amino acids – 6g of which are BCAAs – and patented ingredients for improved wellbeing and increased nutrient delivery and absorption, here's why you need to make room for THE Amino+ in your routine…
PhaseTech™ BCAAs
THE Amino+ provides a massive 6g of BCAAs per serving — and, using our unique PhaseTech™ beadlets, in combination with free-form amino acids, offers a dual-phased release. This slows down the digestion process in the body, meaning your muscles get a more sustained supply of these essential amino acids — so the benefits last long after you stop lifting.
Out of the nine essential amino acids, there are three that are referred to as branched-chain amino acids, or BCAAs. These include leucine, isoleucine, and valine, and they make up approximately 35% of essential amino acids in muscle proteins.
Scientific research has proven that these BCAAs, particularly leucine, increase the rate of protein synthesis while also decreasing the rate of protein degradation in resting human muscle.1 In simple terms, they play a key role in protein metabolism, which helps to build and repair new muscle.
Other studies have shown they have positive effects on muscle recovery after exercise too, with participants reporting to experience decreased delayed-onset muscle soreness (DOMS) and muscle fatigue after supplementing with BCAAs.2
PhaseTech™ Glutamine
As well as the PhaseTech™ BCAAs, we've also included dual-phased glutamine, which is an extremely popular amino acid known for its role in protein synthesis.3 It's utilised in the body during muscle contraction, which happens when we exercise – and so without it, exercise performance and progress can be held back.
Free-Form Amino Acids
The addition of free-form amino acids means that THE Amino+ contains a huge 14g of aminos — giving you a quick hit of amino acids such as arginine, citrulline, tyrosine and taurine, alongside the phased-release BCAAs.
This dual-phase delivery system is what sets our formula apart from others — you get the best of both worlds.
Improved Nutrient Absorption
To help your body make the most of these amino acids, this formula also includes ingredients like BioPerine®, which has been shown to support and improve the absorption of vitamins and minerals.4 Plus, there's AstraGin® which studies have shown can specifically improve amino acid absorption.5
Mood Elevation
It doesn't stop with aminos. We've also included a mood-elevating adaptogen called KSM-66® Ashwagandha that's been used in traditional herbal remedies for centuries, and is now gaining popularity as a natural sports-performance ingredient.
Studies indicate that ashwagandha has anti-inflammatory, anti-stress, and anti-oxidant properties6 — making it a powerful, plant-based pick-me-up for your workout.
Who is it for?
If you're looking for superior results, why wouldn't you want to support muscle repair and recovery with what we think is the most advanced amino acid formula out there? This blend is a go-to for anyone that's smashing through intense sessions and wants to see the best results.
When to Take?
The dual-phase release of amino acids makes it ideal for a pre-, intra- and post-workout drink, or throughout the day for mood elevation and muscle repair and maintenance.
You can enjoy the effects of THE Amino+ any time of the day — we've left out caffeine so you can sip it during evening workouts without having to worry about being up all night.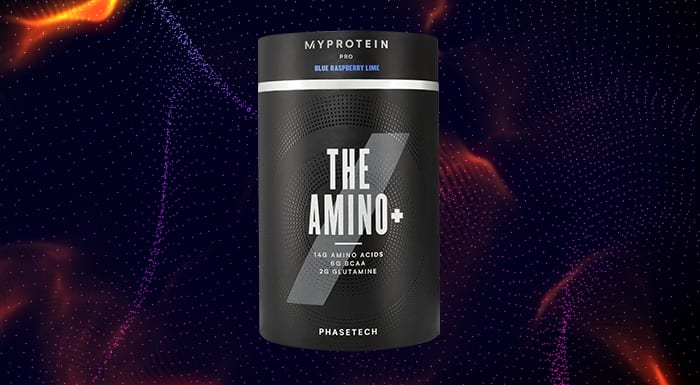 Take Home Message
Superior blends get superior results. Release your power with PhaseTech™ — the next generation of sports nutrition.