While we often focus on our macros to meet our goals in the gym, micronutrients like vitamins cannot be ignored. Vitamins are crucial for our overall health and performance, and an important part of prevention of health issues. B Vitamins are a group of water-soluble vitamins that are present in many plant-based foods like whole grains, fruits, and vegetables, as well as animal-based foods like meat and dairy products. 
B Vitamin deficiencies can lead to a wide range of health issues from skin conditions to fatigue and memory difficulties.1 Read on to make sure you're getting all of the health benefits of B Vitamins in your diet.
Jump to: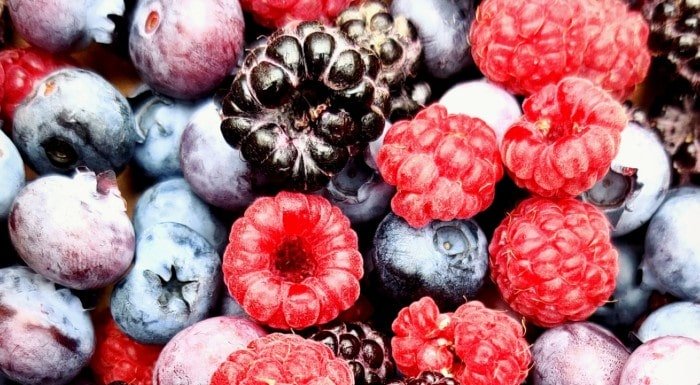 Each B vitamin has a different benefit for the body…
1. B1 (Thiamin)
Essential for the growth, development, and function of our body's cells.2
2. B2 (Riboflavin)
Plays a key role in harnessing the food we eat for energy and cellular growth and function.3
3. B3 (Niacin)
Plays a role in converting foods to energy, as well as helping digestion, skin, and nerve cell function.4
4. B5 (Pantothenic Acid)
Helping convert our food to energy; crucial for making and breaking down fats.5
5. B6 (Pyridoxine)
Used for many metabolic functions, immunity, and plays a role in brain development.6
6. B7 (Biotin)
Plays a role in the metabolism of all three macronutrients (protein, carbohydrates, and fat).7
7. B9 (Folate)
Crucial for cell division and DNA formation, making it especially important in the diets of pregnant women.8
8. B12 (Cobalamin)
Similar in function to other B vitamins (red blood cell development, brain function, DNA formation) but is only found naturally in animal-based sources.9
The following recommended dosages are from the Office of Dietary Supplements.  
B1 – Thiamin: 1.1-1.2 mg per day2
B2 – Riboflavin: 1.1-1.3mg per day (those who avoid dairy products or are vegan or vegetarian may need more)3
B3 – Niacin: 14-16mg per day14
B5 – Pantothenic acid: 5mg per day

5

 

B6 – Pyridoxine: 1.2 – 1.3 mg per day (if over 50 increases to 1.5-1.7mg)6
B7 – Biotin: 30 mcg per day of biotin7
B9 – Folate: adults 400mg daily and pregnant women 600mg, but not more than 1000mg8
B12 – Cobalamin: 2.4mg per day9
Signs of vitamin B deficiency
Signs of B Vitamin deficiency can include, but are not limited to:
Skin rashes or discoloration

1

Lip and mouth tissue dryness, cracking, sores, swelling

1

Weakness, dizziness, confusion, lack of energy

11

Irritability, lack of concentration

6,11

Nausea, cramping, diarrhea, constipation

1

Loss of feeling in hands or feet, loss of muscle

2
*If you experience any of these you should always contact a doctor.*
Foods with B vitamins
Because there are many B vitamins, there are many foods that are high in B vitamins. They are so crucial for health that some foods (I.e., cereals and processed grains) are even fortified with some B vitamins to prevent health issues in the population at large. A balanced diet should provide most of the daily amounts of B Vitamins that your body needs.
Meat

 

Fish

 

Poultry

 

Dairy products

 

Leafy greens

 

Whole grains

 

Eggs

 

Legumes

 

Seeds 

 

Berries

 
Get a boost of vits with fizzy waters…
Take home message
While B vitamins are available in many food sources, we might take for granted that we get enough of them each day. However, the potential health impact of subpar Vitamin B intake can cause a wide range of problematic health issues. Focusing on including a variety of healthy foods in your diet can help support adequate intake of these important vitamins.