For these Protein Coffee and Walnut Muffins you will need:-
Ingredients
50 g Wholemeal strong flour
2 scoop Mocha Hot Drink
150 g Self-Raising Flour
5 g Baking Powder
10 g Sweetener
75 g Margarine
3 Eggs (medium)
30 ml Semi-skimmed Milk
2 tsp Cocoa Nibs
30 g Walnuts
10 g Cream Cheese (For Frosting)
1 scoop Mocha Hot Drink (For Frosting)
5 g Sweetener (For Frosting)
0.5 tsp Cinnamon, ground (For Frosting)
1 tbsp Honey (For Frosting)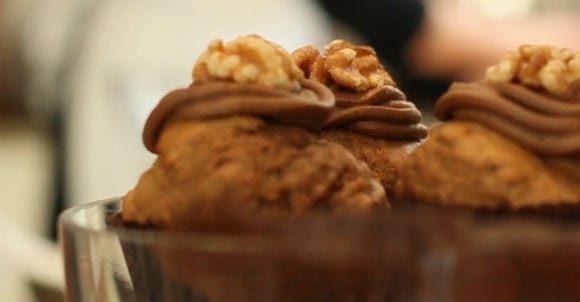 Method
Firstly turn on the oven to 180 degrees and put your muffin cases into the tray.
Let's get started!
Add all dry ingredients to the bowl – Wholemeal strong flour, Self-raising flour, Mocha Protein, Baking Powder and Sweetener.
Next add the wet ingredients –
Margarine, Eggs and semi skimmed milk. Mix all together if the mixture is very thick pore in more milk a bit at a time. Try to beat a lot of air into the mix with an electric whisk or wooden spoon by hand.
Lastly stir in the coco nibs and walnuts and put the mix evenly into the muffin cases, put into the oven for 12 to 15 minutes.
Take out once they are risen and golden, place on a cooling rack.
Once the muffins are cooled, make the frosting –
Put all ingredient into a bowl and mix together, you are trying to achieve a frosting like consistency, if the mix is too wet add more mocha protein and if it's too dry add milk a little at a time.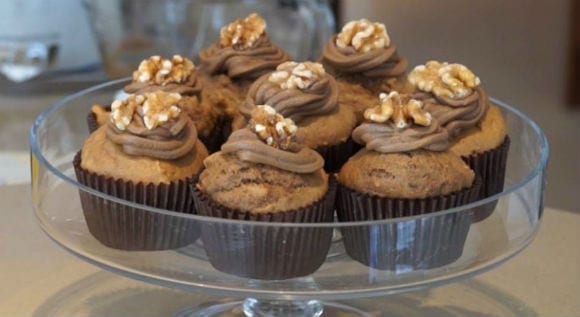 Macros – Per Serving
Nutritional Facts
Amount per serving
| | |
| --- | --- |
| Calories | 166 |
| Total Fat | 8g |
| Total Carbohydrates | 17g |
| Sugar | 2g |
| Protein | 8g |
For recipes click here.
To Buy Myprotein Mocha Drink Powder click buy now.