These healthy recipes for two are perfect for any #fitnesscouple date night.
Enjoy spending your evening scrambling for a table with a boatload of other couples for an overpriced restaurant meal? Nope? Neither do we.
Light the scented candles and stick on your date night playlist, because staying in and cooking healthy recipes for two can be the perfect way to spend a romantic night with your gym-loving lover (without breaking your diet).
This actually good-for-you 3-course date night meal is packed with protein, low on processed carbs and sugar, and everything you need for that Lady and the Tramp moment with your #fitcouple compadre on that special night.
Jump straight to:
---
Starter: Breadless Serrano Ham & Feta Bruschetta
Main: Jumbo Mozzarella-Stuffed Meatballs
---
Starter: Breadless Serrano Ham & Feta Bruschetta
This breadless aubergine bruschetta makes a tasty low-carb twist on a classic Italian starter.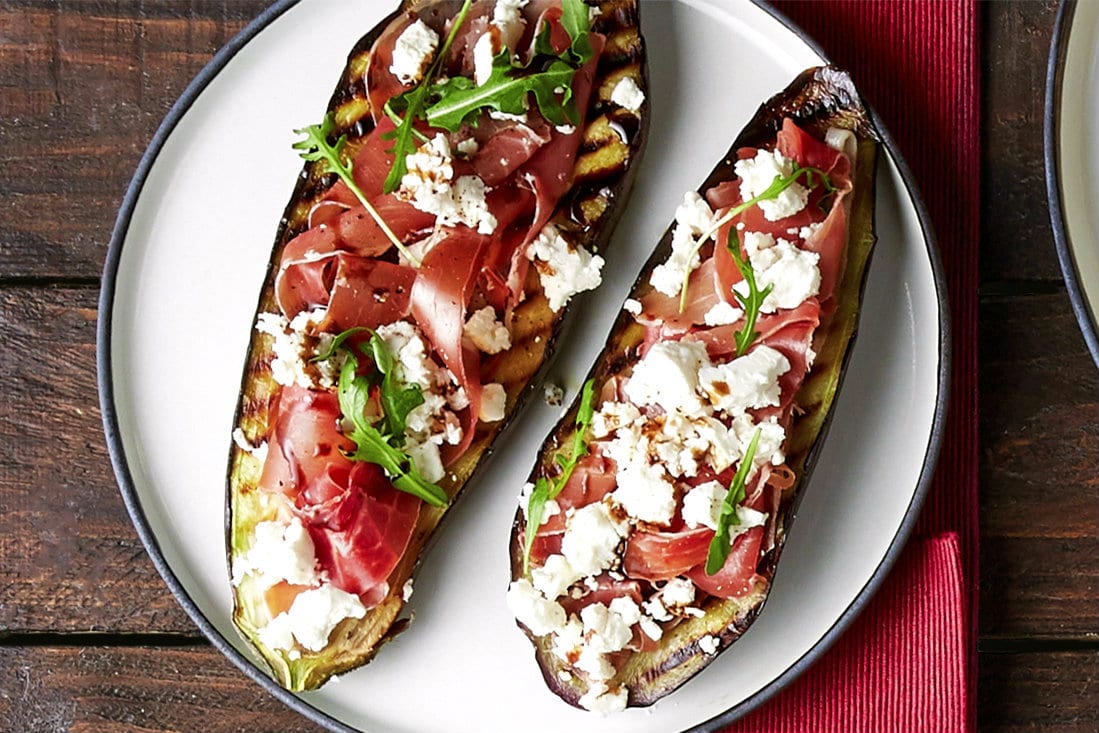 Serves: 2
Ingredients
---
2 medium sized aubergines
4 slices serrano ham
50g feta cheese
2 tbsp. balsamic glaze
Method
---
1. Slice the aubergine lengthways into 1.5cm thick slices. Brush each side with a little melted coconut oil and char on a griddle pan on a high heat for 1 minute on each side.
2. Transfer to plates and layer the serrano ham and feta onto the aubergine slices. Drizzle over balsamic glaze and serve.
NUTRITIONAL INFORMATION PER SERVING
Calories: 204      Protein: 15g    Fat: 10g       Carbs: 12g   
---
Main: Jumbo Mozzarella-Stuffed Meatballs
Because the only things better than meatballs are meatballs stuffed with mozzarella (served with courgetti to keep it low-carb, of course).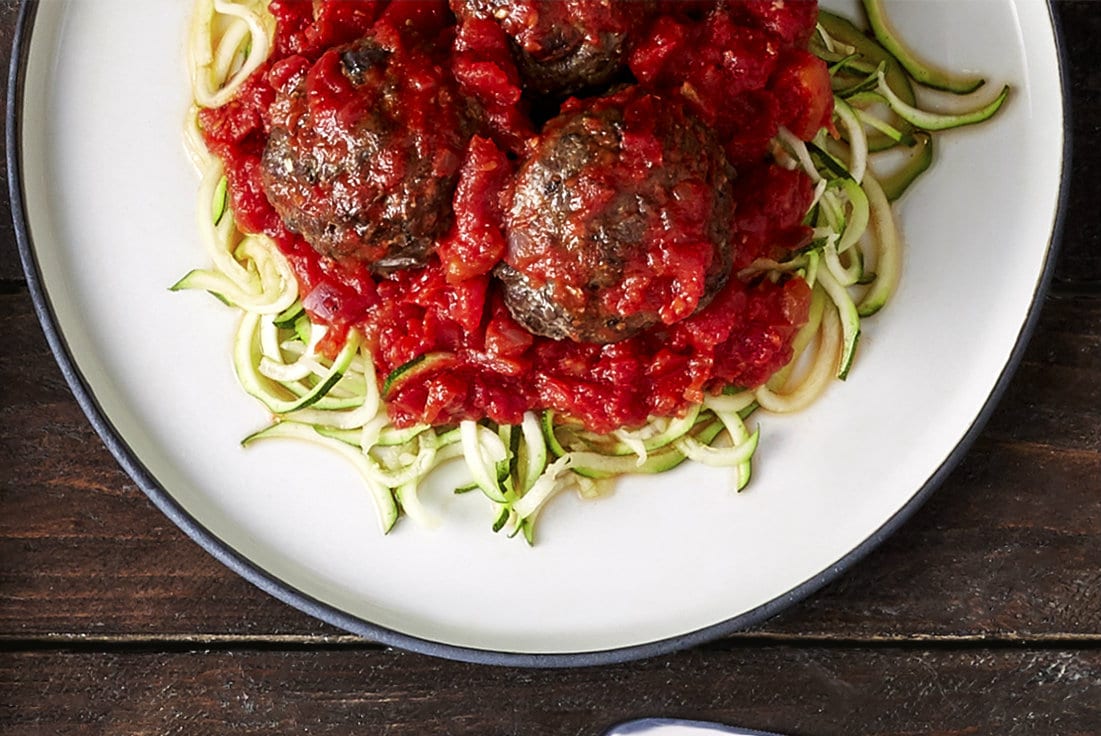 Ingredients
---
For the meatballs:
½ red onion
2 cloves garlic
500g extra-lean steak mince
½ tsp. sea salt
½ tsp. ground black pepper
1 tbsp. mixed Italian herbs
1 egg
8 mini mozzarella balls (choose reduced-fat mozzarella if you're looking to keep the fat content low)
For the sauce:
2 red onions (finely chopped)
800g tinned chopped tomatoes
4 cloves garlic (crushed)
1 whole red chilli (with seeds if you like it spicy) (sliced)
2 tbsp. tomato puree
½ tsp. sea salt
½ tsp. ground black pepper
For the rest:
4 large courgettes (spiralised)
Pinch salt and pepper
Method
---
1. Preheat oven to 200°C.
2. First, blend the onions and garlic until coarsely chopped. Add the steak mince, salt, pepper, herbs and egg and pulse to combine.
3. Shape the meatball mixture into 8 large meatballs. Make an indentation into the middle of each meatball and stuff each with a mini mozzarella ball, then reshape the meat to cover the cheese. and place onto a greased baking tray. Bake until browned for 25-30 minutes.
4. While waiting, make the sauce. Place a saucepan on a medium heat with a little coconut oil. Once warm, add the onions and fry for 4-5 minutes until they begin to brown. Add the garlic and chilli and cook for a further 2 minutes, stirring occasionally. Pour over the chopped tomatoes, tomato puree, salt and pepper and stir. Bring to the boil, then reduce the heat and simmer for 10 minutes.
5. Once the meatballs have cooked, add them to the tomato sauce and simmer for a further 10 minutes.
6. While waiting, pan fry your spiralised courgettes on a medium heat with a drop of coconut oil for 7-8 minutes, stirring occasionally to prevent them from burning.
NUTRITIONAL INFORMATION PER SERVING
Calories: 435    Protein: 55g    Fat: 15g     Carbs: 19g     
---
Dessert: New York Baked Protein Cheesecake
This tasty New York protein cheesecake contains a fraction of the calories, fat and sugar compared with the classic, without skimping on flavour.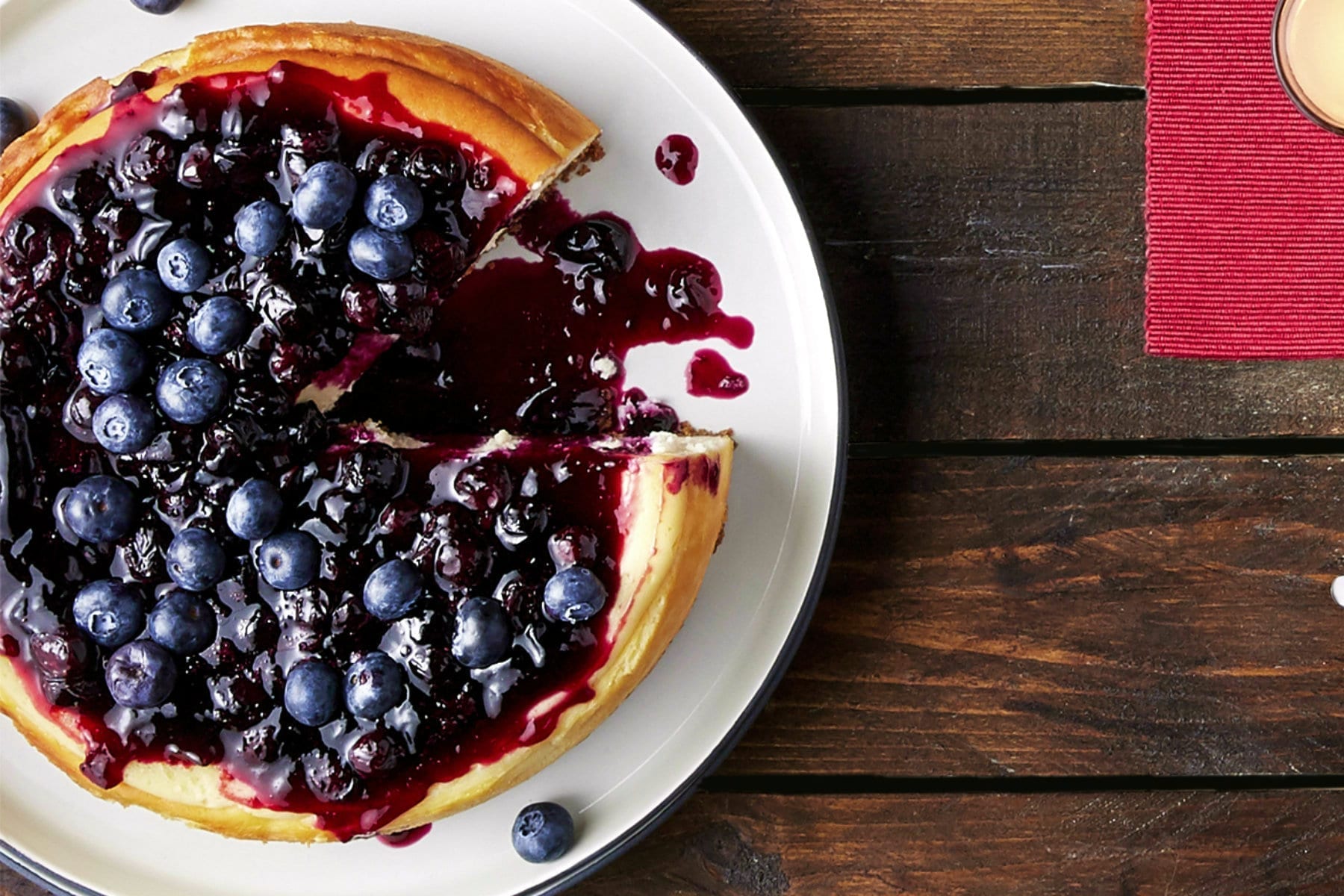 Makes: 8 slices
Ingredients
---
Base:
50g rolled oats
70g raw almonds
½ tsp. salt
3-4 tbsp. of your preferred granulated sweetener
50g melted 100% Coconut Oil
Filling:
500g low-fat cream cheese
350g Greek yoghurt
3 scoops (90g) Vanilla Whey Protein
2 large eggs and 1 egg white
12-15 drops Vanilla FlavDrops or 1 tsp. vanilla extract
2 tbsp. lemon juice
Coulis (optional, but delicious):
200g blueberries
1-2 tbsp. caster sugar or maple syrup
75ml water
Method
---
1. Preheat oven to 180°C and line the base and sides of an 8" springform cake tin with greaseproof paper.
2. First, make the crust. Blend together rolled oats, almonds, salt and sweetener until it resembles biscuit crumbs. Add the melted coconut oil and pulse to combine. The mixture should stick together like dough when squeezed. If the texture is too dry, add a little more melted coconut oil and blend again.
3. Firmly press the crust mixture down into the base of your lined cake tin, using the base of a glass to pack it in tightly. Bake on the middle shelf for 20-22 minutes or until golden brown. Once baked, remove and allow to cool while you make the filling.
4. While waiting, make the filling. Add all filling ingredients to a large mixing bowl, then use an electric whisk to whisk the mixture until smooth. Pour the mixture onto the baked crust.
5. Bake at 175°C for 25 minutes, then reduce the temperature to 90°C and bake for a further 50 minutes or once an inserted knife or skewer comes out clean. Remove and allow to cool completely in the tin.
6. While waiting for the cheesecake to cool, make the blueberry coulis. Heat a large non-stick frying pan to a medium heat and pour in the blueberries. Fry for 3-4 minutes, then add the water and sugar. Fry for a further 8-10 minutes to allow the mixture to reduce, stirring occasionally. Once you reach a thick, syrup-like texture, remove from the heat and pour into a bowl to cool.
7. Once the cheesecake and coulis are completely cool, remove the cheesecake from the tin and pour the blueberry coulis over the top. Eat immediately or cover and refrigerate for up to 5 days.
NUTRITIONAL INFORMATION PER SLICE
Calories: 275     Protein: 20g     Fat: 15g     Carbs: 17g        
---
Enjoy these healthy recipes for two? Check out more tasty fitness recipes here.